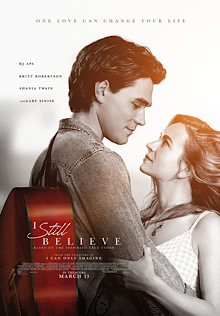 Thank you Lionsgate for sending us a digital screener to review!
I Still Believe is based on the true story of Jeremy Camp's college days before he became a popular Christian artist who sold five million CDs. This film was supposed to be released in theaters on March 13, 2020, but those plans were halted due to the COVID-19 pandemic. Instead, Christians and fans of Jeremy Camp's music can support this film by renting a premium video on demand on sites like Amazon for $19.99. The digital rentals are good for 48 hours.
This film has a star-studded cast including Gary Sinese and Shania Twain as Jeremy's parents. Jeremy Camp is played by KJ Apa who does not lip-sync, but puts his own spin on the popular Christian hits sung throughout the movie. I must confess that I'm not familiar with Mr. Camp's music (despite owning a CD!) so none of the songs performed in it sounded familiar to me. It's really fascinating knowing the inspiration of two of his hit songs "I Still Believe", and "Walk by Faith".
The events in the movie are based loosely on Jeremy Camp's written biography, I Still Believe. Some artistic liberties have been taken. In the film, the love triangle is between Michelle Henning, Jeremy Camp, and his musical mentor, Jean-Luc La Joie. In reality, the love triangle was with a friend from Jeremy's Bible study instead.
Without giving away too much of the story, this movie depicts the genuineness of Jeremy's faith in God and love for his on-and-off again girlfriend who eventually became his wife despite her health issues. It's amazing how God uses people and how miracles still happen. This film is pretty family-friendly though some blood is shown.
I recommend checking out this film that will certainly pull at your heartstrings. It's a shame that it didn't debut in the theaters, but you can still enjoy it if you have high-speed internet.

(Amazon Affiliate Link)