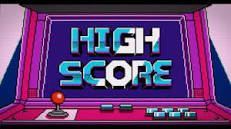 Thank you Netflix for supplying us with complimentary access to review this series!
Computer gaming began in the 70s with text-based role-playing games. There were no visuals and the user had to type in simple responses to play those games. Roberta Williams is interviewed in this episode and she was hooked on a text-based game called Colossal Cave Adventures that came out in 1976. The first computer game with graphics was her first foray into game design, Mystery House, which released in 1980. Roberta and her husband, Ken, founded Sierra Entertainment which produced many classic game series including Kings Quest, Police Quest, and Leisure Suit Larry. Sierra also published the first Half-Life game in 1998.
Richard Garriott is also featured in this episode and he's known for creating the popular Ultima games that are heavily inspired by Dungeons and Dragons. Until watching this series, I had no idea that he became an astronaut in 2008. Because of the success of the Ultima games, computer gaming took off and Richard Garriott was able to self-fund his flight to the international space station.
As role-playing games increased in popularity, a company called SquareSoft started their Final Fantasy series in 1987. Yoshitaka Amano is interviewed and it's fascinating to see how his intricate art was pixelated and simplified for the hardware limitations of that time period. His artwork is unaltered on the game boxes and in the manuals.
This episode ends with an interview of Ryan Best, a gay Aids activist who made a parody RPG called GayBlade in 1992. The final boss of the game is Pat Buchanan who is known for being a conservative commentator and politician. Sadly, during a move his original code and all the copies of his game were lost. With the help of the Internet several years later, someone who owned a copy of the game reached out to him. Though I'm not a fan of the theme, I'm glad Ryan was able to get a copy of his game back. Becky (formerly William) Heineman also appears in this episode as she's done a lot of game development.
Up until the LGBTQ stuff, I enjoyed this episode. I look forward to the next one which will be talking about Sega and their mascot, Sonic. Hopefully it will be focused more on gaming than LGTBQ agendas.