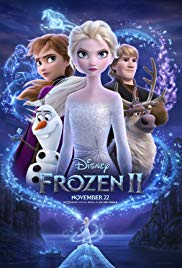 Thank you 4DX for providing us five tickets to see this film!
Frozen II begins with a flashback of Elsa and Anna as children hearing a story about an enchanted forest where a war between Arendelle and the natives began. Nobody knows who started the war, but as strange events are currently happening in Arendelle, the townsfolk are forced to evacuate, and Elsa must discover the truth before things get any worse. To make matters worse, Elsa is hearing a singing voice that nobody else can and it's interfering with her day-to-day activities. She needs to discover the source for her kingdom and her sanity!
Meanwhile, Kristoff has an engagement ring ready for Anna but is having a difficult time finding the right opportunity and words to successfully propose to her. His blundering attempts usually upset Anna instead of winning her over. His reindeer, Sven, tries to assist in the process any way he can. Olaf is trying to grasp the concepts of aging and maturity as he defies the typical lifespan of a snowman.
The five begin their journey to the enchanted forest, which is surrounded by a thick mist. With Elsa leading the way, they are able to make it past the protective barrier. Once there, they must tame the spirits of wind, fire, water, and earth. The fire spirit is my favorite character, he's adorable!
The 4DX enhancements are all present in this film. 3D makes the magical scenes come to life as they expand beyond the movie screen. The unidentifiable fragrance is used multiple times as well. As the characters burst out into song, the seats will sway along. You can also expect to get spritzed in the face with water and have the back of your legs blasted with air for an added surprise.
Overall, this is a great sequel that even managed to win over my skeptical teenage daughter. I daresay that it's better than the original film. Any Frozen fan should definitely check this film out, especially in 4DX if it's available near you.