Specifications (from Amazon listing):
|Supports DisplayPort MST (Multi-Stream Transport)
Supports source devices with Windows OS and have DisplayPort Alt Mode, such as HP EliteBook x360, HP ZBook, Dell XPS, MS Surface Book 2
Supports 4K on up to two displays; The third displays up to 1080p
Connects three independent displays to a single USB Type-C port
macOS does not support MST technology for expanded monitors; It will allow for mirroring
Compatible w/ Thunderbolt 3
Data bandwidth up to 5.4 Gbps per lane, 21.6 Gbps total
Can simultaneously display 2 Ultra HD resolution
Compliant to DisplayPort versions 1.2 and 1.1a, VESA DDM, HDCP 1.3
Advanced WideEye SerDes Technology capable of receiving data over a long range

Thank you Accell for sending us this device to review!
As I often live near the cutting edge as technology improves, I've had my eye on the USB Type-C interface for quite some time, long before you could buy devices with the ports. I was excited about it then – the promise of a truly universal port, that always plugs in properly, and can work with everything – has finally become reality. With that said, the 'one port to rule them all' is great, but it comes with tons of caveats that are important to be aware of, as I found out first hand.
I have four devices with USB-C ports, and two PCs with the interface. USB-C has several possible data lanes, and they vary from USB 2.0 and 3.0/3.1, to DisplayPort, to Thunderbolt, in that order of speed. Almost all support at least USB data transfer, so that part is easy. However, not all ports support DisplayPort, and especially not all ports support Thunderbolt.
DisplayPort is the protocol, along with HDMI (which is just a variation on the DVI standard) that all modern displays use now. This interface is very fast (faster than HDMI in most cases), and extremely flexible. The standard, in version 1.2, supports up to 17.28Gb/s of bandwidth, which supports 4K displays at 60Hz. It also supports the MST (Multi-Stream Transport) protocol, which allows cool devices like this one to exist, which you can use to connect multiple monitors to one DisplayPort connector, or even daisy-chain monitors, if your devices support that.
Thunderbolt is an extension beyond just DisplayPort; it has direct PCI-Express lanes in the connector, along with the more typical USB 3.1 and DisplayPort lanes. It's a very powerful standard that enables use cases like external graphics cards and full-speed SSD drives. It used to use a DisplayPort connector when Apple was the only one using the standard, but now everyone has migrated to USB-C ports.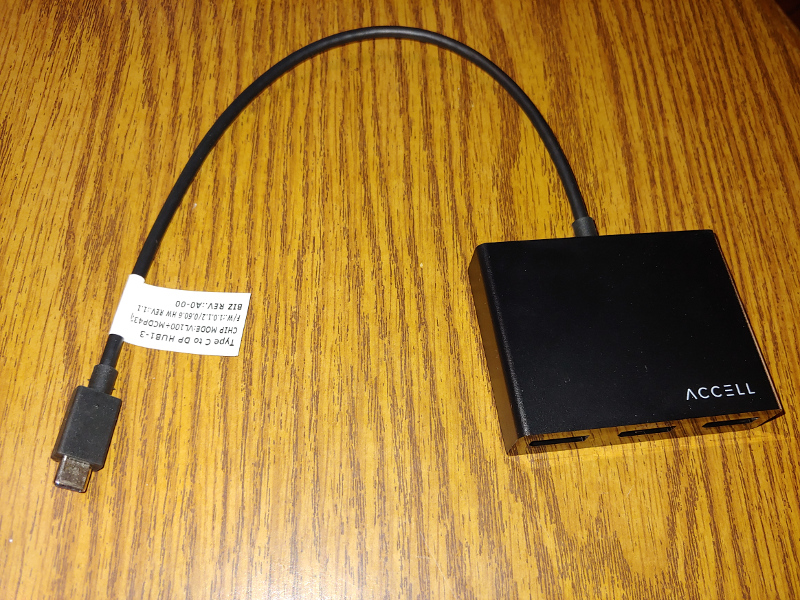 Confused yet? If not, I'm impressed. There are even more USB-C alt modes that I haven't even mentioned – power delivery modes, audio channels, the new VR connector standard, OTG modes, and more. I went through all of that, to say this: in order to use this adapter, your computer must have a port (not all are created equal) that supports DisplayPort alt mode or Thunderbolt. (The VR port might work, too.) No other ports will offer you the DisplayPort lanes needed to use this adapter.
I tried plugging it into several of my devices, with both expected and unexpected failures. The Nintendo Switch uses some variation of DisplayPort alt mode for the video out, but apparently it's proprietary enough that this device does not work for it. My LG phone has a USB-C port, and when I plugged it in, it said "DisplayPort is not supported for display mirroring; please use MiraCast instead." Now my two other machines, my MSI GT62VR laptop, and my GPD Win 2, I had higher hopes for.
The MSI laptop has the PC's only USB-C port right next to the DisplayPort and HDMI ports on this laptop. I thought for sure it would work, right? Wrong. That port is only wired for USB 3.1; it has no Thunderbolt or DisplayPort alt mode available. So that only leaves my GPD Win 2, which thankfully passes with flying colors.
The GPD Win 2, a super-tiny computer, has a single USB-C port for charging and other things, in this case DisplayPort as well. I have two 27" 1440p screens, and using the USB-C port and this adapter, they work perfectly. I wrote a review using that adapter and it never gave me any trouble at all. It has the same SoC (System on Chip) that the supported Microsoft Surface has, and it works just as well. The gotcha? You can't charge the system while using it. Of course that makes sense; it's not the adapter's fault that the Win 2 uses the USB-C port for both charging and DisplayPort, but it is what it is. If only someone would make an adapter that injects charging into an existing USB-C device…
Overall, I'm pretty happy with the Accell USB-C to 3 DisplayPort Multi-monitor Hub. It does exactly what it says it's supposed to do – and it works perfectly in my estimation. It's not the fault of Accell that system support is so hit or miss. If you have a supported configuration, then I highly recommend you look at Accell's products if you are looking for a similar multi-monitor adapter.

(Amazon Affiliate Link)