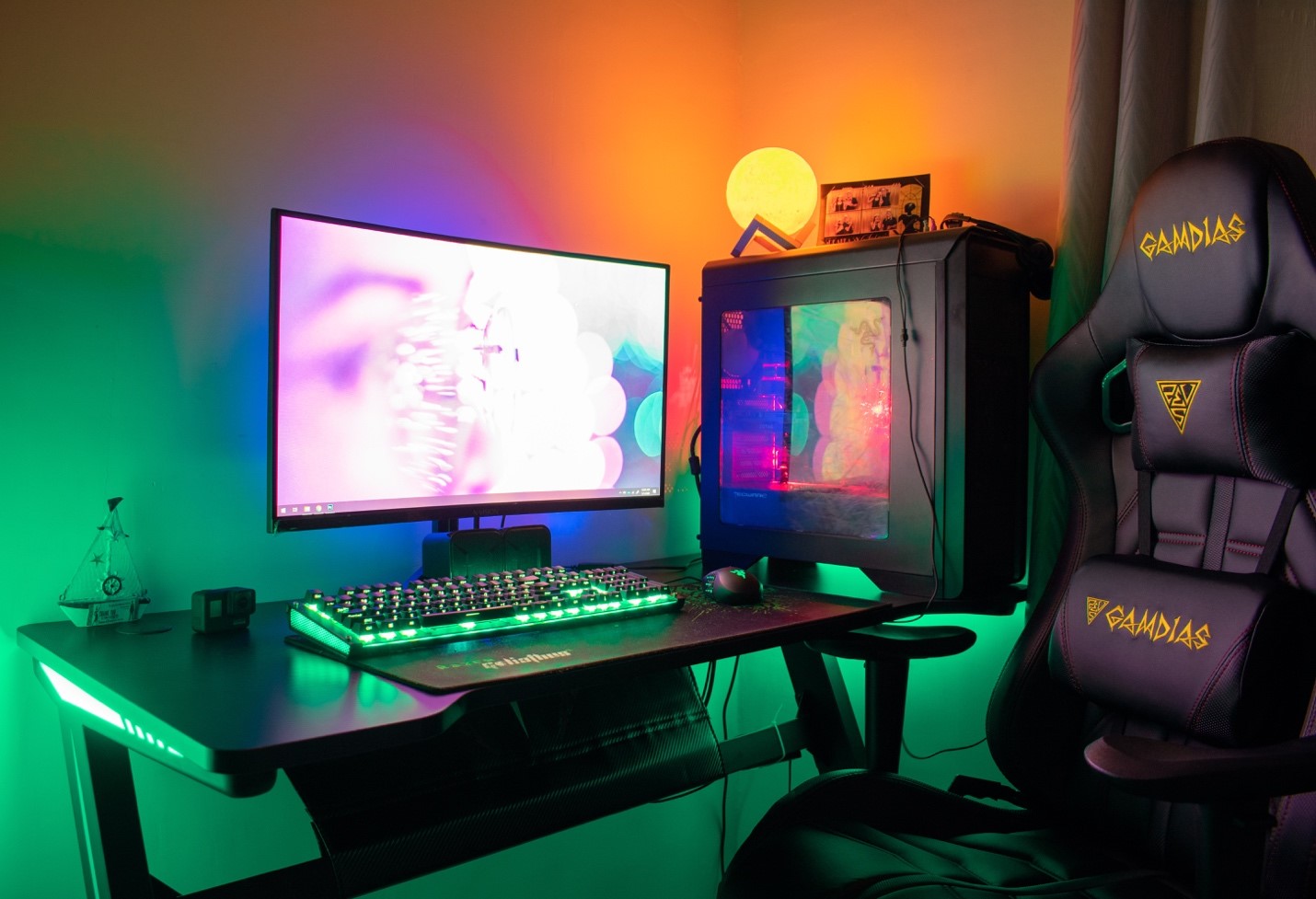 So, you've got the latest, greatest and fastest gaming PC. Your system is fully optimized and you're ready to play. But what about your space? Whether you're a long-time gamer who just built a new PC or you're new to video gaming, the days of having to resort to playing your favorite games in a dark, cramped and bland basement or corner are gone. And even if yours aren't (sorry Mom) you can have a sweet gaming setup no matter how much room you've got. Besides the systems, gaming accessories and furniture have become big business. As a result, you've got choices when it comes to optimizing the space.
Gaming desk
When you're looking for a desk or table, such as those reviewed in a list from Tom's Guide, for your PC gaming space, look at the size of the room or area in the room and at how much space you need for your computer and your monitor, multiple monitors or even a large-screen TV. Also consider how much storage or space for storage you will require. Will you need built-in shelves, cubbies and drawers? Do you want your desk to have extra space for you to add your own storage and desk organizers? Will you be storing game cases and accessories in the desk itself?
A small desk that fits in a corner, with or without an adjustable standing platform works well in a dorm room, bedroom, basement or studio apartment. Dedicated game rooms can incorporate a large rectangle or L-shaped desk. Alternatively, for long hours playing your favorite role-playing game (RPG), you might prefer an over-sized standing desk that's easy to lower and raise from sitting height to standing height.
Gaming chair
Good-bye to your dad's old uncomfortable office chair. Hello to ergonomic, comfy, PC gaming chairs that move, swivel, recline and come in a variety of colors. Plus, they're sleek and look super cool! Many of these look like the seats from a sportscar and the most amazing rotating VR chairs look similar to the Expanse's razorback interior and cost as much as $50K or more. Non-commercial, less elaborate, designed for home-use models are less and will set you back between $5K and $10K.
Not all gaming chairs are created equal, so try several out before you buy. Don't discount the office chair route either. Some gamers find them more comfortable than even the most expensive gaming-specific seating. This roundup from PC Gamer rates the latest options.
Design theme
Maybe you started with a theme idea for your gaming space before you chose your desk and chair. You may have even started thinking about it when you were building your new PC and chose the case. And if you haven't, now is the time to start. Even the tiniest gaming setups don't have to be boring. Jazz up your setup with the color schemes from your favorite game or games.
Decorate your desk with game-inspired toys and figurines. From Minecraft plushies to Marvel or Star Wars Funko Pops, there's no end to the ways you can make the design of your gaming space your own special creation. You might also want to hang posters of your best-loved games and game characters. Alternatively, print out one of your best gaming screenshots and display it on your desk or a shelf.
Gaming accessories
We've talked about gaming furniture and how to design the theme of your space but don't worry we haven't forgotten about all the other extras you need to set up your space. Here, gaming accessories. Sure, there are monitors, mice, keyboards, controllers, speakers, headsets and more, all designed specifically for PC gaming and gamers. While those are important, you don't want to neglect the other PC game room touches that help create an awesome playing environment. Items such as, blackout curtains and soundproofing are essential for blocking out glare and ensuring loud sounds and music from games (not to mention any yelling and shouting) don't disturb your neighbors or other people who live with you. Plus, you can find many accessories in colors that match the rest of your design theme.
Storage
Finally, you can't forget gaming storage. Whether or not your gaming desk has built-in shelves, you will undoubtedly require extra shelving for all your games and accessories. If you display any toys, a small shelf over or near your desk is also essential. Plus, you need hooks and racks to help you dangle your headphones, organize chords and keep everything neat. Consider borrowing a longstanding idea from retail stores and add a slatwall. Slatwalls are perfect gaming room accessories because you can further accessorize them with hooks, frames, bins and shelves. Plus, you can move your stuff around and swap things out when you get new items or decide to change up your entire gaming setup.
Conclusion
Bottom line, there's no right or wrong way to set up your videogaming area or game room. Personalize your space to provide the most comfortable and exciting playing experience. The "coolest" video gaming setup is the one you create and not whatever conforms to the latest fad. There are as many types of gaming spaces as there are gamers. The look, feel and organization are up to you to decide.
Author Bio
Ray Ko has been creating effective visual merchandising and interior design strategies for retailers for more than 20 years. Today, he is the senior ecommerce manager for shopPOPdisplays, a leading designer and manufacturer of stock and custom acrylic product.