Hardware Info:
Accell USB-C VR Adapter
Specifications:
Certified Oculus Ready
Supports source devices with USB-C ports with DisplayPort Alt-mode, like recent NVIDIA graphics cards.
May also function with Windows OS on devices that have DisplayPort Alt-mode via USB-C, such as HP EliteBook x360, HP ZBook, Dell XPS, MS Surface Book 2.
Supports 4K on connected displays (though that is not its primary purpose)
USB 3.0 Type A port is very convenient for VR headset use
Eight feet (2.4 meters) long, allowing more movement and a convenient connection for VR use
No drivers required
MSRP: $49.99
(Amazon Affiliate Link)
Thank you Accell for sending us this device to review!
We've had a Virtual Reality (VR) headset since the launch of the HTC Vive and Oculus Rift. In many ways, these headsets give us a glimpse into the future, or at the very least, enable some really neat experiences that a flat screen and controller could never otherwise support. Being able to strap on a headset and step into a virtual world is really quite something.
Despite this, cable management is always a bit of a tricky business. I have had to buy both HDMI and USB extension cables in order to support my HTC Vive, especially when using it from my desktop. My laptop is VR ready (GTX 1070), but ever since getting my new RTX 2080 Ti, I have been more inclined to use that for all of my gaming, VR included, for some reason.
The NVIDIA RTX series of cards includes a USB-C Virtualink connector on the back of them. This connector is quite handy, because it allows you to get everything you need - both video, via DisplayPort Alt-mode, and of course the USB 3.1 data connection, all in one cable. Unfortunately, while most headset makers have committed to using these ports in their future products, no headsets currently on the market support this specification.
That is where this Accell USB-C VR Adapter comes in. Rather than let that nice port on the back of that video card just go to waste, this adapter allows you to take advantage of it, using a cable that really does make life much easier.
With my desktop gaming PC, I keep it inside of a desk cubby. (I cut holes in it and mounted fans to make sure that heat does not get trapped inside.) Once I run the cables I normally use in there, I rarely have to touch the back of the tower in normal use. However, connecting and disconnecting my VR headset is one area that requires some cables in order to get the most out of it.

What I did in the past was I bought a long HDMI cable, and rolled it up when I wasn't using it. Then I used a long active USB cable to cover the other part required. This worked, and I used it for years, but that extra cable that's always connected can get in the way or requires shoving it somewhere, and I still have to plug in the USB cable and unplug it when I'm done.
What this new adapter allows me to do is have the single cable ran from my video card, directly into the USB and HDMI ports on my Vive breakout box. Then I connect my Vive as normal. That eight feet also happens to be the perfect length for me. While before my extension cables were excessively long, at around thirty feet each, now I have one that perfectly extends into my VR playing area. You see, I have my desktop in my office, and the common area/hallway is just outside of the doorway. This area is eight feet by thirteen feet, which makes for a great room-scale VR space.
This USB-C extension cable, along with the three foot cables that come with the Vive, means that the breakout box is sitting just outside of my door. The Vive's headset cable is about fifteen feet long. It's almost like this combination was built for my exact room! I could not have asked for a more perfect fit. And when I am done, I just roll the small, thin, eight foot cord and adapter box up, and shove it next to my tower. So when it's not in use, it's completely out of the way. Again, perfect. As expected, VR through my Vive worked perfectly while connected through this adapter box.
So, the Accell USB-C VR adapter is a perfect hit for its intended use case. What about other uses? Well, it does work as a USB 3 port, as well as a new 4K HDMI port. But I did find some limitations.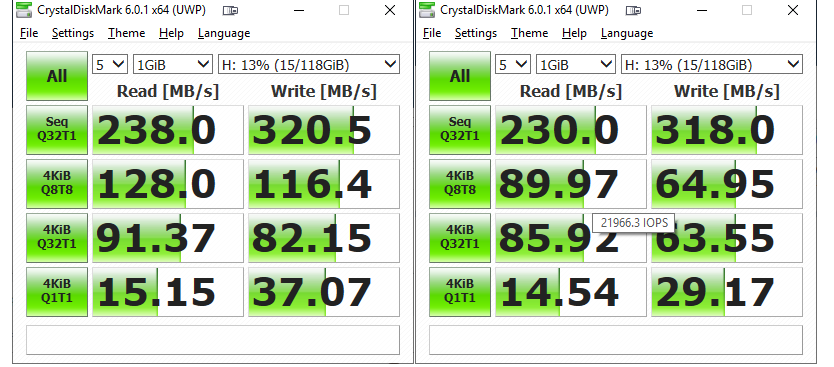 First of all, the USB port. I was able to prove that the port is indeed a 3.0 port, by connecting my USB 3.0 SSD up to it, and running CrystalDiskMark. The sequential reads and writes were virtually identical to connecting it to a connector on my case (which connects to my motherboard). The random I/O numbers were a bit lower, particularly the 4KiB Q8T8 values. But the write speed of 318MB/s that I got from the sequential tests proves without a doubt that the USB port is 3.0 in speed. In case it wasn't obvious, that port speed is dependent on how the video card/motherboard is configured; if it is connected to a USB 2.0 port inside of a laptop, for example, your results may vary. I can only vouch for the results I got using my NVIDIA RTX 2080 Ti.
The HDMI port comes from a DisplayPort uplink, rather than a direct HDMI port. So, it does work, but there appears to be a small mismatch in how video modes are negotiated between the two technologies. (I tested another USB-C to HDMI cable and it has the same issue, so I don't think it's the fault of the adapter.) In the NVIDIA control panel, connected to my 4K monitor, I do see a full 4K (3840x2160) signal, at 60Hz. The only 'gotcha' is that the color spaces available is RGB and YCbCr422, rather than the full 444. What this means in practice is that the display must support HDR over RGB, which my Acer 4K monitor does, but many 4K televisions do not. So, full pixel color info + HDR support is technically present, but is dependent on what the display can support. (For those not aware, anything less than RGB or YCbCr444 will result in color distortions for some image types, especially on things like text over a PC input.)
I am very pleased with the Accell USB-C VR Adapter. This is now a permanent fixture on my desktop computer, unless I get a new VR headset with a VirtuaLink connection. Until then, I look forward to many more years of increased convenience via this handy connector box.