Hardware Info:
Zeskit USB-C to HDMI Cable
USB Type-C to HDMI Cable, connecting iPad Pro, MacBook, MacBook Pro (w/ USB-C port) and more to monitor, TV or projector which has HDMI port. Both video and audio are delivered.
Up to 4K 60Hz backed by latest powerful Parade chip, utilizing DP Alternate Mode. Meets HDMI 2.0, HDCP 2.2, DP 1.4 standards.
6.5 feet long (2 meters)
Gold-plated connectors
2 Year Warranty
MSRP: $18.95
(Amazon Affiliate Link)
Thank you Zeskit for sending us this cable to review!
I have way too many devices and gadgets, and I have virtually every combination of source to destination port imaginable in my house. I have monitors with DisplayPort, miniDP, HDMI, DVI, VGA, and probably some older formats if I look hard enough. I also have lots of different devices with all kinds of form factors, like desktops, laptops, microPCs, game consoles, and even a Mac work laptop. As such, when I was offered an opportunity to check out a USB-C to HDMI cable, I jumped at the chance.
It turns out that I have two devices that support display output over USB-C. The first is my gaming desktop, with a NVIDIA RTX 2080 Ti. The other is my GPD Win 2. (My MSI laptop has a USB-C port sitting there right next to my HDMI port, but it doesn't actually do any video out there. It's just a USB port sitting in a conspicuous place.) After doing much testing (and talking to other GPD Win 2 owners), it appears that the Win 2 only supports 4K@30Hz with a USB-C to HDMI adapter or cable; if you want more than that, you need a USB-C to DisplayPort adapter or cable. What a shame. However, it does support 1080p@60Hz, 1440p@60Hz, and the aforementioned 30Hz modes. Thankfully, my RTX card does support 4K video modes over USB-C, so the testing can continue!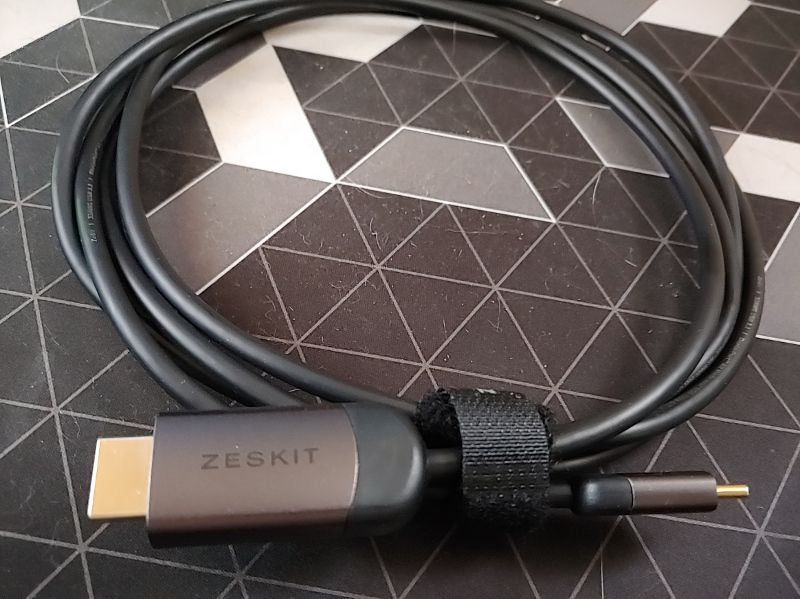 The HDMI port from this cable comes from an embedded DisplayPort uplink in the USB-C connector in the GPU, rather than a direct HDMI port. So, from my RTX card it does work, but there appears to be a small mismatch in how video modes are negotiated between the two technologies. (I tested another USB-C to HDMI adapter box and it has the same issue, so I don't think it's the fault of the cable.) In the NVIDIA control panel, connected to my 4K monitor, I do see a full 4K (3840x2160) signal, at 60Hz. The only 'gotcha' is that the color spaces available are RGB and YCbCr422, rather than the full YCbCr444. What this means in practice is that the display must support HDR over RGB if you want to use HDR; my Acer 4K monitor supports this but many 4K televisions do not. So, full pixel color info + HDR support is technically present, but is dependent on what the display can support. (For those not aware, anything less than RGB or YCbCr444 will result in color distortions for some image types, especially on things like text over a PC input.)
It is entirely possible that devices other than what I have available to test can support the optimal YCbCr444 + HDR mode for some televisions. I just don't have anything available right now that does.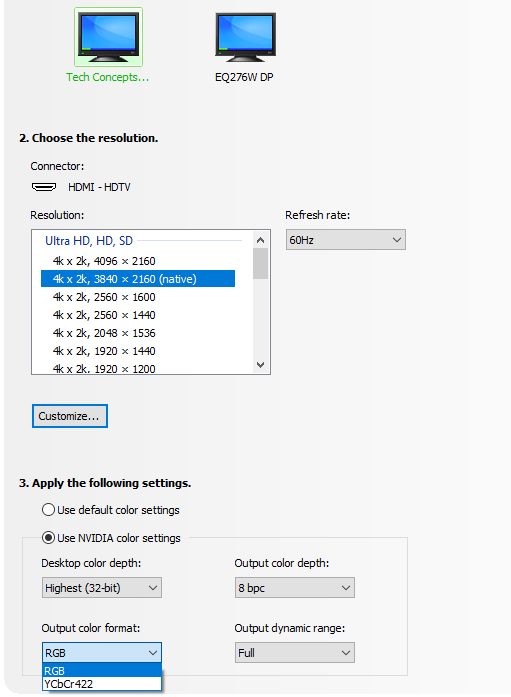 The quality of the cable is top notch, and it feels like it will last many bends and uses. As mentioned, it has gold-plated connectors, so it looks as good as it feels in use.
I am very pleased with the Zeskit USB-C to HDMI Cable. It looks good, feels good, and works well where I tested it. What more can you ask for?