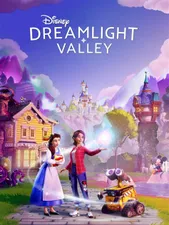 Game Info:
Disney Dreamlight Valley
Developed by: Gameloft
Published by: Gameloft
Release date: September 6, 2022
Available on: macOS, PS4, PS5, Switch, Windows, Xbox One, Xbox Series X|S
Genre: RPG
Number of players: Single-player
ESRB Rating: Everyone
MSRP: $29.99-$69.99
(Humble Store Link)
Thank you Gameloft for sending us a preview code!
Dreamlight Valley is a beautiful world with various biomes that was the home to many Disney and Pixar characters.  Everyone lived in harmony until the Forgetting.  Giant thorns grew everywhere and caused the characters to forget each other and retreat into the Dream Castle.  The Dream Castle is a gateway to many worlds that have to be unlocked with a magical currency called Dreamlight.  
Dreamlight is earned by interacting with characters and by doing activities, such as cooking, fishing, mining, digging, taking selfies, and more. In-game gold can be acquired by selling stuff, digging, or opening treasure chests.  Moonstones are another currency in this game that can be acquired in small amounts by opening up blue treasure chests that are only accessible online.  By purchasing Founder's Packs, you can start the game with a good amount of Moonstones to boot.      
Upon launching Disney Dreamlight Valley, you'll get to design your gender-neutral character and get to choose their "body type" and "body shape".  You can opt for some presets and customize every aspect of your character's appearance as you see fit.  Once your character is created, you'll see their backstory of leaving the city life in search of a more peaceful and serene environment.  You find yourself back at your childhood house and as you explore there, you uncover a magical well that teleports you to Disney Dreamlight Valley.
Highlights:
Strong Points: Fun game that encourages your character to befriend many popular Disney characters; you can cook, craft, fish, customize your look and home; lots of quests to complete; Steam Deck playable
Weak Points: Some of the quests are tedious; experienced some glitches and crashes; Disney music will get stuck in your head repeatedly
Moral Warnings: Villains will move into the neighborhood and they bring their antics with them; Scrooge McDuck is known for his greed; magic use
Merlin greets you in Disney Dreamlight Valley and recruits your help in removing the thorns that are covering the land.  Removing the thorns consumes some magical energy from your character.  When your energy gets low, you can eat food to restore it or recharge it in an instant by entering your Dreamlight Valley house.  Your Dreamlight Valley house looks identical to your childhood home.  With the help of Scrooge McDuck, you can upgrade your house to increase its storage, and you can buy furniture, clothes, and various decorations at his shop.  In every biome you can repair (for a fee) shopping stalls for Goofy and wells that allow you to teleport across the map.  Most of the biomes are locked behind huge thorny vines that can be removed with Dreamlight.  
Each of the biomes is plagued with a corrupted pillar that stands for various virtues like friendship, trust, power, nurturing, etc.  By completing story quests, you'll get to cleanse these pillars of their corruption.  As of this preview, not all of the pillars are able to be repaired yet.  The recently released Scar DLC unlocks the ability to restore the Pillar of Nurturing.  
Each of the characters have friendship quests that unlock as they level up.  You can level up the villagers by giving them gifts, cooking and serving them meals at Remy's restaurant, talking to them daily, and by hanging out with them.  Once a character gains their first level, you can assign a perk that will allow them to assist you when you mine, fish, dig, or harvest.  I recommend boosting their mining and digging capabilities.  Many quests require specific gemstones and to have an extra gem mined by a companion saves you some time.  
Foraging is a common theme in many of the quests, so I recommend stockpiling hard wood and clay early on as one of Minnie's final quests asks for a couple hundred of them apiece.  After acquiring various items, you'll often have to craft or repair something with them to complete the quest.  In order to craft or cook, you'll need some coal for fuel, so make sure you always have some on hand.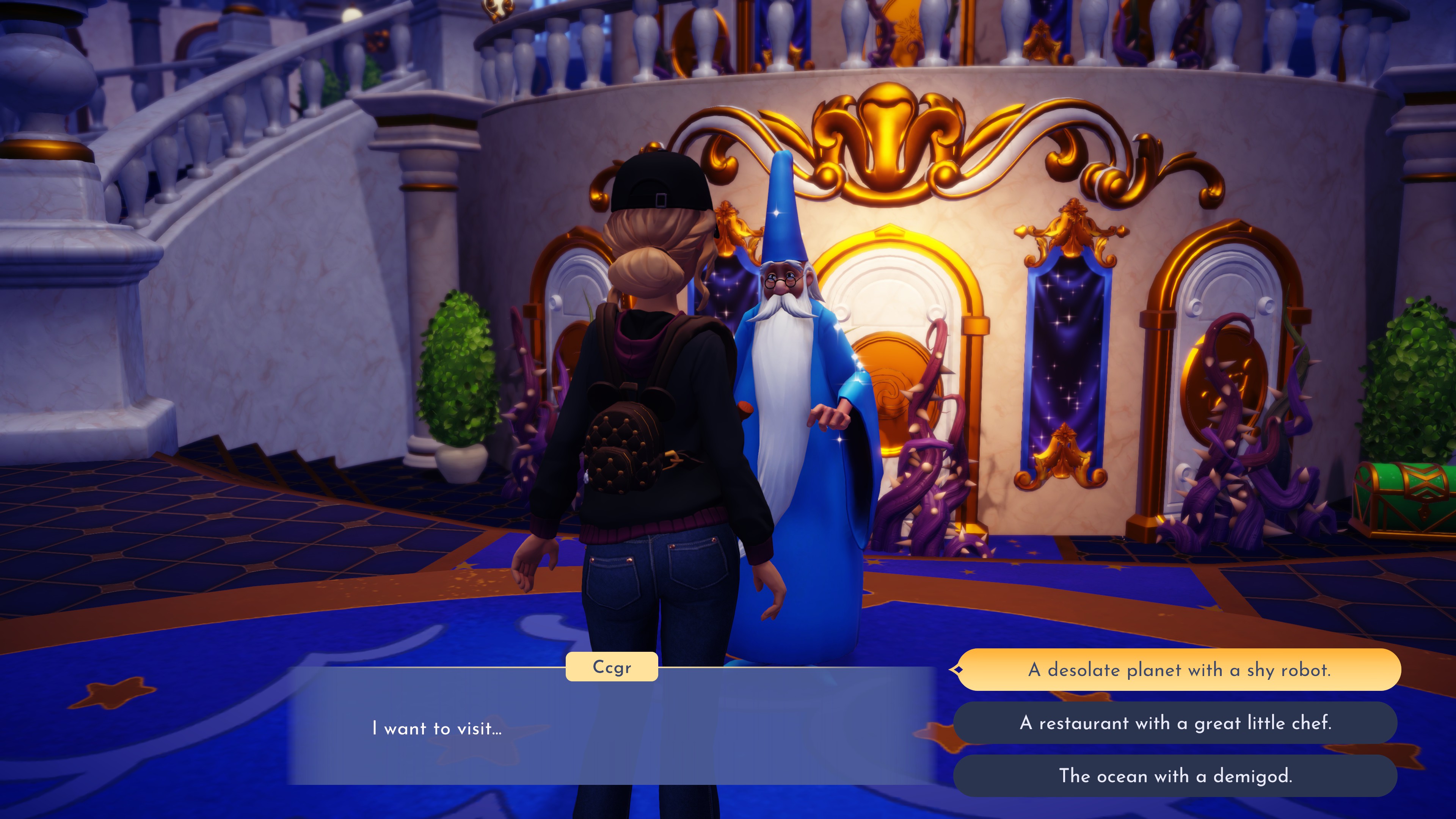 Score Breakdown:
Higher is better
(10/10 is perfect)
Game Score - 88%
Gameplay: 18/20
Graphics: 9/10
Sound: 9/10
Stability: 3/5
Controls: 5/5

Morality Score - 86%
Violence: 10/10
Language: 10/10
Sexual Content: 10/10
Occult/Supernatural: 5/10
Cultural/Moral/Ethical: 8/10
Like many RPG games, you'll never have enough inventory slots.  You can upgrade your carrying bag with in-game gold.  Many items like fruits and stone are plentiful, so feel free to sell them at any of Goofy's stalls to clear up valuable inventory space.
Whenever you hang out with a villager or enter their house, you'll hear an instrumental version of their theme song.  When you spend time with a classic Disney character like Donald Duck, Goofy, Mickey or Minnie Mouse, be prepared to hear the Mousketeer song or When You Wish Upon a Star. The characters from Frozen will have Let It Go as one of their theme songs.  Moana's theme song is catchy too.  I have gotten all of these songs stuck in my head on numerous occasions.  
Although Disney Dreamlight Valley didn't launch as a Steam Deck optimized game, it runs really well on it and I spent the majority of my time playing it that way.  With that being said, I did run into a few glitches and hiccups while playing the Early Access version of this game.  On multiple occasions, when viewing the overworld map the game would get stuck, so I was forced to close out of the game and restart it.  Thankfully, this title auto-saves pretty frequently, so I rarely lost more than five minutes of gameplay time. Upon the game's launch, there was an inventory glitch with one of Scrooge McDuck's quests and my game was impacted by it.  Thankfully, it was patched within a week or two of being impacted by it.  
Despite the glitches, I still enjoyed my time in Disney Dreamlight Valley.  I look forward to more characters and their worlds being added to this charming game.  I like how villains are treated with respect and given a chance to live peacefully among everyone as long as they play by the rules (or in Scar's case, not eat anyone).  Thankfully, there is no violence to worry about.  Magic is present and your character can choose their alignment by their actions and conversations.  
I'm not sure what the final version will look like, but I've spent nearly forty hours in the Early Access version and fully leveled up my character (40) and most of the villagers (10).  The water-bound characters like Ariel and Ursula are more challenging to level up since they can't hang out like the others. There are various events, holiday-themed festivities, and DLC launches to keep gamers immersed in this world for quite some time.  I look forward to meeting new Disney and Pixar characters as they become available.   Until then, I'll enjoy not having Disney music stuck in my head for hours on end.