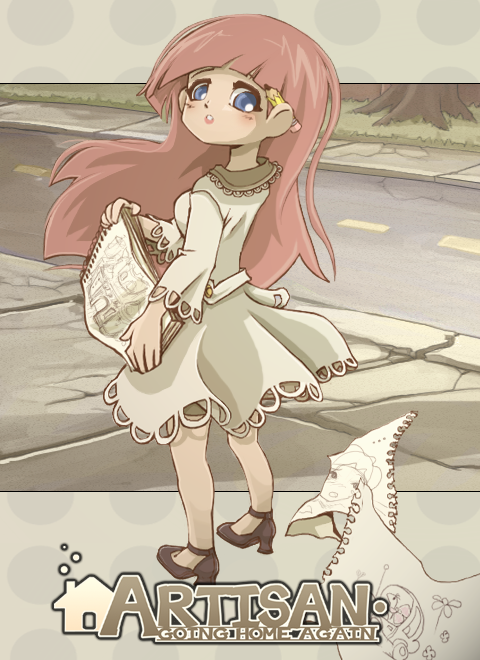 Game Info:
Artisan: Going Home Again
Developed by: Unseen Kingdom
Release Date: November 2, 2014
Available on: PC
Genre: Visual Novel
Number of Players: Single-Player
ESRB Rating: Not Rated
Price: $9.99 on Desura and Humble Store
Thank you Unseen Kingdom for sending us this game to review and for advertising with us!
Artisan: Going Home Again begins with you naming your absent minded and clumsy waitress heroine.  After getting caught sleeping on the job, she is informed that her parents are planning on selling the home that she grew up in.  Wanting to keep that house to hold onto childhood memories, the young artist hopes to raise $50,000 dollars to buy it from her parents.  Can she do it?
Each day your character can do two activities.  She can apply to job postings, freshen up her skills by playing mini-games, pursue creative works (writing, drawing comics, designing outfits), or go outside to the park, museum, or library. At night, your character can either sleep, attend social events,  or work on projects.  Working at night may give a "midnight oil" boost to getting professional jobs done, but it will take a toll on her health and will impact the work quality for the next day.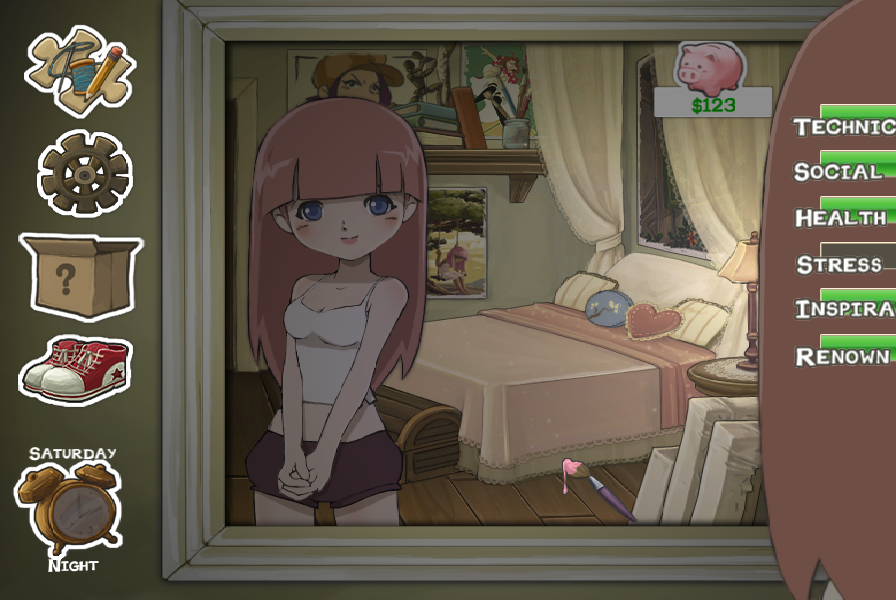 Highlights:
Strong Points: Good story and character development; fun mini-games; fifteen endings
Weak Points: Voice acting is a little quiet; I experienced one glitch that required restarting the game
Moral Warnings: A little cleavage is shown for both genders
Money can be earned by completing jobs on time or by selling art, crafts, and comics.  After befriending the museum guard, you can sell your artwork there.  There are two possible love interests, the comic savvy librarian or the long haired and shirtless sidewalk artist.  The artist can help your character sell her work at the weekend art fair and the librarian can help her sell comics at a comic convention.   
While the music at the comic convention was decent, it was a totally different style than the regular calm and peaceful background music.  Another sound complaint is that the voice acting is a bit quiet and hard to understand at times.  Only the main character is voice acted, but the dialogue for the rest of the characters is very well written.  The genre of a visual novel is applicable here since you're doing more dialogue than actual game play.
The skill building mini-games are fun.  To build up technical skill and earn drawings to sell, you can play a timed memory matching game.  As you progress in the game you'll have more colors and less time to work with!  The other mini-game gives you crafts to sell and the time is unlimited.  It's a puzzle where you have to un-shuffle and rotate the rectangles back into their proper position.  Out of the two games, I liked the memory one better.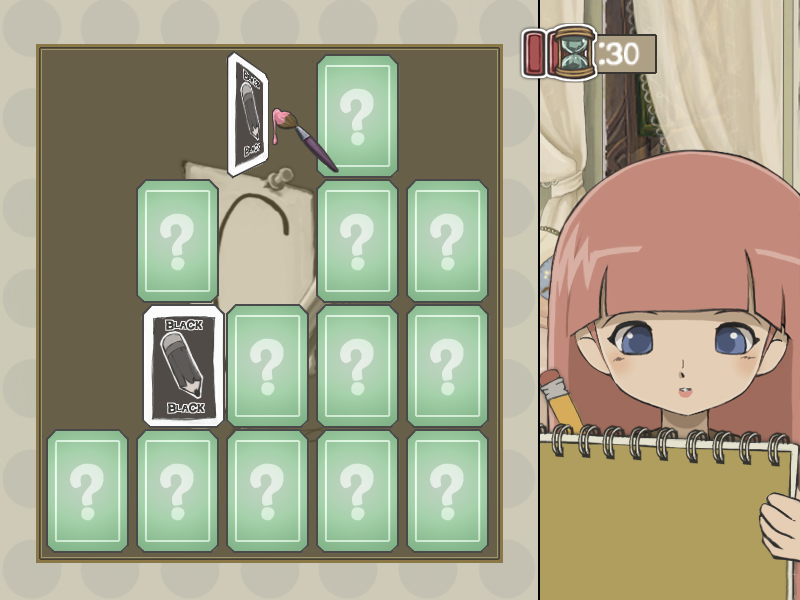 Score Breakdown:
Higher is better
(10/10 is perfect)
Game Score - 82%
Gameplay - 17/20
Graphics - 8/10
Sound - 7/10
Stability - 4/5
Controls - 5/5

Morality Score - 97%
Violence - 10/10
Language - 10/10
Sexual Content - 8.5/10
Occult/Supernatural - 10/10
Cultural/Moral/Ethical - 10/10
Different jobs have different difficulties and pay rates.  I like how each job is labeled on completion ability.  For example they are labeled as Super Easy, I Can Handle This, This Might Be Hard, and No Chance.  The ones labeled as "I can handle this" will require dedicated time to complete and you will not be able to socialize until the job is finished.  Some night work may be required as well.  I earned my money by selling at fairs and doing super easy work.  
I spent a few hours playing Artisan: Going Home Again and my game ended when my character received a big check for writing a successful book.  Once the game has ended, there's no option to continue playing on that save file.  With fifteen possible endings, there's a lot of replay value here.  
The $10 price tag is very reasonable and is a great start for the up and coming duo from Unseen Kingdom.  This dev studio consists of two talented sisters.  While Artisan: Going Home Again is well illustrated, cute, and fun, I think it leans more towards the female market than males.  The chest accentuations go both ways in this title.  Some of the character outfits are a little low-cut as well.  Other than those minor complaints, this game is family friendly and highly recommended!