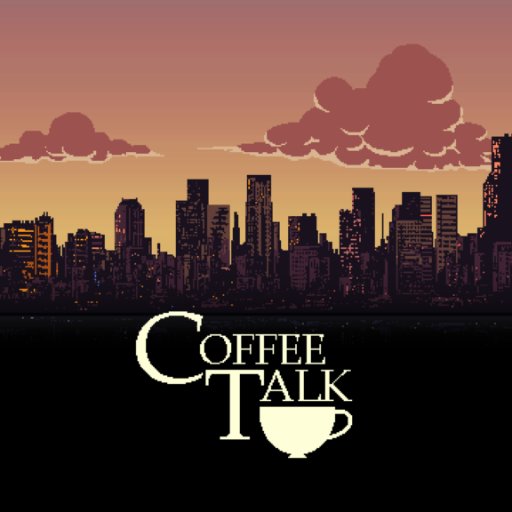 Game Info:
Coffee Talk
Developed by: Toge Productions
Published by: Toge Productions
Available on: macOS, Windows
Release date: January 29, 2020
Genre: Visual Novel
Number of players: Single-player
ESRB Rating: Teen for language, sexual themes, use of tobacco
Price: $12.99
Thank you Toge Productions for sending us this game to review!
Coffee Talk is a visual novel style game where you're a barista who listens to your customers' woes and soothes their problems with refreshing drinks. The only interaction and choices you get to make are in the forms of the coffee and tea that you brew and optionally add latte art to. Apparently, if you mess up someone's order, it can affect the story line. The game can be completed in less than five hours so the only replay value is playing the endless mode or trying to get a perfect ending.
Endless mode gives you an opportunity to learn recipes for the story mode without any negative consequences. There's also a challenge mode where you have to try and get many successful orders in a row without messing up. Most of the customers place their order by requesting ingredients (ex. Coffee with milk and honey), but some order by the drink's name. If you haven't unlocked that recipe yet, you'll have to give it your best guess. If you mess up a drink, you can throw it out before serving it to the customer.
In the beginning, you start off with a few ingredients and only a handful of recipes.  Most drinks require three ingredients to make them.  Expressos are one of the easiest drinks to make since it's just three helpings of coffee.  Your best customer, Freya loves the way you make them and relies on the caffeine to pull all-nighters to finish her book before the publishing deadline.
Highlights:
Strong Points: Nice pixel art and music; funny dialogue and characters
Weak Points: Not much direction on beverage recipes; less than five hours long; selecting continue from the game menu starts from day one no matter how far into the story you are
Moral Warnings: Language (d*mn, sh*t, *ass, b*stard) and blaspheming; characters seen smoking; references to underage drinking; a character's backside is shown in a newspaper; talk about premarital sex; prejudice 
Freya is influenced by the life stories shared by the customers at the coffee shop. Of course, they're not aware of that and she vows to change names and ethnicity to keep their anonymity. Although Coffee Talk takes place in 2020, it's a completely different world than it is today. In this game, elves, dwarves, faeries, merfolk, orcs, succubi, werewolves, vampires, and other creatures live in harmony (most of the time). There is some prejudice and one of the story arcs is about a mix-raced couple that has been dating for ten years and is hesitant on taking the relationship any further due to parental disapproval.
Some of the conversations get sexual. One of the customers is an alien visiting Earth to learn how to communicate and breed with Earthlings. Not surprisingly, there's awkward discussions about birth control and premarital sex.
Cursing and blaspheming are pretty commonplace. There are no f-bombs but everything else (d*mn, *sshole, b*stard, sh*t) is there. Smoking is allowed and some of the customers take advantage of the privilege. Alcohol is not served, but drunkenness and partying is mentioned.
The 2D pixel art is colorful and well done. The characters show their emotions throughout the conversations. There aren't any fights or blood shown, but a character stumbles into the coffee shop after they got into a nasty brawl.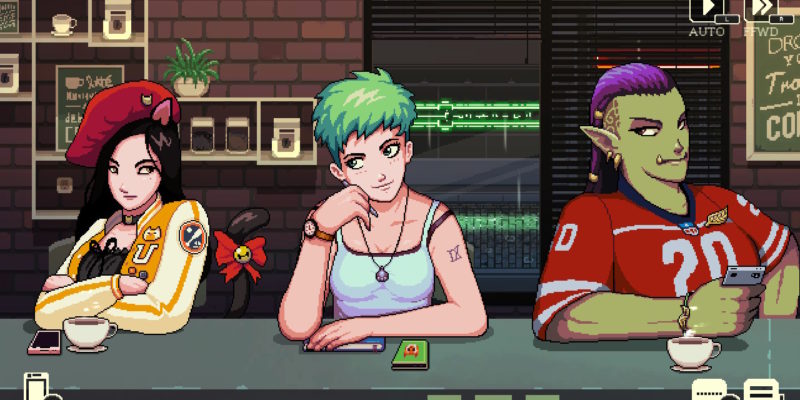 Score Breakdown:
Higher is better
(10/10 is perfect)
Game Score - 74%
Gameplay: 14/20
Graphics: 8/10
Sound: 7/10
Controls: 4/5
Stability: 4/5


Morality Score - 67%
Violence: 9/10
Language: 2.5/10
Sexual Content: 6/10
Occult/Supernatural: 10/10
Cultural/Moral/Ethical: 6/10
There is no voice acting, the conversations consist of "beeps" and "boops" sound effects. Background noises like rain and the coffee machine are believable. The smooth jazz background music is soothing and is available for purchase on Steam for $9.99 by itself or with a 10% discount by purchasing the digital art book too.
For the most part, this game ran well. The only hiccup I experienced was by clicking "Continue" from the main menu, the game would start from the first day instead of restoring my last save. Thankfully, I was still able to resume my progress by manually loading the most recent day.
For controls you can use keyboard/mouse or gamepad simultaneously. I usually prefer playing with a gamepad, but my latte art looked better when drawn with a mouse.
Many gamers compare this game to VA-11 HALL-A, but I can't comment since I haven't played it. If you ever had any desire to be a barista or enjoy relaxing visual novel games, Coffee Talk may be worth looking into, as long as you don't mind the language and sex talk.