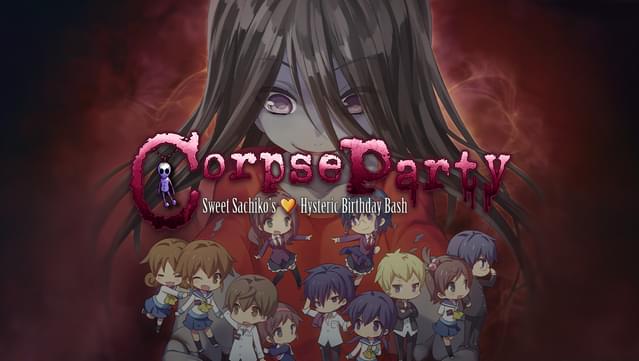 Game Info:
Corpse Party: Sweet Sachiko's Hysteric Birthday Bash
Developer: Mages. Inc.
Published by: XSEED Games
Release Date: April 10, 2019
Available on: Windows, macOS, Linux
Genre: Adventure, Visual Novel
Players: 1
ESRB Rating: M for Mature
Price: $19.99
(Humble Store Link)
Thank you XSEED for sending us this game to review!
Here's the thing with games that rely on the story alone, they have to be reviewed in a much different sense than most games. I can name several games that have a cruddy story that have great gameplay to me as well as games that have a fascinating story but horrid gameplay. Corpse Party: Sweet Sachiko's Hysteric Birthday Bash has no gameplay elements to speak of beyond basic visual novel fare and a story that's more niche than the main series games.
Corpse Party: Sweet Sachiko's Hysteric Birthday Bash, also known as Corpse Party 2U takes place during Sachiko Shinozaki's birthday. The vile child spirit that haunts this school grounds has decided to task all the poor souls she's captured with putting on a romantic comedy for her amusement. You go through different chapters, making choices to try and get to the clear end to progress to the final chapter. While these kinds of series usually should be played in order, you aren't really missing anything if you skip this game.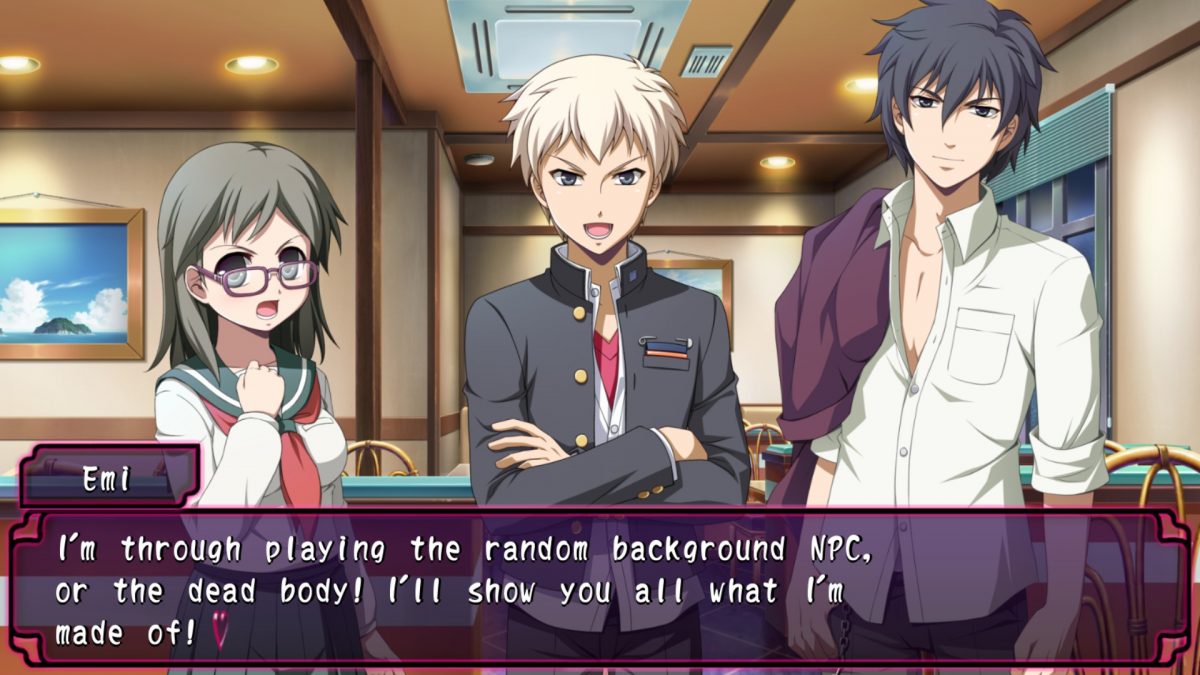 Highlights:
Strong Points: It is made for fans. If your invested in the series you'll enjoy it.
Weak Points: If you're not a fan or you dont like the style of humor, despite being a cannon story for the series, you wont get any enjoyment. 
Moral Warnings: Lewd and sexual jokes, language and images. Violent imagery, supernatural elements.
There isn't any gameplay mechanics to speak of in this title. While the main Corpse Party games all have some kind of mechanic as you explore areas in the haunted school. This game is purely a visual novel. You can't progress to the next chapter without getting the right or clear ending either. While Corpse Party is famous for its shocking bloody endings if you mess up, the endings in this game are more tongue in cheek than shocking.
If Japanese-style humor isn't your thing then you probably won't get much enjoyment out of this title. It's also harder to put these characters in a comedy setting if you're a fan of the main games. At the end of the day, they are still stuck in an eternal loop of reliving death over and over. It's a bit weird to smile and laugh along to a break from a hellish torment. I appreciate Corpse Party as an intense horror story. If I was in the mood for anime comedy, I'd subscribe to Crunchyroll.
Score Breakdown:
Higher is better
(10/10 is perfect)
Game Score - 60%
Gameplay - 5/20
Graphics - 5/10
Sound - 10/10
Stability - 5/5
Controls - 5/5

Morality Score - 10%
Violence - 0/10
Language - 3/10
Sexual Content - 0/10
Occult/Supernatural - 0/10
Cultural/Moral/Ethical - 2/10
As far as morals go, it's a Corpse Party game so don't expect much. Plenty of supernatural elements and cruel violence at the expense of poor teenagers. Since this is the comedy game you can expect a few bikini shots and lewd or pervy jokes as well. Along with the lewd language is some cursing including the f-bomb.
Corpse Party: Sweet Sachiko's Hysteric Birthday Bash is as niche as you can get. If your a hardcore fan of the series and you love Japanese comedy then maybe you'll get some enjoyment out of this? Yet for most people it's going to be wind up being a mediocre experience.