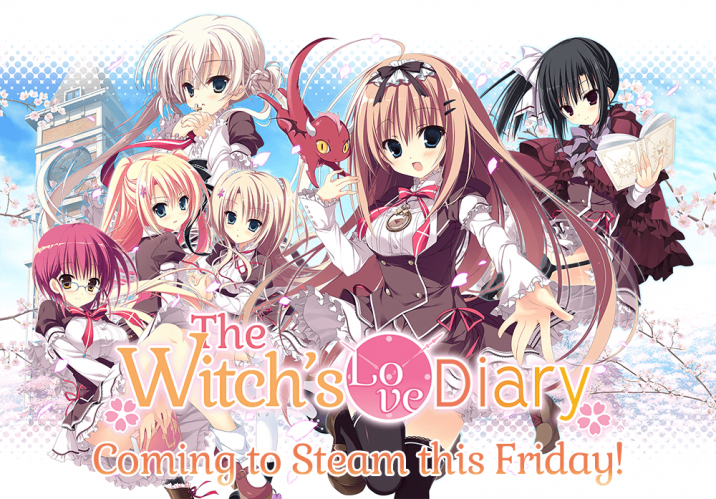 Game Info:
The Witch's Love Diary
Developed by: Qoobrand
Published by: Sekai Project
Release date: July 26, 2019
Available on: Windows, Vita
Genre: Visual Novel
Number of Players: Single-player
ESRB Rating: Not rated
Price: $29.99
Thank you Sekai Project for sending us the censored version of this game to review!
It's always a bad sign when a visual novel begins with letting you know that all of the characters are over eighteen. Like many Japanese visual novels and animes, this title takes place at a school. The main character's name is Alice and she lives in a small barbershop that her deceased parents used to run. Alice is a little bit on the ditzy side and often forgets to do laundry, which makes locating clean underwear in the morning a challenge.
On the school grounds is a mysterious clock tower that nobody knows of its origins. Rumor has it that girls that go there at night can get their wishes granted. When Alice and her friends meet up there, a book mysteriously comes in contact with Alice and she takes it home with her.
Although Alice realizes that this is a personal diary, she begins to read it anyway. Interestingly enough, the book reveals only one story at a time and the tales inside are quite raunchy and often star classmates and faculty that Alice sees on a day-to-day basis.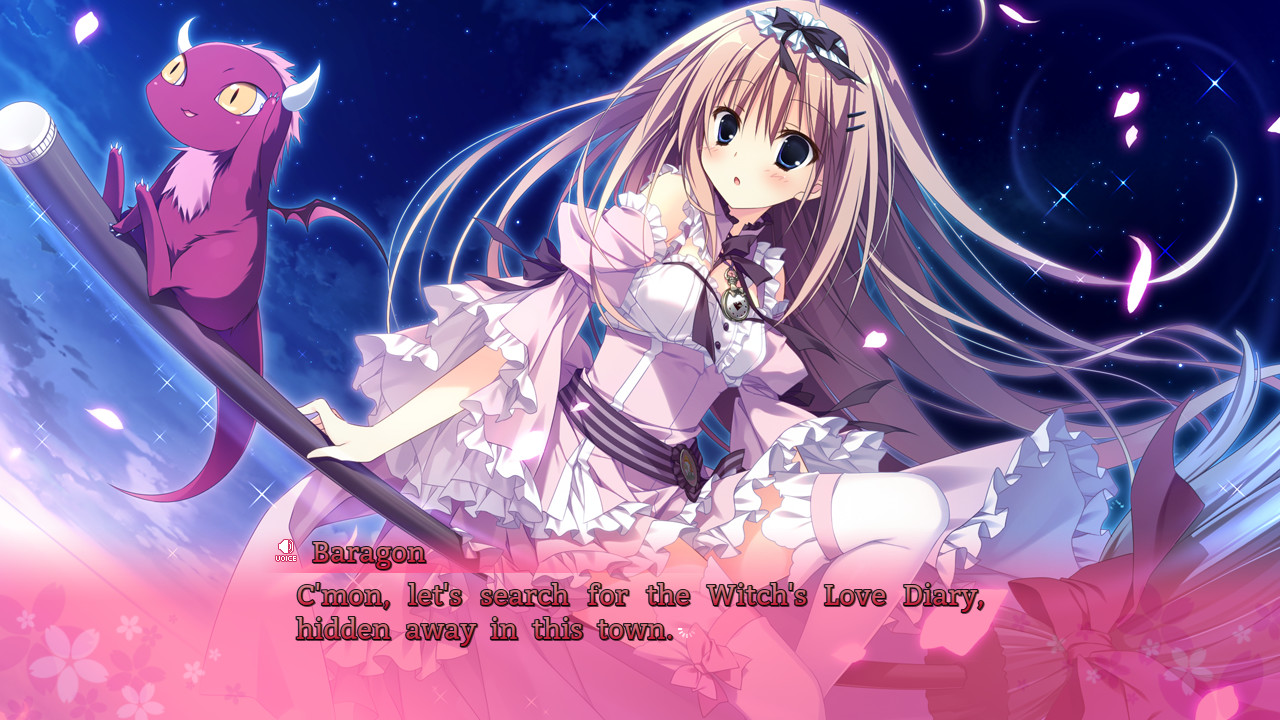 Highlights:
Strong Points: Interesting stories and characters
Weak Points: Some of the stories can get a little confusing at times
Moral Warnings: Lots of sexual encounters are recorded in detail in the diary; cleavage and underwear imagery is shown; lots of language and blaspheming; occult rituals with animal sacrifices are described; alcohol consumption and drunkenness
The stories are told from the perspective of Takumi who is a good-looking and wealthy young man who is known around school for being a womanizer. That reputation is well earned as the escapades recorded in the dairy involve several students, a teacher, and even the principal!
Each of the love interests has a different personality and aspirations in life that the player will learn and care about as they get drawn into their story. The relationships usually get intimate and the text doesn't leave much doubt in that regard. Various sexual acts are alluded to but not shown given that this is a censored version of the game. Not surprisingly, there is a lot of skin and cleavage shown. One of the female characters was shown topless with band-aids covering up her nipples.
There are several images with girls in their underwear and swimsuits. One of the ladies works at a hostess club where liquor is served and the patrons usually end up inebriated. At the luxurious salon there is a masseuse who seems to be a transvestite or a drag queen. On the language front, every word and blaspheme possible is used in the story's text.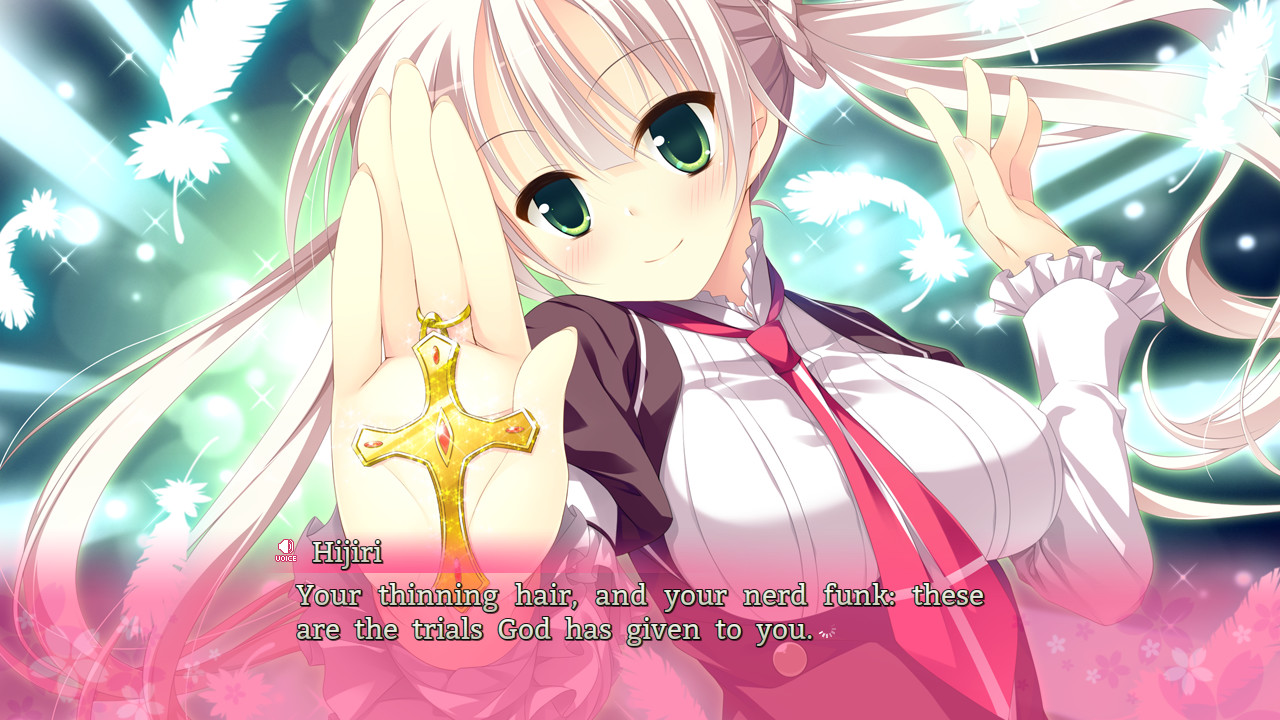 Score Breakdown:
Higher is better
(10/10 is perfect)
Game Score - 84%
Gameplay - 16/20
Graphics - 8/10
Sound - 8/10
Stability - 5/5
Controls - 5/5

Morality Score - 36%
Violence - 7/10
Language - 0/10
Sexual Content - 0/10
Occult/Supernatural - 3/10
Cultural/Moral/Ethical - 8/10
One of the students runs the occult club and in order to grant another classmate's wish, a cat's life is sacrificed in a ritual. The actual act is not shown, but the text and sound effects are quite sufficient to conjure a mental image of what happened. Because Alice befriends a dragon named Baragon, she is considered a witch. Together on a flying broomstick they search for lost entries of the Witch's Love Diary.
There are numerous stories and they take place in different time periods. It's a little hard to keep track of them all. One of the stories involving Alice borrows heavily from Cinderella with her attending a ball put on by Takumi without the knowledge of her step-mother and sisters. However, instead of the prince using a shoe to find his love, Takumi is searching for a particular (powerful) slap.
I don't want to reveal any spoilers, but it's safe to say that this visual novel is very sexually charged, even in its censored format. If the mature content doesn't matter to you, the multiple stories are sure to keep you entertained for over twenty hours.