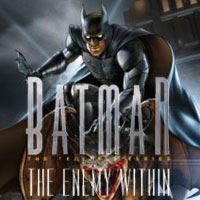 Game Info:
Batman: The Enemy Within
Developed by: Telltale Games
Published by: Telltale Games
Release date: Finale released on March 27, 2018
Available on: Android, iOS, PS4, Xbox One, Windows
Genre: Adventure
Number of players: Single-player
ESRB Rating: Mature for violence, blood and gore, mild language
Price: $24.99 (season pass)
(Humble Store Link)
Thank you Telltale Games for sending us a review code for this series!
The first of five episodes for Batman Enemy: The Enemy Within released back in August of 2017. We reviewed it here. I won't spoil the ending of that episode, but I will say that the Riddler was working with several villains that Batman will get introduced to in the remaining chapters. The cast includes Mr. Freeze, Bane, Harley Quinn, and even Bruce Wayne's potential love interest from the previous game, Catwoman. John Doe finally evolves into The Joker, but what type he becomes depends on the choices made in this story-driven 3D adventure game.
The Joker I got was the vigilante one as I tried my best to keep John Doe in check. He's got a big crush on Harley Quinn and easily gets jealous of Bruce Wayne when she flirts with him. Bruce can either reciprocate or deflect her sexual advances. I saw how jealous John got when taking a sip of her Icee so I didn't push the envelope any further than that. I did, however, get another kiss from Selena/Catwoman. Though after some of the choices I made, I doubt she'll ever like Bruce Wayne again. I love how at the end of each episode your choices are compared with everyone else's and my decisions were usually in line with theirs, but not all of the time.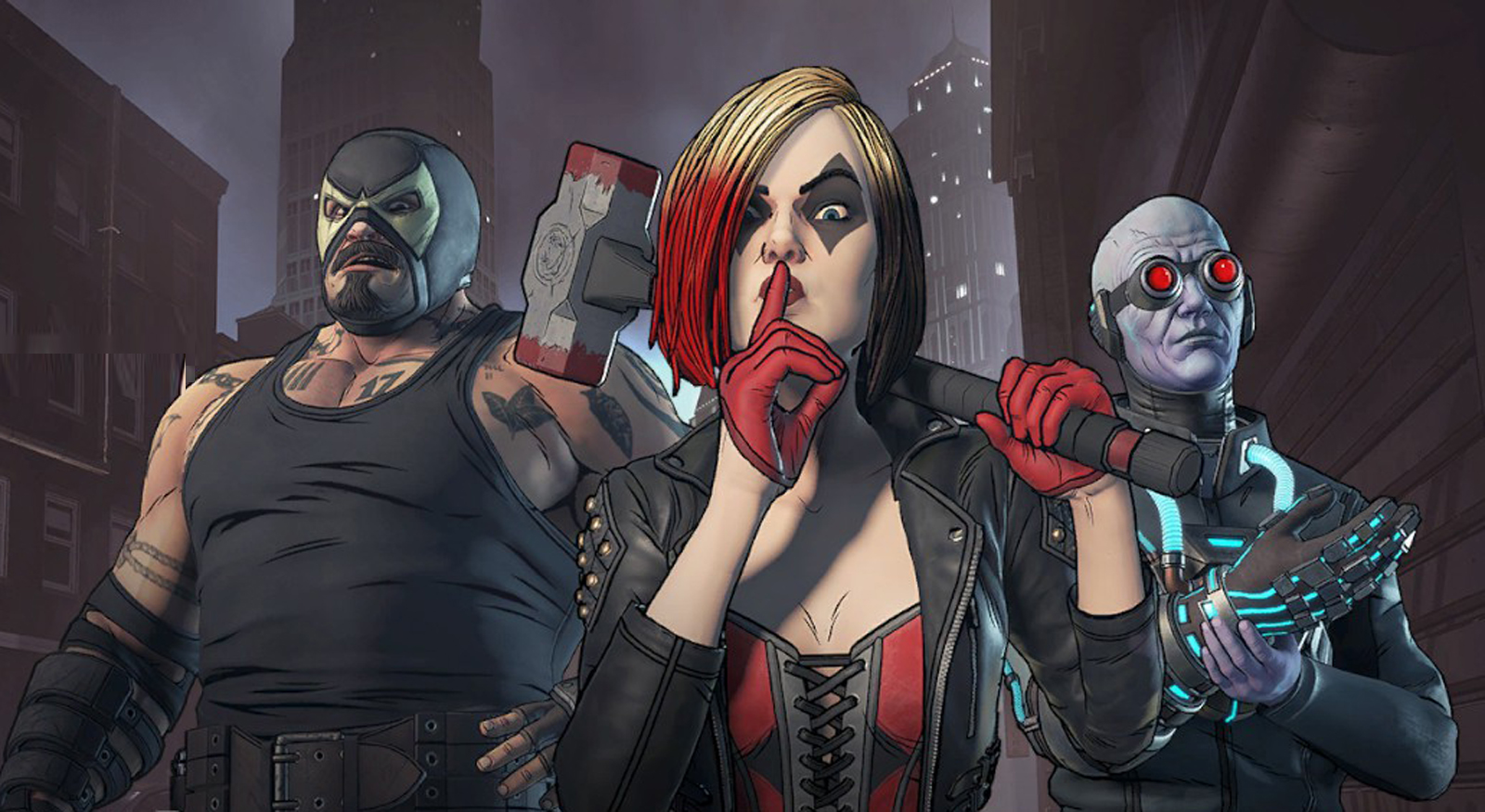 Highlights:
Strong Points: Great story; tough decisions
Weak Points: Lots of quick time events if you're not a fan of them; game crashed to desktop once
Moral Warnings: Extreme violence, blood, and gore; drinking/drunkenness; language and blaspheming; suggestive dialogue
A lot of the story revolves around revenge and grudges. You can forgive people or choose not to accept their apologies. Their relationship with you changes by your actions and words. In order to prevent the allied enemies from destroying Gotham City with a super virus, Bruce Wayne must go undercover and join their ranks and earn their trust. Of course, they don't just take him at his word; they put Bruce through many loyalty tests and avoiding bloodshed is not always possible.
Blood is unavoidable and along with several civilians, Batman takes quite a beating. While Alfred fixes him up most of the time, the player must assist in a patch-up job that involves removing debris, disinfecting the wound, and stapling it shut. I cringed at each staple put in place. Unfortunately, all of the violence and stress is taking quite a toll on Alfred and he's on the verge of a mental breakdown if drastic changes are not made. There are lots of tough decisions to be made in the title. There is an option to let online players make the decisions for you if you wish.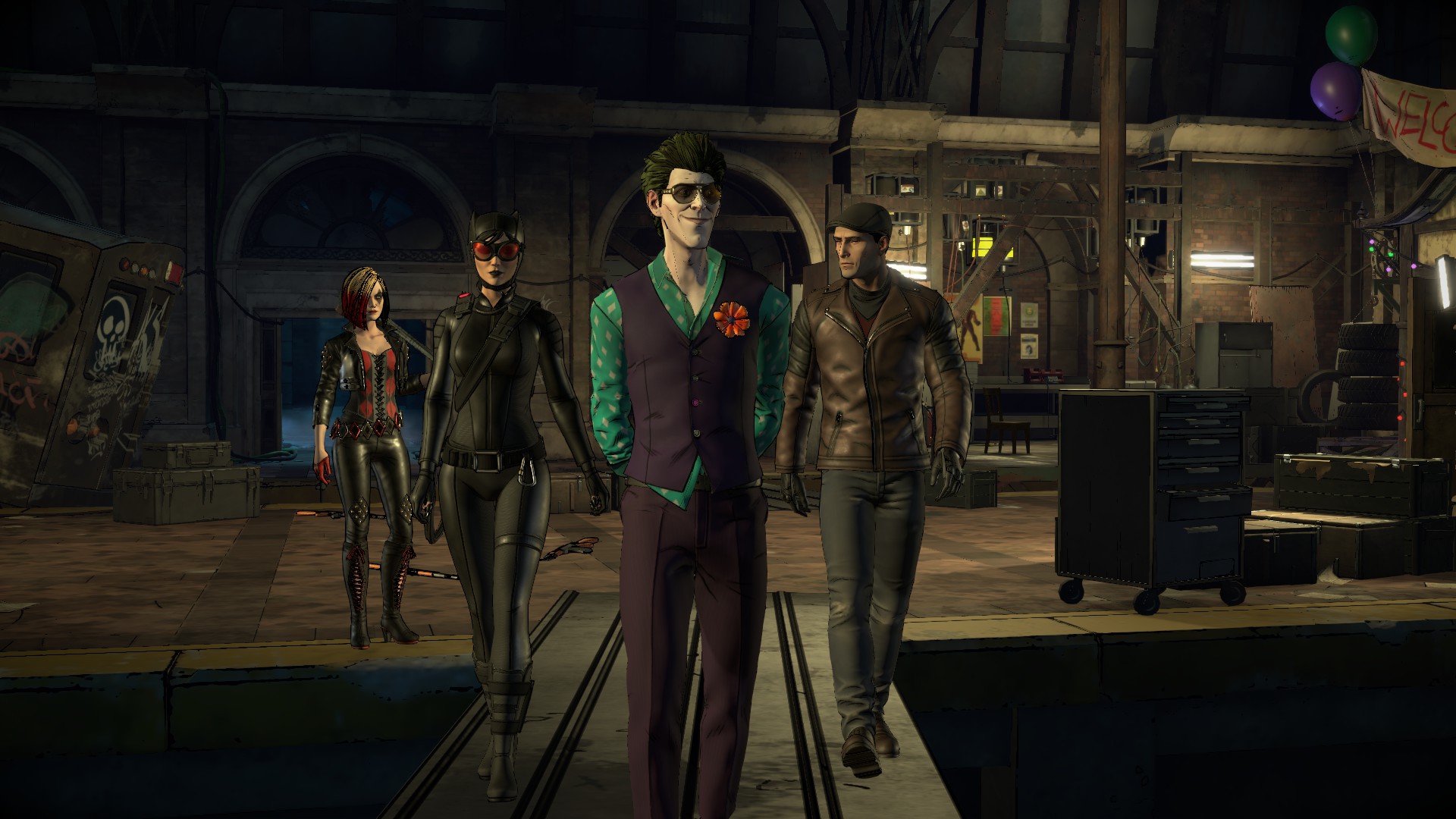 Score Breakdown:
Higher is better
(10/10 is perfect)
Game Score - 92%
Gameplay - 18/20
Graphics - 9/10
Sound - 9/10
Stability - 4/5
Controls - 5/5

Morality Score - 56%
Violence - 0/10
Language - 1/10
Sexual Content - 7/10
Occult/Supernatural - 10/10
Cultural/Moral/Ethical - 10/10
This game looked great with the 3D cel-shaded visuals. There are a lot of action packed scenes and many quick time events where you have to press the Q, E, and/or the Shift key to make or dodge attacks. Thankfully, there are many save points so you won't lose much progress if an enemy strikes a fatal blow to Bruce/Batman. I did experience one crash to desktop, but didn't lose too much progress thanks to the generous save system.

As always, the voice acting is stellar and each character has some great lines. The Joker's antics cracked me up a lot. Unfortunately, many of the characters cuss and blaspheme throughout the game. One of the John Doe's favorite hangouts is at a bar and naturally drinking and drunkenness are shown there. I do like how violence can be avoided, but no matter what actions Bruce or Batman takes, there will almost always be collateral damage.
If you don't mind the unavoidable blood, language, and difficult law bending decisions, Batman: The Enemy Within packs a lot of action and excellent storytelling in each of the two-hour episodes. The whole series can be unlocked for $24.99 and it also includes a few digital DC comics.