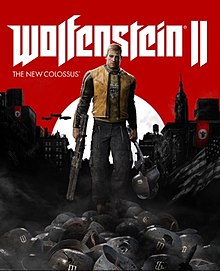 Game Info:
Wolfenstein II: The New Colossus
Developed by: MachineGames
Published by: Bethesda Softworks
Release date: October 27, 2017
Available on: PS4, Switch, Xbox, Windows
Genre: FPS
Number of players: Single-player
ESRB Rating: Mature for Blood and Gore, Intense Violence, Partial Nudity, Sexual Content, Strong Language, Use of Drugs
Price: $39.99
(Amazon Affiliate Link)
Wolfenstein II: The New Colossus takes place in 1961 when the Nazis rule America and BJ Blazkowicz, aka "Terror Billy," is one of the few remaining members of the Resistance. The story carries over from New Order and has you re-verify which of the two soldiers you spared from the Nazi General Deathshead. BJ Blazkowicz's previous victory took quite a toll on him and you'll witness a bloody surgery involving removing some of his intestines to save his live. You'll start off the game with only fifty health and being wheelchair bound. I like the overcharge ability that temporarily boosts your health past maximum and slowly brings it back down to normal.
Even in a wheelchair, BJ can seriously kick some Nazi butt. There's a wide variety of enemies including Nazis, KKK members, dogs, robotic dogs, robotic soldiers, drones, mechs, and ridable fire spewing robotic dogs. To take down these various foes, BJ has access to a lot of fun guns, grenades, and weapons of mass destruction. The laser guns and flame throwers are always fun, but you first have to take down some tough robotic soldiers to gain access to them. Naturally, the world and environment is destructible.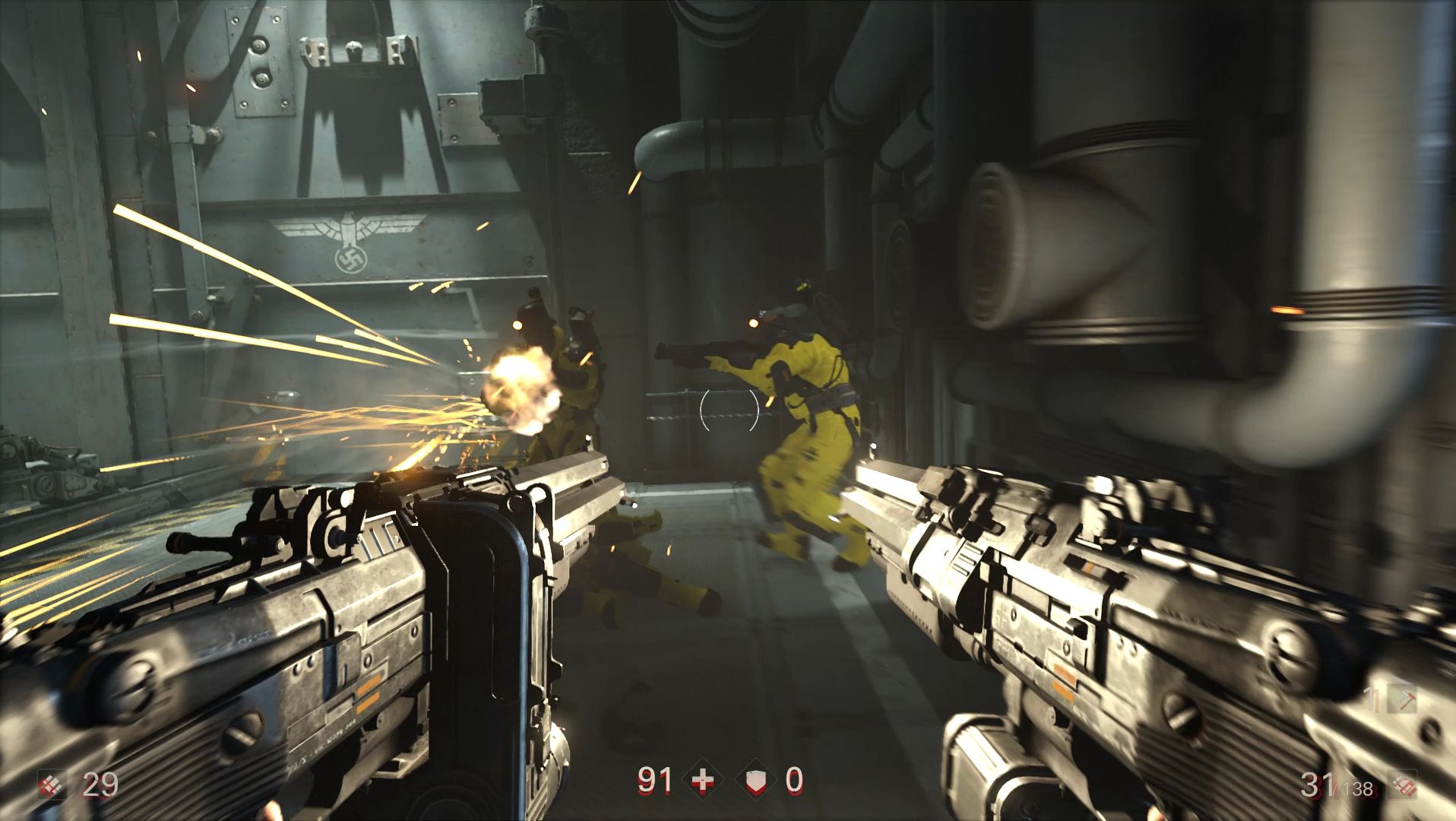 Highlights:
Strong Points: Great story; voice acting; and character development
Weak Points: Experienced a couple of game crashes
Moral Warnings: Lots of violence, blood and gore; strong language and blaspheming; prejudice and racism; sex scenes and nudity (breasts shown); alcohol and drug references
The visuals in this game are impressive and quite realistic. The war-ravaged towns, enemies, and friends are all incredibly detailed. This game ran great on my desktop and scales down enough to be run on portable devices like the Nintendo Switch. There are a lot of flashbacks and cinematic sequences. Many of them are sexual or violent in nature. BJ had a troubled childhood with a drunk and abusive father who did not tolerate his friendship and first love with an African American girl.
There are some sexual encounters and references in this game. Breasts are shown during breastfeeding, sleeping, and even in combat. A lot of cussing and blaspheming is heard throughout the story as well. The main campaign can be completed in less than ten hours. There are DLC side stories available if you purchase the season pass. Each of the stories has multiple chapters that add a couple more hours of gameplay. Each of the characters in the side stories can utilize an ability that BJ had access to in the main story. However, BJ had to choose only one upgrade option with others being available through side quests. If you only focus on the main story, this is a good chance to see what you missed.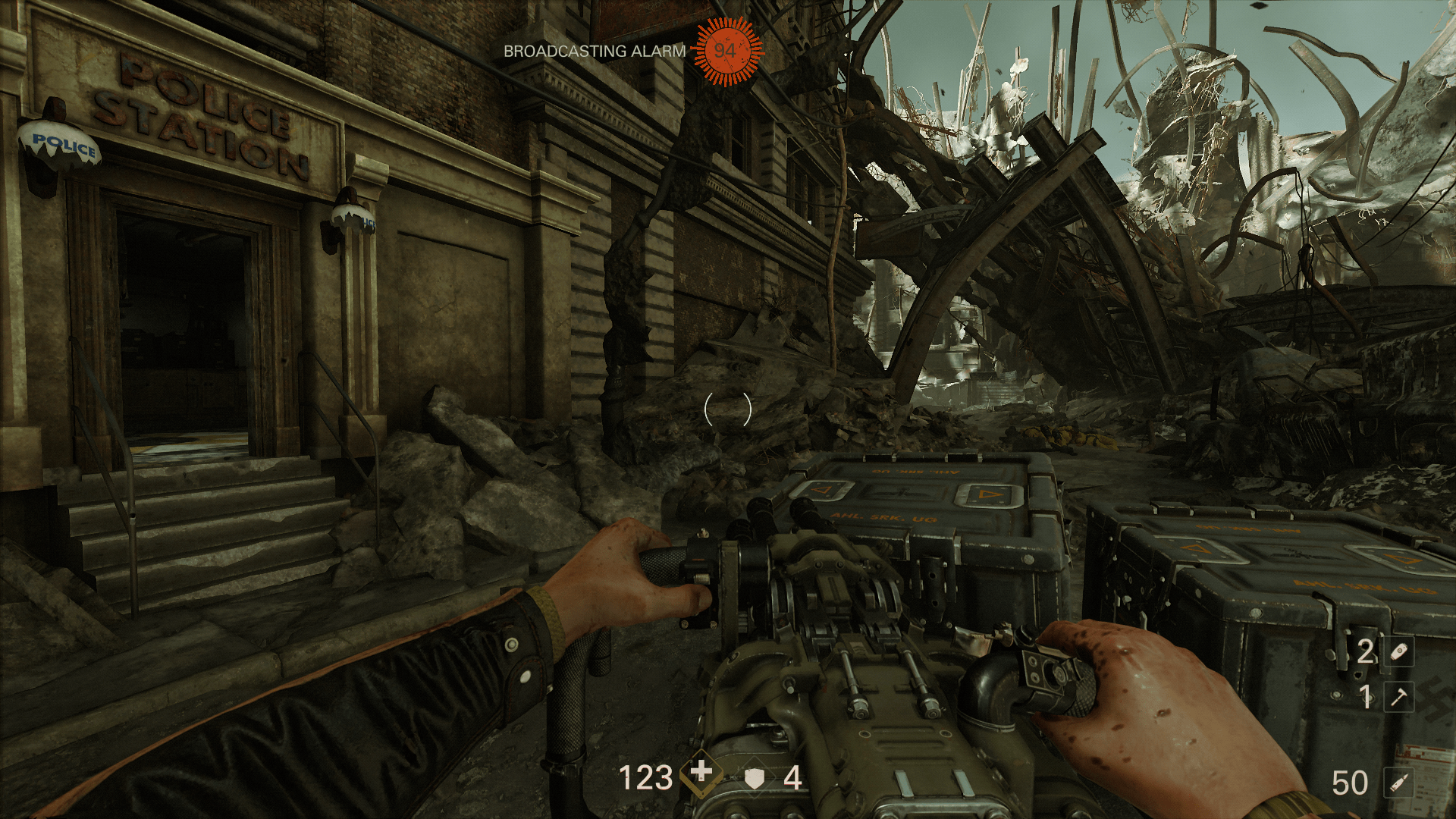 Score Breakdown:
Higher is better
(10/10 is perfect)
Game Score - 88%
Gameplay - 17/20
Graphics - 10/10
Sound - 8/10
Stability - 4/5
Controls - 5/5

Morality Score - 37%
Violence - 0/10
Language - 0/10
Sexual Content - 1/10
Occult/Supernatural - 10/10
Cultural/Moral/Ethical - 7.5/10
There's plenty of side quests and things to look for during the main campaign. Each of the missions have collectible items like gold and toys to locate. By killing generals, you'll get enigma cards which can be used later to locate and hunt down high ranking Nazis who are in hiding. The enigma machine is a bit of a pain to use since you have to solve enigma puzzles within a certain amount of time or you'll lose an enigma card trying to crack it. It's nice that there's more gameplay available after completing the main story, but the timed enigma puzzles are too much of a hassle for me to bother with the extra quests. I am enjoying the Freedom Chronicles DLC and am looking forward to more chapters to be released.
For an added challenge, you can complete this game on several difficulty levels. You'll earn a Steam achievement for each difficulty it gets completed on. There are also several in-game achievements that tally up how many overcharged or headshot kills you make.
Though the $59.99 asking price is a bit steep for a ten-hour game, it is fun and continues a great story. I picked it up for a good price during the Steam Christmas sale and it included the season pass. This is in addition to the Xbox One version I bought and gave to my brother since I preferred keyboard and mouse controls over a gamepad. If you enjoyed the previous entries and don't mind the graphic violence, language, and sexual content, you won't be disappointed in this one. Though I did experience a couple of random crashes, the autosaves had me lose minimal progress. Despite the crashes my overall experience was a positive one.