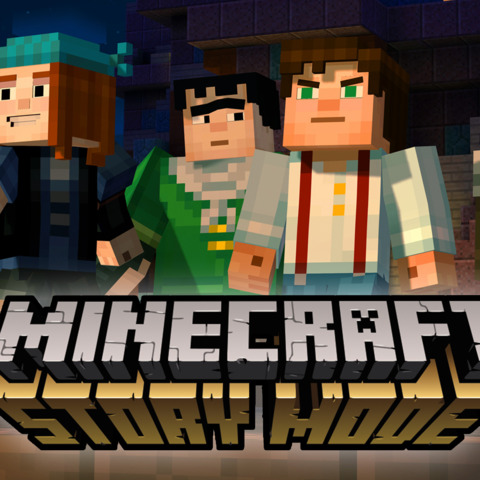 Game Info:
Minecraft: Story Mode Adventure Pass
Developed by: Telltale Games
Published by: Telltale Games
Release Date: June 7, 2016
Available on: Android, iOS, Windows, Mac, PS3, PS4, Vita, Wii U, Xbox 360, Xbox One
Genre: Adventure
ESRB Rating: E 10+ for fantasy violence and mild language
Number of Players: Single player
Price: $5 per episode
(Humble Link)
Thank you Telltale Games for sending us review codes for all eight episodes!
Minecraft Story Mode was initially released as a five-part series, but has since been expanded with the Adventure pass DLC. Like many Telltale games, Minecraft Story Mode is a point and click adventure game with many quick time events.  The choices made in the game impact the characters' lives and even their feeling towards you.  At the end of every episode, the choices you made are compared against others who have finished it as well.
The asking price of $24.99 for five episodes bundled into a "Season Pass" is reasonable for the excellent storytelling and character development.  The season pass terminology is confusing since that term is reserved for having access to all content in games generally speaking.  The $15 needed to conclude the cliffhanger ending in chapter five is a bitter pill to swallow for many gamers and quite a few people have spoken their minds on this matter in the Steam store reviews.  Other than those complaints, the game still has mostly positive reviews.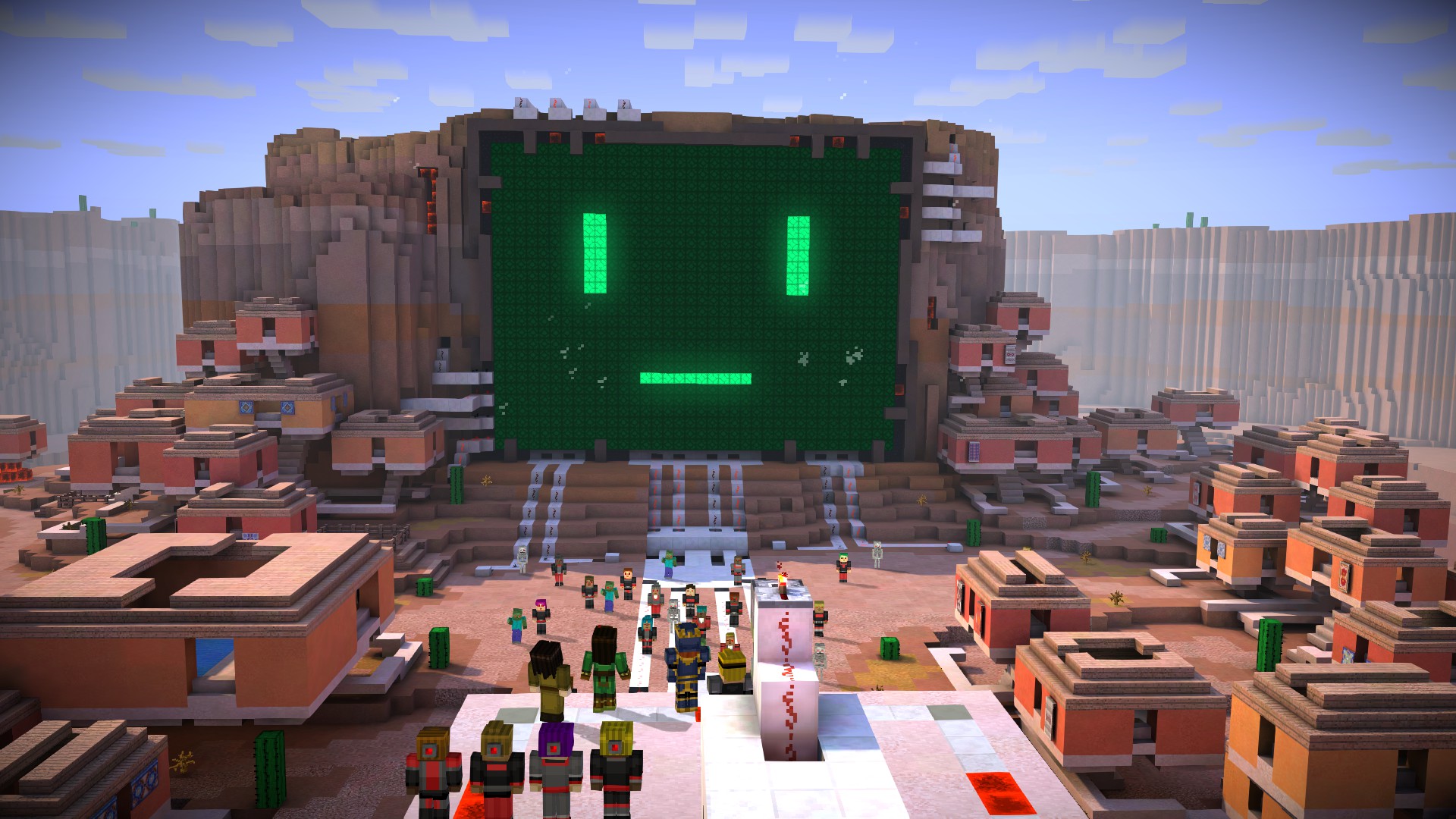 Highlights:
Strong Points: Good story in a Minecraft themed universe
Weak Points: The episodes are rather short at roughly an hour each
Moral Warnings: Characters will killed and attacked by zombies and other monsters
Episode six picks up where five left off with some of the Order of Stone members in an unusual world with two moons and tons of zombies.  They find an invitation to go to a mansion and decide to check it out instead of hanging around the zombies.  Upon their arrival they discover that they were not the only ones invited and are accompanied by many popular Minecraft Youtube personalities including: Joseph Garrett as Stampy Cat, Stacy Hinojosa as Stacy Plays, Dan Middleton as DanTDM (The Diamond Minecart), Lizzie Dwyer as LDShadowLady, and Jordan Maron as CaptainSparklez. As charming as these new people are, they start dying mysteriously and the group must work together to find out who is behind these murders.
While it wasn't a game breaking glitch, I thought that it was strange that Jesse's portrait in the mansion only showed the male version of the character despite my character being female.
In episode seven, the same Order of the Stone members are back in the hallway of portals.  Their fruitless effort of exploring portals to find the correct one home is taking a toll on them.  Petra is frustrated and Jesse lets her pick the group's next destination.  They wind up in an automated world that is being run by a computer named PAMA.  The computer's initial purpose was to optimize the world, but instead it's taken it over. The Order of the Stone must intervene to get the assistance from the Old Builder who can help them get the Atlus to guide them home.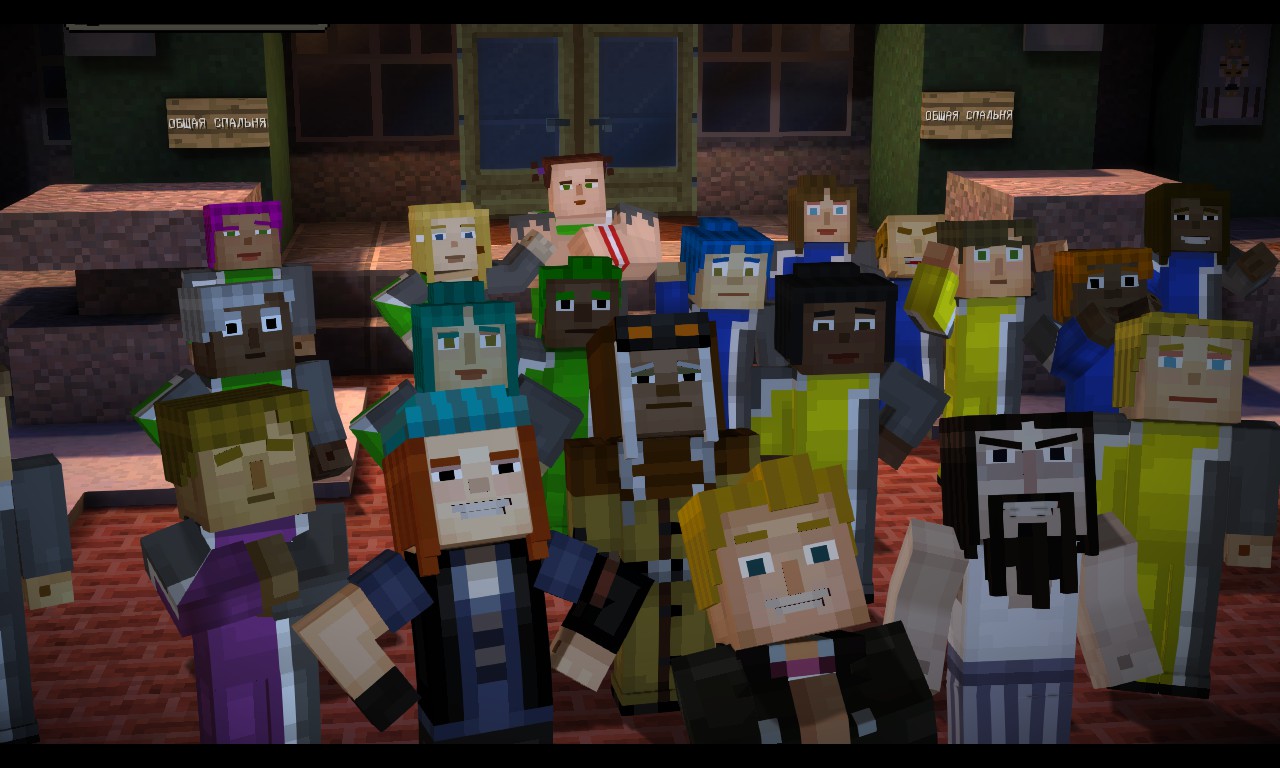 Score Breakdown:
Higher is better
(10/10 is perfect)
Game Score - 86%
Gameplay - 15/20
Graphics - 10/10
Sound - 9/10
Stability - 4/5
Controls - 5/5

Morality Score - 76%
Violence - 6.5/10
Language - 7/10
Sexual Content - 10/10
Occult/Supernatural - 7/10
Cultural/Moral/Ethical - 7.5/10
Getting the Atlus in the final episode is easier said than done.  In order to win over the other Old Builders, the Order of the Stone members must win the gladiator style games that they've been thrown into.  Many choices revolving around trust and forgiveness are provided in this finale.  Can Jesse win over both the contestants and the judges?
Throughout these final three episodes some of the deaths are permanent while others just respawn without their inventory.  There are examples of cheating and deception and revenge is an option.  On a positive note, I don't recall any language in the Adventure Pass episodes.
If you don't mind the moral content in the main game, the adventure pass is worth getting.  Like the other episodes, the additional ones are relatively short at an hour and a half each.  I have completed the whole series in thirteen hours.  The entire series will set you back $40, but it's a worthwhile adventure for Minecraft fans.