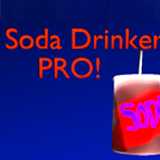 Game Info:
Soda Drinker Pro
Developed by: Will Brierly
Release Date: March 2013
Available on: PC
Genre: First Person Soda
Number of players: Single-Player
ESRB Rating: Not Rated 
Price: $4.99
Thank you Will for sending us this game to review!
Soda Drinker Pro is a soda drinking simulation game that lets you experience drinking soda in many wacky environments without packing on the calories.  Unfortunately you don't get any flavor, but you can get a virtual reality experience with the Oculus Rift if you have one.   The slurping sound effect is pretty spot on so all this game is lacking is the taste.  
There are more than two hundred levels to virtually drink your soda.  The levels are pretty creative and many of them are psychedelic looking.  Of all of the places I can think of to drink pop, I would have never thought of doing so on a human butt, inside of a giant mouth, in a dark room with a tiger, or on top of a sky scraper.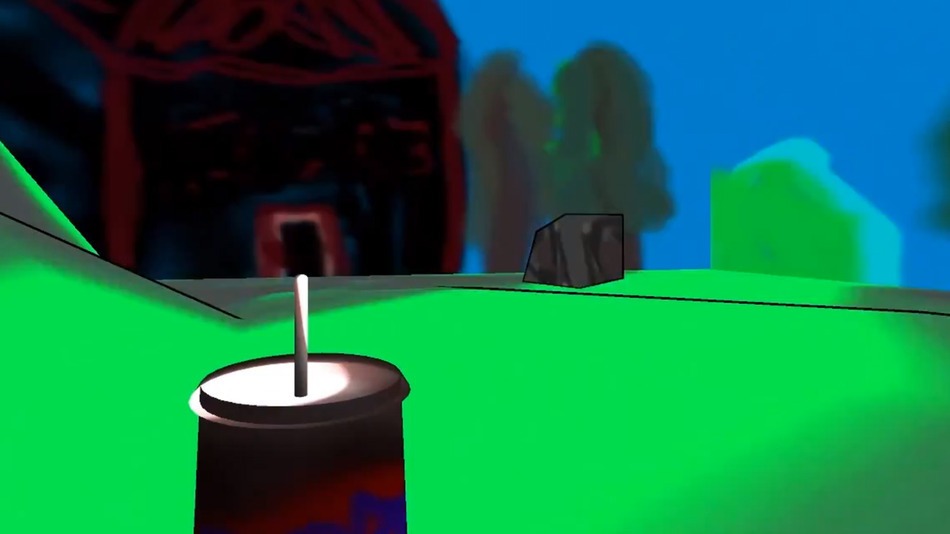 Highlights:
Strong Points: Creative level ideas; Oculus Rift support; unlocks another game called Vivian Clark
Weak Points: Poor but colorful graphics, no way to save your progress  
Moral Warnings: One level takes place on a human butt. Thankfully it was clothed
The narration is humorous to listen to and changes with every level.  The loading menu music is the same every time, but there is plenty of variety in the background music.  
While this game is in 3D, the models and backgrounds are not incredibly detailed.  In fact, many of them are obviously hand drawn.    The levels are pretty basic and have bonus sodas (that all look the same) to collect.  To progress to the next level you must drink all of the soda in your possession.  I can't bring myself to play this game in long doses and I wish there was an option to save my progress instead of having to start at the beginning every time.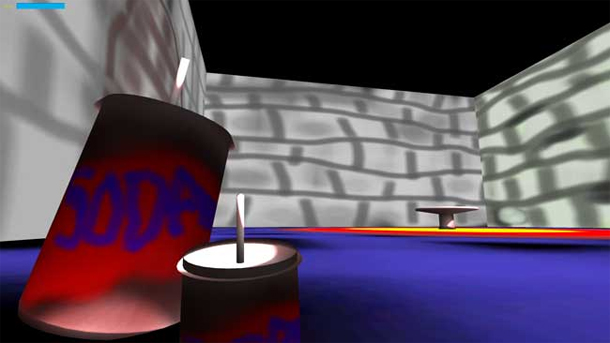 Score Breakdown:
Higher is better
(10/10 is perfect)
Game Score - 58%
Gameplay - 11/20
Graphics - 4/10
Sound - 6/10
Stability - 5/5
Controls - 3/5

Morality Score - 97%
Violence - 10/10
Language - 10/10
Sexual Content - 10/10
Occult/Supernatural - -10/10
Cultural/Moral/Ethical - 8.5/10
The controls are pretty simple.  You have to left click to lift your cup to your mouth and press the right mouse button to slurp. The standard arrow and WASD controls let you move around and pressing the Esc key will exit you out of the game.    While the game controls mention the ability to jump, I was not able to do so.  In fact, moving around this game is painstakingly slow and an option to speed up the movement would have been nice.
While there is a lot of creativity in this game, there is not much of a plot other than to virtually drink soda and enjoy the various backdrops.   I was pleasantly surprised to learn about an Easter egg that unlocks a free download to another one of Will's games called Vivian Clark.   You don't have to own Soda Drinker Pro to get Vivian Clark.  In fact, you can find it here if you look carefully.  
While I enjoyed Vivian Clark more than Soda Drinker Pro, I cannot deny the creativity in both games.  If you know anyone who drinks a lot of soda, I would recommend sending them a copy of this game.  If you do plan on buying this game for you or anyone else, be sure to give it a vote on Steam Greenlight.  I look forward to seeing what else Will comes up with.