Game Info:
Praise Champion (PC) 
Developed By: Cloud 9 Games Published By: Left Behind Games Genre: Singing 
Single/Multplayer 
Available on: PC 
ESRB Rating: E 
MSRP: $29.99
Minimum System Requirements Windows® XP, Vista, 7 
Pentium® 1.2GHz processor or faster
1GB RAM Minimum 
500MB free hard disk space 
8x CD/DVD-ROM drive or faster
32MB DirectX9.0c video card or higher DirectX 9.0c compatible sound card and speakers
Microsoft compatible keyboard and mouse.
Thank you Left Behind Games for sending us this game to review!
Praise Champion is a relabeled version of Heavenly Harmony made by Cloud 9 games who have since been acquired by Left Behind Games.  Praise Champion is a karaoke/American Idol style singing game. When singing a song, there is a meter containing three different levels that players fit into, whether its a shower singer, in the choir or on tour. After each song the game determines if you qualified for a CD and how popular it will be. I'm typically a choir rated singer and my CD's go out to family and friends. If you're like me, mini-games can help improve your singing accuracy. There's a pitch detection tool called Range Finder to find out your vocal range and Tune-A-Tuna is a mini game where you catch tuna in a basket. You move the basket left and right by singing one of two notes. Early on players can press example keys to get the right pitch until you get the hang of it. Pitch-N-Pass is a racing game where you have to sing a note to get your car to move but you don't get example keys. Lastly, Do-Re-Mi challenges you to hit each note consistently and displays your accuracy at the end. 
Unfortunately, Praise Champion removes a few features from Heavenly Harmony Gold like the ability to play along with Rock Band/Guitar Hero instruments.  However, the interface has been revamped and voice instructions help you get started on your singing career. Just like the previous versions, the game menus are pretty easy to navigate so I don't know why voice instructions are needed. Other than the voice narration, the only other change is that the interface is now gray instead of purple. The songs are still sorted by categories such as Gospel, Rock, Contemporary, and Christmas. Twelve venues are available, though they require good singing to unlock them all.
All together there are forty songs to choose from though I wasn't too familiar with many of them. I did recognize songs from Lincoln Brewster, Gateway Worship and Kari Jobe.  I was also happy to see some classics like Blessed Assurance and Amazing Grace still in there and I'm glad they bundled in the Christmas songs instead of selling them separately as an expansion pack.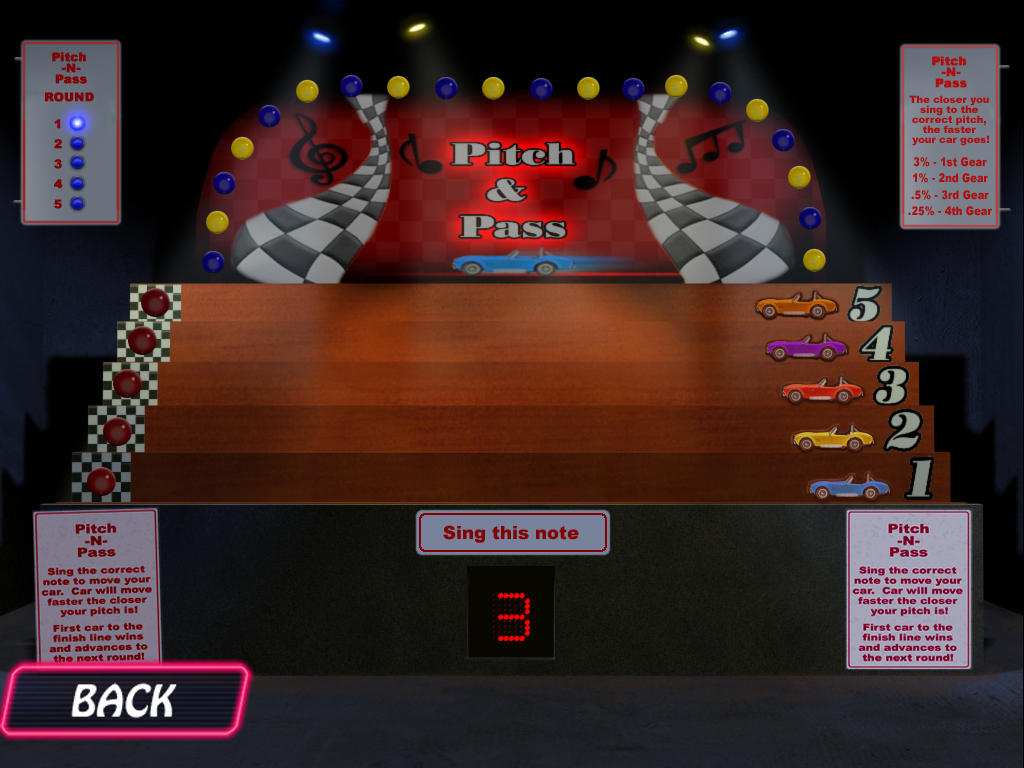 Highlights:
Strong Points: Fun and challenging songs to sing
Weak Points: Nothing new, just a relabeled Heavenly Harmony
Moral Warnings: It will teach you patience and mercy for those who cannot sing
The songs themselves sound great. The scoring is based on your ability to mimic every sound the singer makes, whether its singing, humming, or anything else.  I find it more of a mimicking game than a singing game, honestly. But it's still fun and it's hard to sing just one song.
After you sing a song, you can alter and produce it in the recording studio. You can add special effects like an echo or a chorus to your voice. You can even change the volume of your voice and music behind it. Once you're happy with it, you can easily share it with friends and family and even send it right from the game.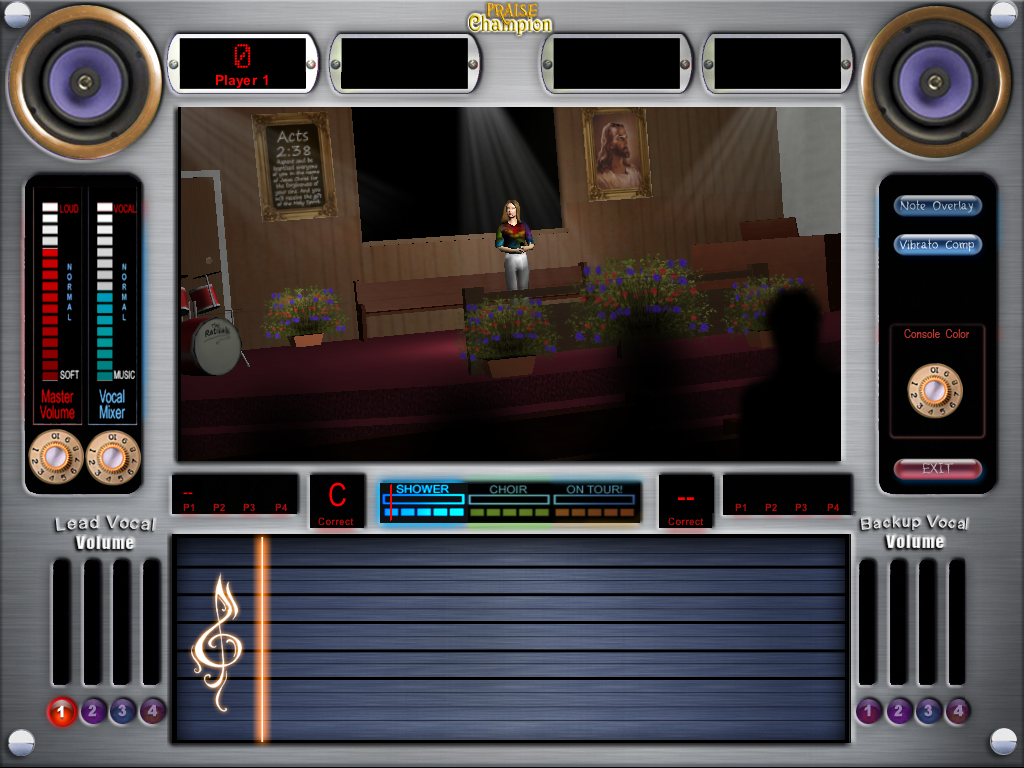 Score Breakdown:
Higher is better
(10/10 is perfect)
Game Score - 82%
Gameplay - 17/20
Graphics - 7/10
Sound - 9/10
Stability - 4/5
Controls 4/5

Morality Score - 100%
Violence - 10/10
Language - 10/10
Sexual Content - 10/10
Occult/Supernatural - 10/10
Cultural/Moral/Ethical - 10/10
The graphics are the same quality as the previous versions and the new venues look nice though the singer models are the same.  Players can still customize the color and their character's clothing as they see fit. 
If you're looking for an alternative to the other music games out there, this is definitely a game worth considering.  The price is reasonable at $30 and that includes a USB microphone.  Additional microphones sell for $30 each or 3 for $70.  There's a Praise Champion 2 in the works, I'm curious to see what that game will bring to the table.