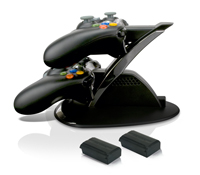 Game Info:
Energizer Power & Play for 360 
Developed by: Performance Design Products
Release Date: October 2008
Price: $35
Thank you PDP for sending us this product to review!
While working on our Nyko Charge Station U review, I noticed that Energizer sells competing products.  We own several Nyko products and were curious how the Energizer charging systems stack up to the competition. As parents of young children, we have a lot of rechargeable batteries in the house. Our Xbox 360 system takes four batteries between the two wireless controllers. 
The Power & Play Charging System doesn't take up much space and has a simple, yet elegant design.   The Power & Play Charging System includes the base, the stand, two rechargeable battery packs and an AC adapter.  There are white and black models available so make sure you get the one that matches your controllers.  While our setup included the battery packs, some Power & Play systems come without batteries.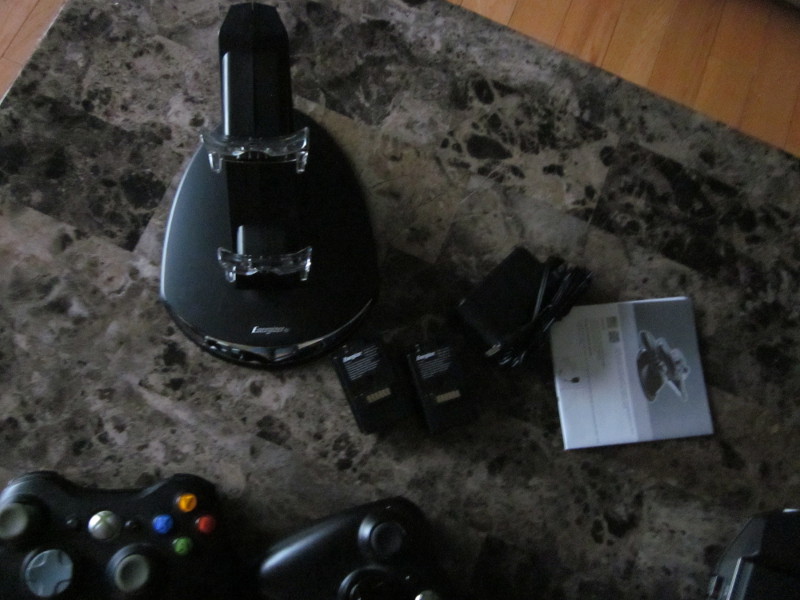 Highlights:
Strong Points: Rechargeable batteries are much more convenient.
Weak Points: Inserting the controllers takes more effort than dropping them in place like other brands.  
Since both of our controllers are Microsoft brand, we cannot confirm compatibility with third party controllers.  If the battery pack for a Microsoft controller works for your third party one, you shouldn't have any trouble using the Power & Play charger.  
The Power & Play Charging System is well designed and fairly easy to use.  The battery packs were easy to replace but plugging them into the charger takes a little more effort. You must plug the Xbox controller up and into the device.  This system uses Microsoft's battery connector so you don't have to worry about proprietary and incompatible hardware. When the connection is secure the nearby LED will illuminate. The LED will glow red when charging and green when charged. Each device has their own LED.  Even though the LEDs are toward the back, they are still distracting in the dark.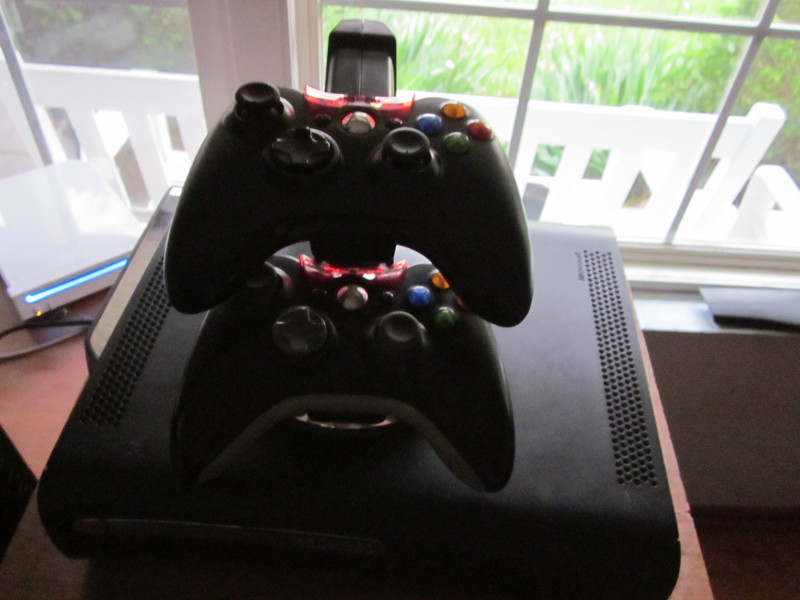 It's great to have controllers that are fully charged and ready to go.  You don't have to worry about this system overcharging the batteries either.  Charging empty batteries took more than two hours, so if you're in a hurry, the Microsoft Quick Charge kit may be a better (but more expensive) alternative.   However, if you don't play for extended periods of time, the Power & Play is still a good option.  We're casual console gamers and are happy with the performance and battery life of this product.  While the suggested retail price is $35, I have seen it for less than $25 at SamsClub.com or $27 at Walmart.com.