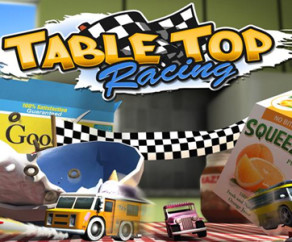 Game Info:
Table Top Racing
Developed by: Playrise Digital
Published by: Ripstone
Release Date: August 5th, 2014
Available on: Android, iOS, Vita (reviewed)
Genre: Racing
Number of players: Up to four players online
ESRB Rating: Everyone
Price: $7.99
Thank you Ripstone for sending us this game to review!
Table Top Racing was developed by staff who have previously worked on the popular Wipeout series.  This game was released in January 2013 on iOS and came to Android a year later.  While these versions are both free, they offer in app purchases to buy gold instead of earning it through racing.  The Vita version has an $8.00 price tag and offers the same ability to buy in-game currency.  
A million coins can take a while to earn through racing and you can give yourself a head start by purchasing them for less than $5.  Be warned that if you do buy them, you cannot download them again.  Be sure to backup your save file if you have money you care about.  If it becomes corrupted like mine did, you will lose everything!  I lost over 4 million coins and game progress after this game crashed trying to connect to an online game.  
Finding people online to play against is relatively easy while successfully connecting is another story.  After losing my game progress, I tried local multiplayer.   I was disappointed in the lag between two vitas playing adhoc a couple of feet apart.  The game host can set one of eight maps (default is random), and the race difficulty.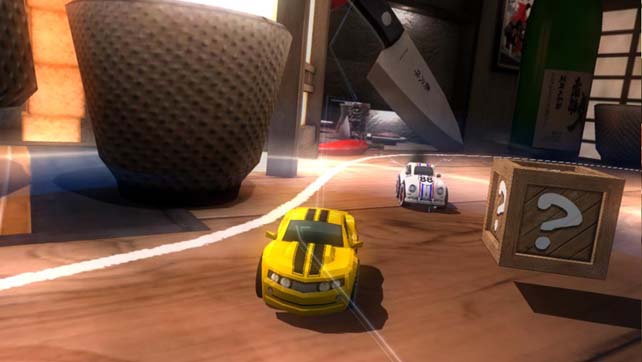 Highlights:
Strong Points: Fun and well balanced racing; unique tracks; wide variety in cars and upgrades
Weak Points: Fixed upgrade path; Microtransactions; purchased coins are tied to save file and if that gets corrupted, all is lost; I know this first hand
Moral Warnings: None!
My single player experience was much more enjoyable with the fun tracks, power-ups, and racing modes.  There are time-attack races where it's just your car and the clock.  The number of stars you earn depends on your racing times.  The pursuit mode is fun where you have to catch up and tap into your opponent's car.  The faster you take them down, the more stars you can earn.  Elimination racing is pretty intense.  In that mode at the end of each lap, the car in last place will be kicked out of the race.  If you just want a quick race, there's an option for that too.  Drifters will enjoy the drifting tracks, but before you can partake in them you have to buy a particular car.  There's a special set of wheels with no treads that can help earn more gold/points as well.
In the garage mode you can upgrade your car's speed, armor, traction and acceleration.  Unfortunately, you have to do it in a pre-set order.  You can pay to change your car's paint job too.  Wheels are not cheap, but they do offer some nice features like shielding from EMP blasts.  Other than wheels there are several power up attacks including mines, rockets, and EMP blasts.  Each race gives you a heads up on what to expect in the mystery boxes.
The tracks are well designed with some of them offering short cuts to shave off a second or two from your time.  There are various themes like picnic table tops, restaurant tables and kids toy rooms.  There are seventeen cars with various attributes and styles.  In the beginning you start off with a slow ice-cream truck.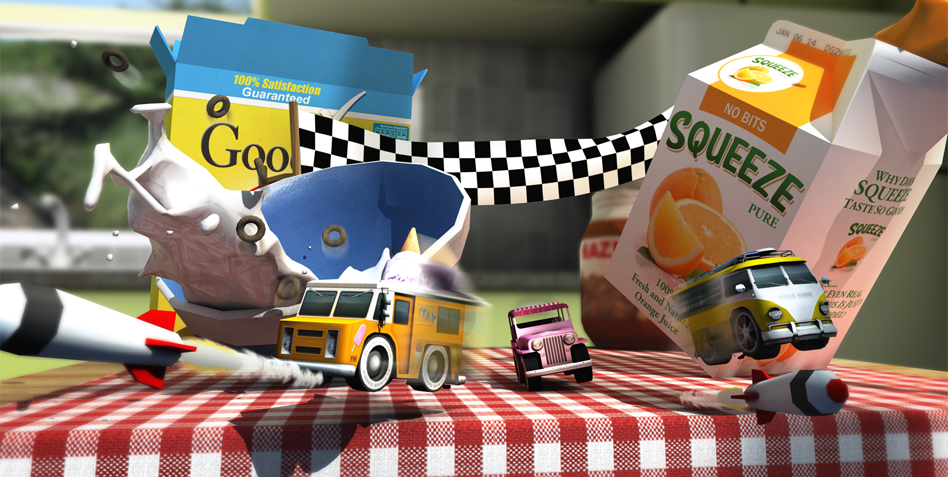 Score Breakdown:
Higher is better
(10/10 is perfect)
Game Score - 70%
Gameplay - 15/20
Graphics - 8/10
Sound - 7/10
Stability - 2/5
Controls - 3/5

Morality Score - 100%
Violence - 10/10
Language - 10/10
Sexual Content - 10/10
Occult/Supernatural - 10/10
Cultural/Moral/Ethical - 10/10
I didn't notice any difference in the car sound effects as they all sound the same.  The sound effects are generic, but fitting and the background music is decent.  The music is upbeat rock'n roll and pleasant to listen to.
The controls are relatively easy with the X button serving as the accelerator and the right trigger for using the collected items.  Sometimes the back touch screen would get in the way on the Vita and switch the camera around.  I quickly figured out the problem, but my kids got rather annoyed with this "feature".
Table Top Racing is a great family friendly game with an extremely well-polished and balanced single-player mode. Sadly, my multiplayer experience wasn't so positive and resulted in losing both hard-earned progress and four million DLC coins. Make sure you back up your saves if you plan on buying this game.  If you're still curious about Table Top Racing, I highly recommend checking out the free Android or iOS versions first.