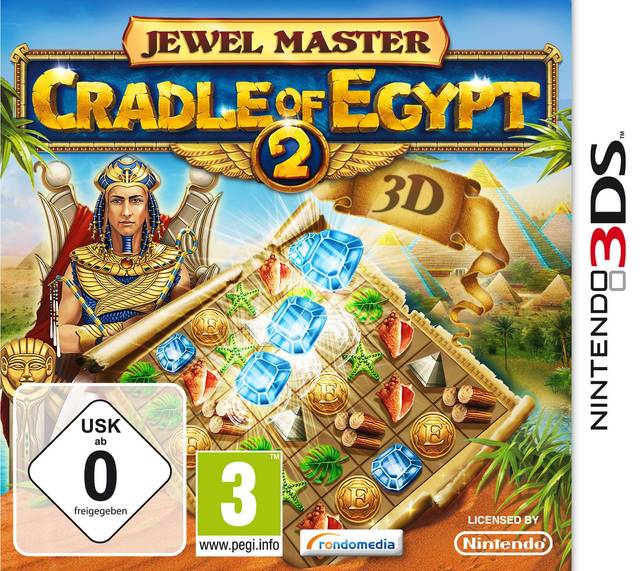 Game Info:
Jewel Master: Cradle of Egypt 2 3D
Developed By: cerasus.media GmbH, Awen Studio
Published By: Rising Star Games
Release Date: October 17, 2013
Available On: Nintendo DS, 3DS (reviewed), PC
Genre: Match 3 Puzzle
Number of Players: 1
ESRB Rating: E, Alcohol Reference
MSRP: $29.99
(Amazon affiliate link)
Thank you Rising Star Games for sending us this game to review!
Jewel Master: Cradle of Egypt 2 3D is a 3DS version of a similar Nintendo DS title from last year, Cradle of Egypt 2.  These are also similar to other Cradle games, like Cradle of Rome, Cradle of Persia, and so on.  The premise of these games is all the same: build up an ancient civilization one building at a time, by gathering resources which are awarded each time you match three or more tiles in a grid.
Like many match three games, as you match tiles, more appear from the top of the screen, and well placed matches can often trigger combos, as additional matches are made automatically.  If you can keep making matches quickly enough, you can rack up large combos.  Combos, as well as matching more than just three at a time, can give you multipliers, which gives you more resources for those matches.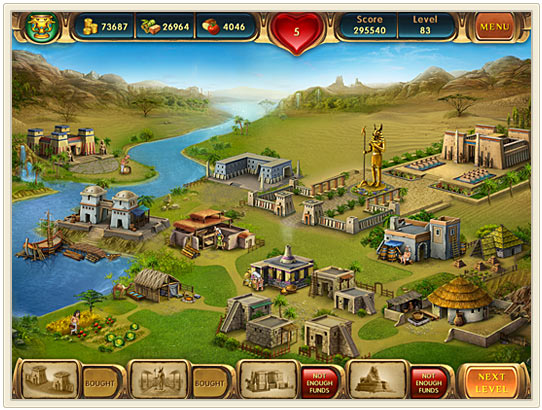 Highlights:
Strong Points: Timeless classic match-3 gameplay
Weak Points: Very expensive for a match-3 game; occasional lockups with the 3DS closed
Moral Warnings: Beer is one of the tiles available for matching
To complete a level, you have to have a match at least once for each red tile, or twice for each blue one.  If you do not get rid of all of the red or blue tiles in the time provided, you lose the level and don't get any of the resources you collected.
Each stage you are on requires a certain number of resources of each kind to purchase.  Once bought, you get to complete a simple sliding puzzle if you wish.  The stage also unlocks either an additional resource type, matchable tile type, a usable item for future levels, or a resource bonus.  Each usable item can help you, when used, to destroy certain pieces that are in the way or give you additional time or other bonuses.  Before use, you have to match that item's tile enough times to fill a meter; once used, you have to fill it again.  
The 3D graphics on the 3DS don't add anything to the gameplay.  There are little animations that happen when you purchase new levels, and during the gameplay there is something on the top screen you will likely never notice because all of the action happens on the bottom screen.  The graphics themselves are not remarkable in any way, neither good or bad.  The music and sound effects are similar.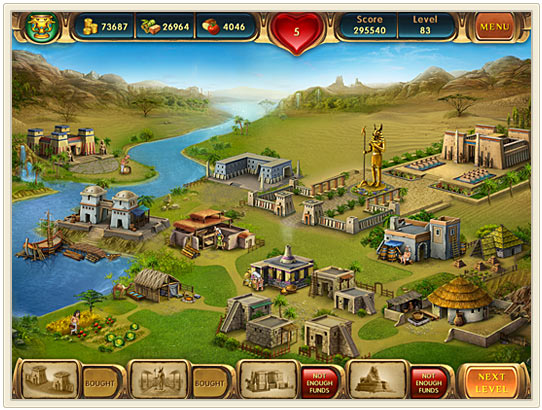 Score Breakdown:
Higher is better
(10/10 is perfect)
Game Score - 62%
Gameplay - 12/20
Graphics - 5/10
Sound - 5/10
Stability - 4/5
Controls - 5/5

Morality Score - 98%
Violence - 10/10
Language - 10/10
Sexual Content - 10/10
Occult/Supernatural - 10/10
Cultural/Moral/Ethical - 9/10
Jewel Master: Cradle of Egypt 2 3D is a passable (and fun, like most games in the genre) match three game.  There are almost no appropriateness issues (one resource is a mug of beer) and it's an easy way to pass the time.  Indeed, if you look at reviews of the games in this series at various online retailers, the series has a lot of fans.
I only have a few problems with this game.  The first is that I had it lock up a few times on me while having the 3DS system closed in between game sessions.  That is the first time I have had a 3DS game require me to hold the power button to reset my system after being closed.  The other issue is simply the price.  If this game is like any of the others in the series, it will likely come down in price over time, and at that point I would consider it a good value.  But with scores of similar games on smartphones for a small fraction of the price, and indeed the same game for Nintendo DS (that works on 3DS) for a much more reasonable $9.99, it's hard to carve out a special niche for this title.
Ultimately, Jewel Master: Cradle of Egypt 2 3D is a decent match three game.  If you are looking for a match three game for your 3DS, you could do a lot worse than Cradle of Egypt 2 3D.