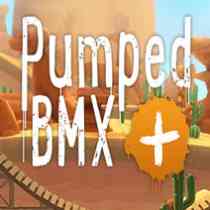 Game Info:
Pumped BMX +
Developed by: Yeah Us!
Published by: Curve Digital
Release Date: October 1, 2015
Available on: Android, iOS, PC, Wii U
Genre: Sports
Number of Players: Single-player
ESRB Rating: Everyone
Price: $7.99
Thank you Curve Digital for sending us this game to review!
We tend to get quite a few vet and Barbie themed games for the Wii U and the 3DS.  It's a nice to get a game that my son enjoys playing for a change.  While Pumped BMX + can be enjoyed by either gender, my son has logged in the most time playing this game.  Too bad he's only seven and not old enough to write a review for it yet.  
Pumped BMX + can be enjoyed by people of all ages.  The only moral issues worth noting is that the players are bound to crash in painful looking collisions and some of the stunts have the word hell in their names. 
Doing those questionably named stunts is optional, but many specific stunts are required if you want to unlock all of the objectives in the levels.  There are five sections that have to be completed in sequential order to complete the game.  These areas are Local, Flow, AM, Pro, and Legend.  Each section has several levels with Easy, Medium, and Hard objectives to be cleared.  Once all of the objectives are cleared in Easy, Medium becomes unlocked and so on.  All in all, there are over five hundred challenges to be completed.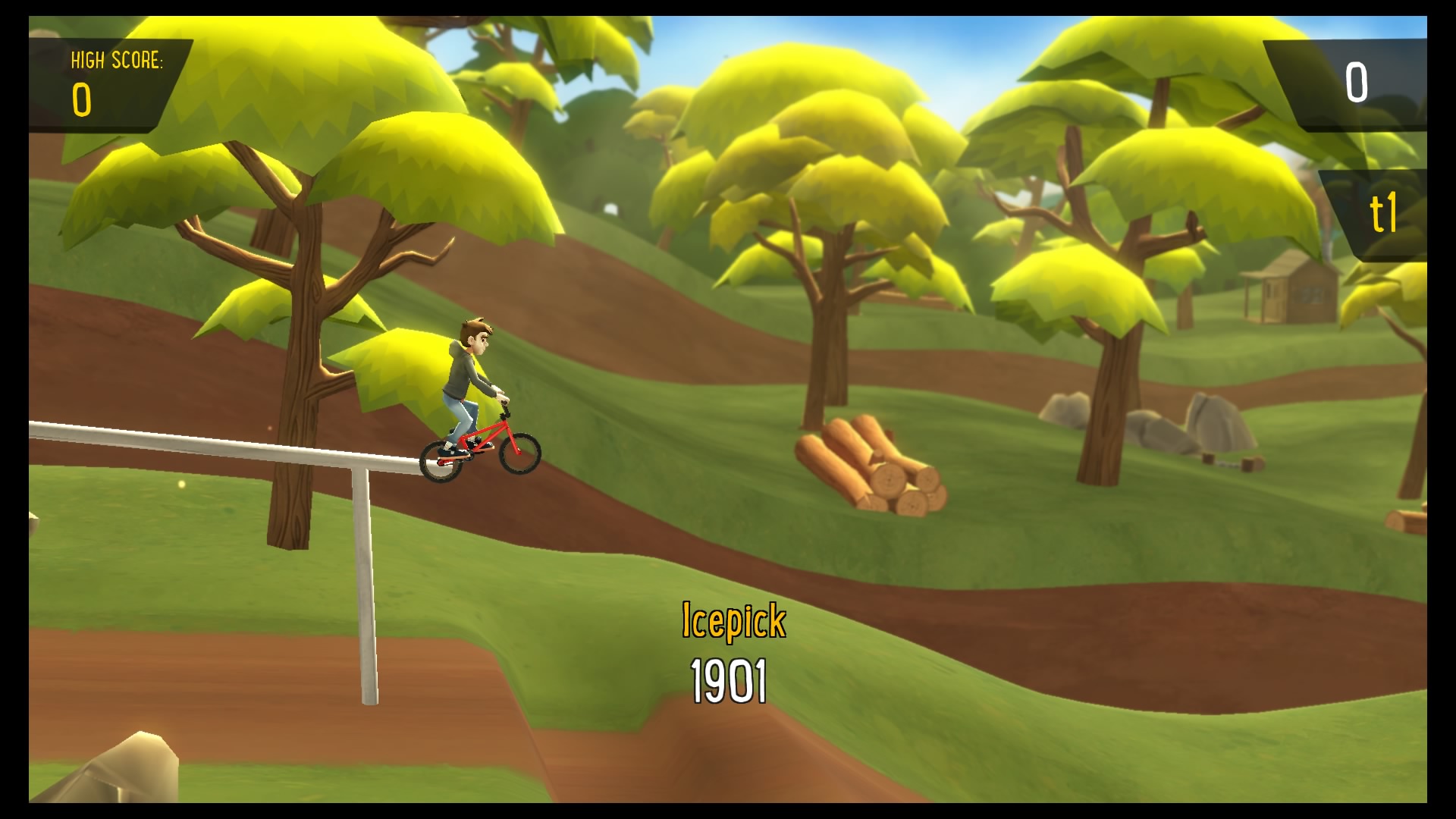 Highlights:
Strong Points: Colorful graphics; smooth controls; fun tricks/animations
Weak Points: Not much variety in level layout or background music
Moral Warnings: Painful looking crashes; some of the tricks use the word hell in their names
Beating the game is possible to do in less than ten hours, but even after beating the game you can go back and play levels to stack up points doing crazier and wilder stunts.  There are two tiers of stunts that can be toggled by pressing the Z buttons on the Wii U gamepad.
The A button is for acceleration which is crucial because if you run low on momentum, you'll have to restart the level from the beginning.  The left stick will control the bike's positioning while the triggers and right stick are for pulling off slick moves.  If you want to see how to do a specific trick you can look it up in the game's menu.  
There are lots of legitimate tricks to do including manuals, 360 spins, bar spins, tail whips, front and back flips, can-cans, supermans, decades, suicides, tables, and plenty more.  The more tricks you can do at a time, the more points you can rack up.  The hardest part is landing successfully.  All it takes is one mistake to send you back to the beginning of the level.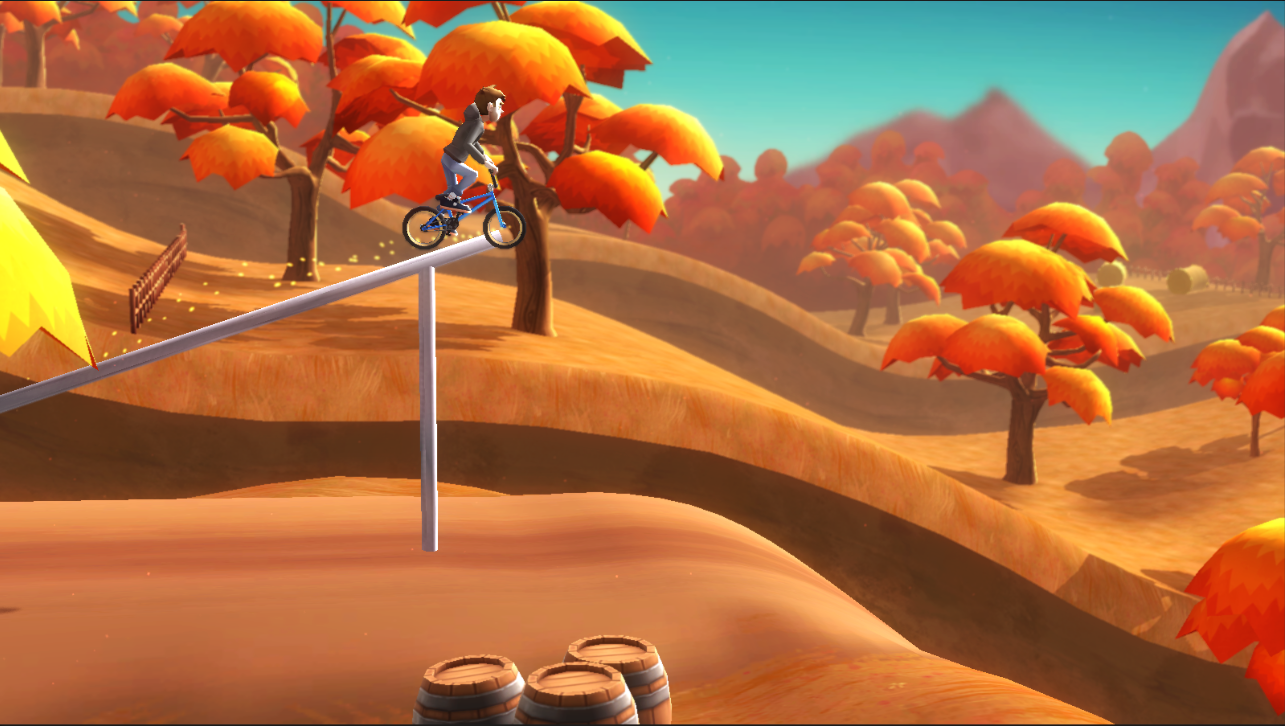 Score Breakdown:
Higher is better
(10/10 is perfect)
Game Score - 84%
Gameplay - 17/20
Graphics - 8/10
Sound - 7/10
Stability - 5/5
Controls - 5/5

Morality Score - 92%
Violence - 8/10
Language - 8/10
Sexual Content - 10/10
Occult/Supernatural - 10/10
Cultural/Moral/Ethical - 10/10
The levels are colorful and have seasonal colors and backdrops.  Some of them take place in the winter while others have fall, spring, or summer colors.  They're not as tricked out and detailed as Trials Fusion, but they work well for the Wii U and the mobile platforms that this game originated from.
Pumped BMX + is also available on PC and has the option to purchase the soundtrack for $3.99.  I thought the soundtrack was good and some of the songs reminded me of Daft Punk.  While the songs were neutral and pleasant to listen to, a few more tracks would have been great to avoid the repetition.  
Overall Pumped BMX + is a solid game that my kids enjoyed playing.  The asking price is a reasonable $7.99 and is sure to entertain kids and adults for several hours.  It's also worth looking into in its mobile and PC formats if you don't have a Wii U.