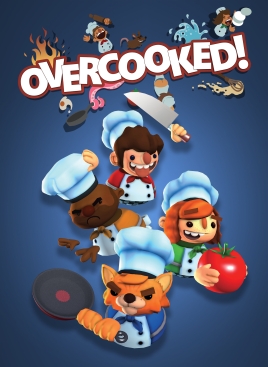 Game Info:
Overcooked: Special Edition 
Developed by: Ghost Town Games Ltd.
Published by: Team17
Release Date: July 27, 2017
Available on: Switch, Windows, PS4, Xbox One
Genre: Party
Number of players: Up to four locally
ESRB Rating: Everyone
Price: $19.99
Thank you Team17 for sending us this game to review!
We originally reviewed Overcooked on PC when it first released in August. Other than my kids not liking me yelling at them so much (Cut the onions!, Wash the dishes!), we had a pretty good time serving up meals in kitchen obstacle courses. Because of how fun and clean this game is, it was listed in our 2016 Christmas Buying Guide.
Overcooked on the Switch is a good fit with the ability to easily connect four players. Hooking up four controllers on a PC is a bit of a hassle. Unfortunately, the biggest drawback to the Switch version is that the console itself is a bit underpowered and the frames per second noticeably dip at times. The game is still playable, but not as smooth as its counterparts. Another drawback is the long loading screens.
If you don't mind the slower frames per second and loading screens, this title still has a lot to offer. Not only does the Switch version come with the main game, it also has two content packs, The Lost Morsel and Festive Seasoning. Between the two add-on packs you'll have access to six new campaign levels, eight co-op maps, and eight new chefs to unlock. The chefs are merely cosmetic and do not affect gameplay whatsoever. These content packs are pretty challenging and are intended to be played after completing the main campaign.
Highlights:
Strong Points: Fun and challenging gameplay; cute visuals and pleasant background music
Weak Points: Long loading screens; noticeable visual stuttering
Moral Warnings: Playing this game may strain relationships since yelling is bound to happen; can cuss in-game but it shows up as symbols
If you are not familiar with the story of the game, read on! Onion Kingdom is being attacked by a very hungry spaghetti monster. Unfortunately, your team doesn't have the necessary coordination to appease its ferocious appetite. As a result, the Onion king sends your party back to 1993 to hone your cooking and teamwork skills. In the beginning the kitchens and recipes are manageable, but that changes before long!
Each level in the co-op campaign will give you between one and three stars depending on how many successful orders were completed within the time limit. Unfulfilled orders subtract from the score. Levels and new chefs become available as you earn stars throughout the game. As your teamwork improves, be sure to go back and get three stars on all of the easier levels.
At first you'll be working with soups which involve chopping up and adding three of the same ingredient to the pot on the stove. Every few seconds, a new order will be added to the queue. You'll have to coordinate with your team to chop up the correct items and add them to the boiling pot before it catches fire. If it catches on fire, you'll have to extinguish it and dispose of the ruined soup before starting a new batch. Successfully completed soup has to be placed in a bowl and sent out on the conveyor belt to finish the order. Most, but not all of the kitchens have a limited number of bowls/plates so the chefs will have to wash dirty dishes before being able to re-use them.
Besides soup, other meals to prepare include hamburgers, fish and chips, burritos, and salads.  While the soups typically have three of the same ingredients, the other meals have various combinations.  Prepping ingredients ahead of time saves work, but some levels have rats that will come by and steal it off of the counter tops.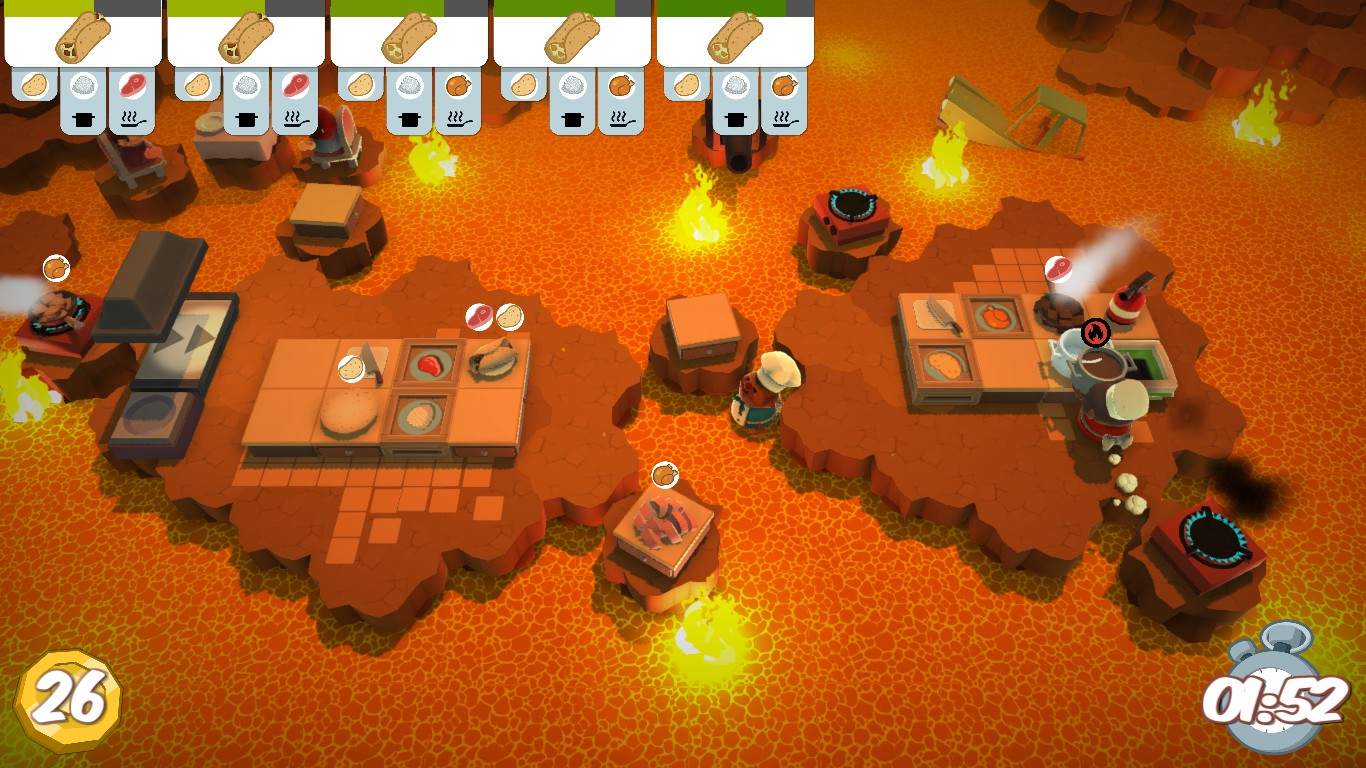 Score Breakdown:
Higher is better
(10/10 is perfect)
Game Score - 84%
Gameplay - 17/20
Graphics - 8/10
Sound - 8/10
Stability - 4/5
Controls - 5/5

Morality Score - 100%
Violence - 10/10
Language - 10/10
Sexual Content - 10/10
Occult/Supernatural - 10/10
Cultural/Moral/Ethical - 10/10
As if rats and tricky orders were not enough to contend with, the kitchens themselves can be overwhelming at times too. Some of the kitchens have narrow pathways that only allow one chef through at a time while others split apart and come back together due to earthquakes or moving vehicles. One of the levels takes place on a pirate ship and the rough waters causes the counter tops to shuffle around with the roaring waves.

Communication is key if you want to succeed in completing successful dishes in a short amout of time. Sadly, my kids didn't appreciate my bossing them around in a louder than normal tone of voice. While I didn't cuss at them verbally, it's possible to do so in-game. The foul language shows up as random symbols.
While playing cooperatively is fun, there is a versus mode where chefs compete against each other for the best score within the time limit. In the competitive mode and single-player mode you get to control two chefs simultaneously. It takes some getting used to but it is not nearly as fun as cooperative play in my opinion. There is no mention of online multiplayer for this title (yet).
If you're looking for a good couch co-op game that's fun for the whole family, be sure to check out Overcooked. Just be warned that it may strain some relationships as voices are bound to be raised in the heat of the moment. As the saying goes, "If you can't take the heat, then stay out of the kitchen!"