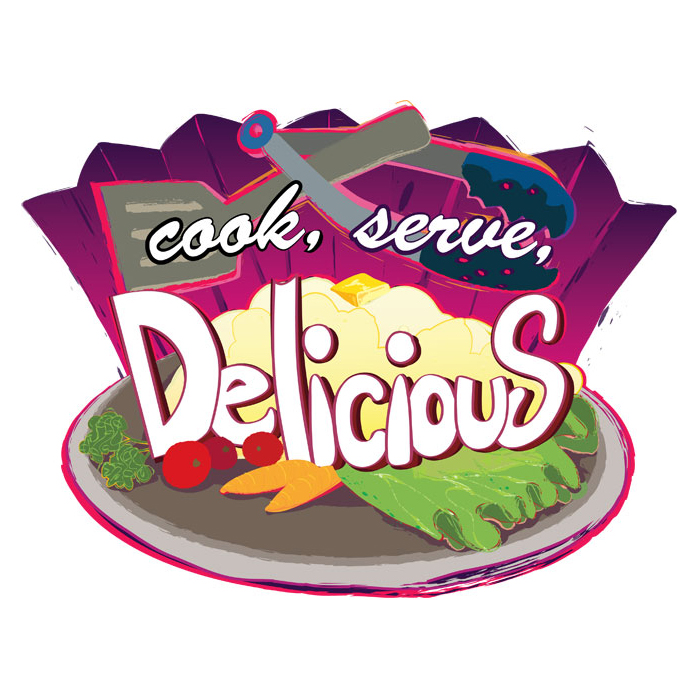 Game Info:
Cook, Serve, Delicious! 
Developed by: Vertigo Gaming
Release Date: July 31, 2013
Available on: Android (reviewed), iOS, PC
Genre: Simulation
ESRB Rating: Not rated
Price: $2.99 (Android), $4.99 (iOS), $8.95 (PC)
Thank you Vertigo Gaming for sending us this game to review!
The SherriSoda tower is now a shadow of it's former glory with its tenants at an all time low, and the restaurant is completely run down compared it's prior 5 star status.  As an up and coming chef, it's your job to turn this place around and get all of its stars and tenants back.  Besides cooking the food, it's your job to take out the trash, wash dishes, flush toilets, and set rat traps while juggling customer orders.  Do you think you have what it takes?  
To start off you will be given $7500 to buy equipment and food recipes.  Before you buy food, you can practice making it before parting with your hard earned money.  Other than the recipe complexity, there are other factors to consider before adding a food item to your menu.  If your menu has alcoholic beverages, or unhealthy foods, your buzz rating will take a small hit.  Some food items are more wasteful or messy than others.  If you produce crumbs, that will attract rats, and if your meal requires a lot of prep work you'll be getting dishes to wash along with it.  Fortunately, there are upgrades that will reduce these chores, but not remove them altogether.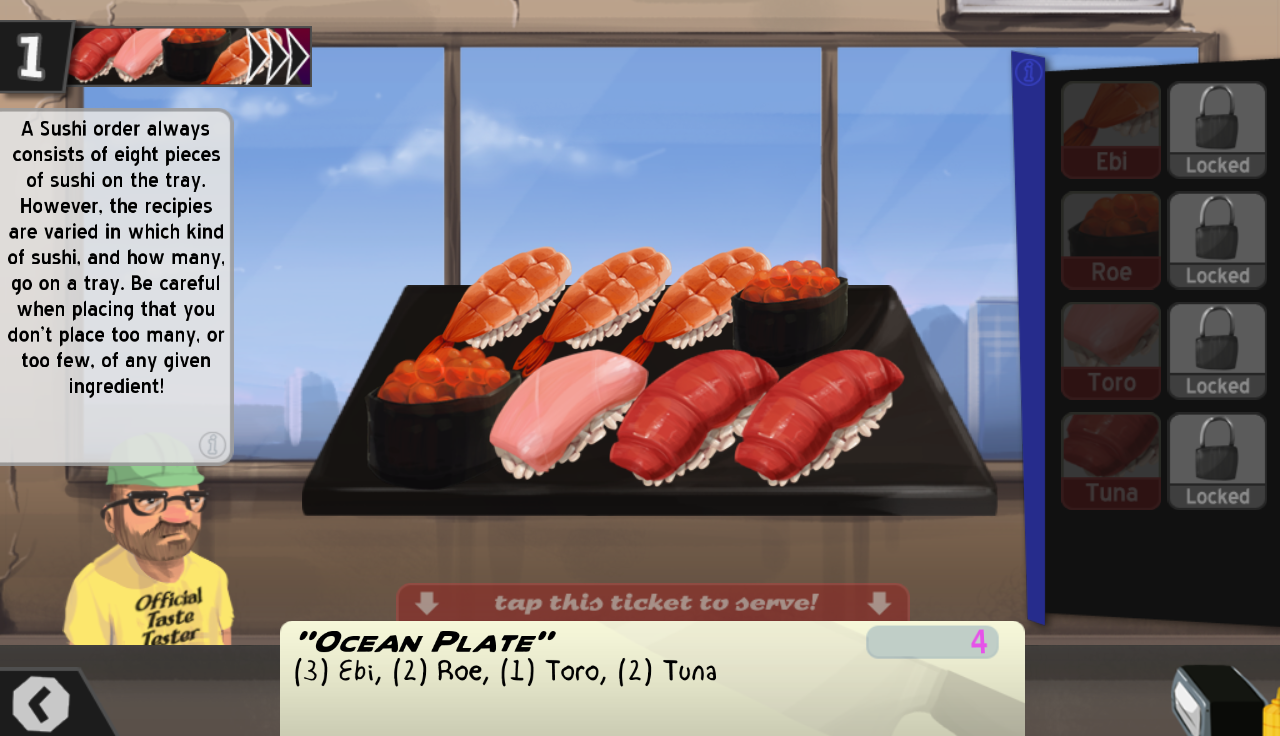 Highlights:
Strong Points: Fast paced cooking action, especially during rush hours
Weak Points: While it does have more realism than other cooking games, all the chores fall on your lap which does not happen at a decent restaurant
Moral Warnings: Optional betting and alcoholic beverages can be served
There are various food upgrades as well.  While there is an upfront cost, they do raise the menu price which benefits your wallet in the long run.  Another good way to earn money is by doing catering events.  Each event has a theme and you need to have the food items unlocked in order to do them.  Unlike a regular day in the restaurant, there is little room for error.  If you do manage a perfect day at the restaurant, you'll get a decent monetary bonus.  
When you start a day at the restaurant, each second that passes represents a minute, and a typical day goes from 9am until 10pm.  Rush hour is from 12-1 and 6-7, and at those times there will be a swarm of customers with little patience waiting for their orders. While rush hour is constant, there are random variables like weather and positive buzz to attract customers to your restaurant.  Another way to earn positive buzz is to pass a health inspection.  To do that, you must do all of the normal chores, but you must do them faster while the inspector is nearby.  If you fail to do two of them, you'll receive a harsh report and negative buzz.
Passing health inspections are part of the requirements to earn stars for your restaurant.  As you progress in the game, you'll unlock upgrades, menu slots, and the ability to serve more customers.  You can also partake in an 'Iron Chef'-inspired competition as you gain prestige.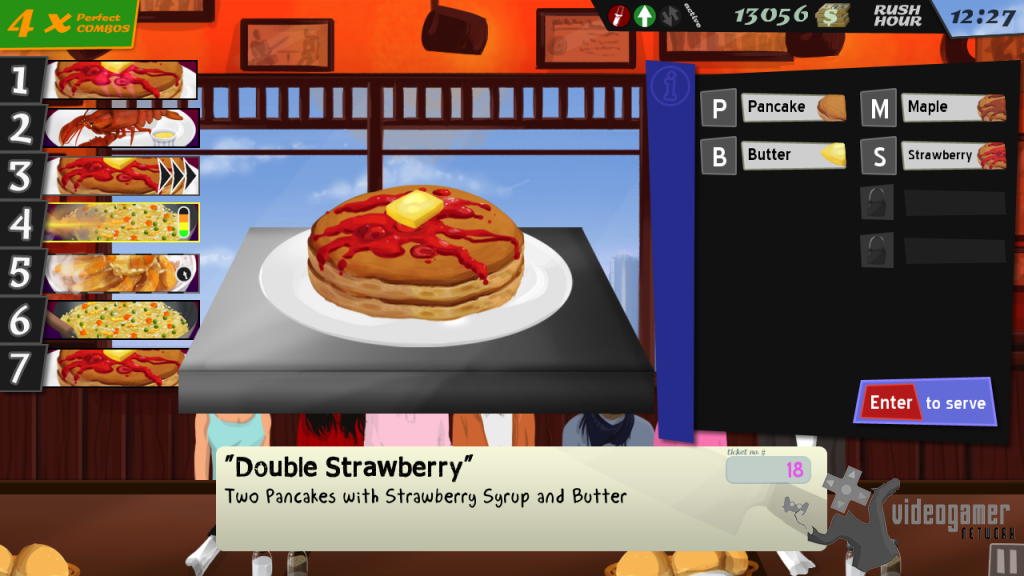 Score Breakdown:
Higher is better
(10/10 is perfect)
Game Score - 72%
Gameplay - 14/20
Graphics - 7/10
Sound - 6/10
Stability - 5/5
Controls - 4/5

Morality Score - 97%
Violence - 10/10
Language - 10/10
Sexual Content - 10/10
Occult/Supernatural - 10/10
Cultural/Moral/Ethical - 8.5/10
Earning those stars takes a lot of work and concentration.  Especially when the orders are coming in non-stop.  The orders can be perfect, okay, or bad.  If they are bad, the customer will grumble and may give you some negative buzz.  When they are happy they'll make a slight chuckling noise.  The music is completely random and goes from elevator music to chip tunes. At first I thought a game event was happening and then I realized it was  just mismatched music.
The graphics are 2D and a bit cartoonish in appearance.  The ingredients are easy to distinguish and read.  The interface is intuitive, and for the most part lines up the commonly used items on the same page for you.  Of course, there are some exceptions.  My biggest complaint is that there was no undo button so I could repair an order that I placed an extra ingredient on.  You can remove some ingredients in real life, so why not here?  I was thankful for the pause button though.  I was also happy that if you close the game mid-day, it will not save your progress.  I found this handy if I lost a my perfect streak and was on the verge of losing a bet to Crazy Dave (not the one from Plants vs. Zombies) in the game.  
Other than the optional bets and alcoholic beverages, this game is family friendly.  It's quite a bit more challenging than Cooking Mama, so kids may get a little frazzled.  It's good training for those looking to work in the fast food industry though.  If you like restaurant or cooking simulation games, I would recommend checking this game out.