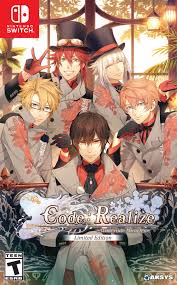 Game Info:
Code: Realize ~Wintertide Miracles~
Developed by: Idea Factory
Published by: Aksys Games
Release date: February 25, 2021
Available on: PS4, Switch, Vita
Genre: Visual Novel
Number of Players: Single-player
ESRB Rating: Teen
Price: $39.99
Thank you Aksys Games for sending us a review code!
Code: Realize ~Wintertide Miracles~ is the third entry in the Code Realize series. To best understand the story you should play this series in order beginning with Code: Realize ~Guardian of Rebirth~ followed up with Code: Realize ~Future Blessings~. The main character is a girl named Cardia whose skin is poisonous to the touch. While that would turn away many prospective bachelors, that does not deter some popular fictitious characters from falling in love with her.
Like the previous entries, Code: Realize ~Wintertide Miracles~ is an otome visual novel meaning that there are many guys romantically interested in the same girl. It's also referred to as a reverse harem. By the end of the second game most of the story arcs have the poisonous skin issue resolved, but Herlock Sholmes's arc and the Cantarella side story both have Cardia in her poisonous state.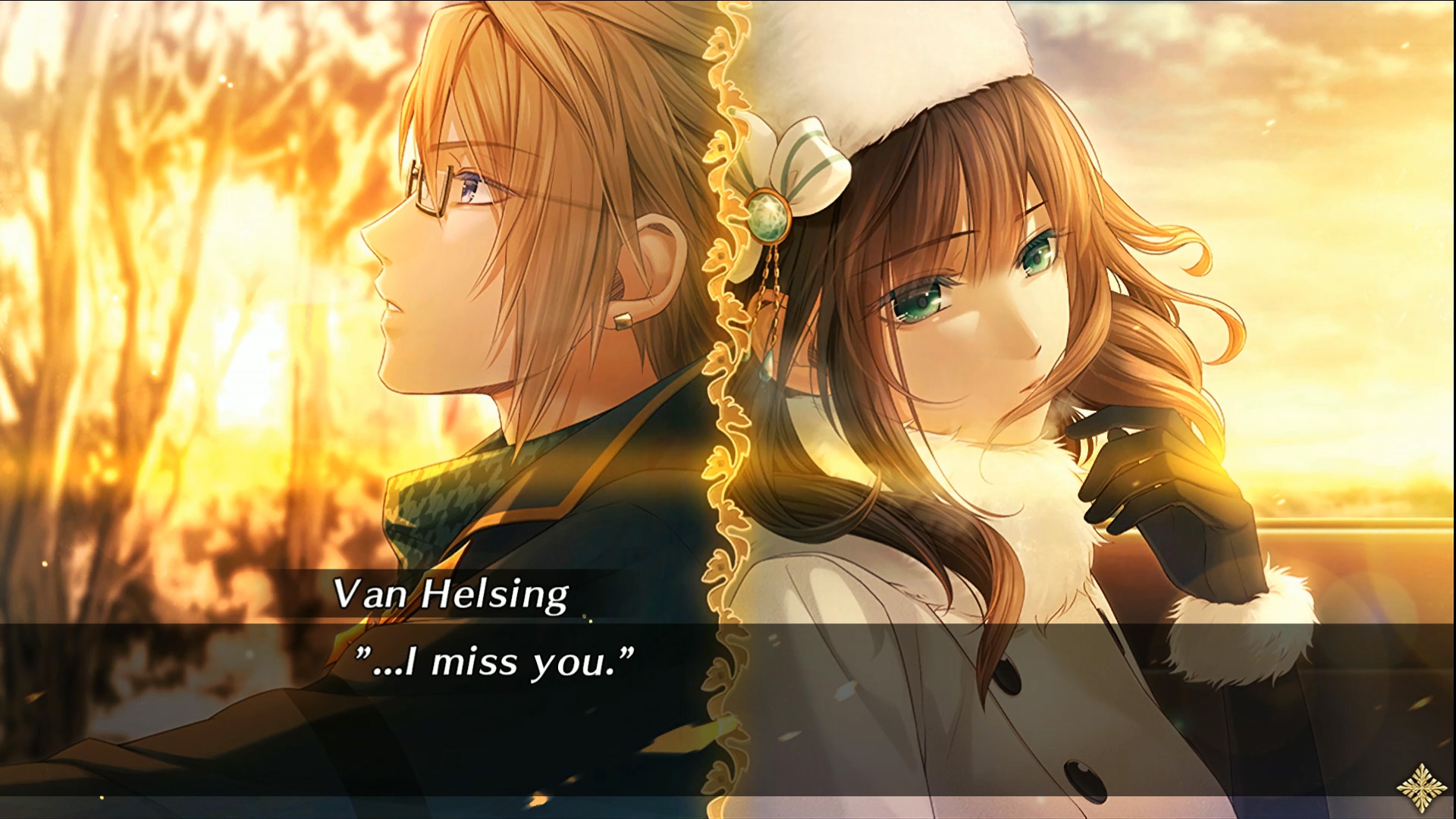 Highlights:
Strong Points: Great cast of characters and multiple story arcs; nice Japanese voice acting
Weak Points: No option to skip to the next choice
Moral Warnings: Descriptive violence; blood; language (d*mn, b*stard); sexual dialogue; sex before marriage; partial nudity (buttocks shown)
The main character stories all take place from the Finis ending from Code: Realize ~Future Blessings~ . Despite winning the affections of the individual bachelors, Cardia moves back into her childhood home with her brother Finis. Here's how each character responds afterward:
Herlock Sholmes - He's in a relationship with Cardia whose skin is still poisonous to the touch. Victor Frankenstein and Watson have been working on a cure but it won't be ready for a year. They don't have that much time before Cardia's transformation. How will they save Cardia and everyone in London from her body's poison?
Finis - Though he won't admit it, Finis is quite fond and protective of his sister. Saint Germain and Hansel check in on them regularly and Cardia appreciates their company more than Finis. Things are going great until robotic bug-like creatures start destroying London. Cardia and Finis must stop yet another one of their father's creations from being used for malicious intent.
Saint-Germain - As a leading member of the secretive group, Idea, Saint-Germain gets the unusual mission of taking a break. Not knowing what to do with himself, but wanting to see Cardia and the rest of Lupin's gang, he hosts a Christmas party.
Impey Barbicane - Lupin and Impey are living in Saint-Germain's mansion. Impey misses Cardia so they decide to host a Christmas party. The various meanings of love is explored through this story as Cardia tries to figure out how she loves her friends and brothers differently than Impey.
Victor Frankenstein- His clinic is doing really well and he feels good about helping those in need. Victor is lonely and regrets the way he said goodbye to Cardia. His parents live far away and they communicate via letters. His mom wants Victor to settle down and to appease them he writes to them about Cardia and afterwards they assume they are engaged and want to meet her for Christmas. Victor asks Cardia to pretend to be his significant other and the rest of the story is sweet, funny, and predictable.
Abraham Van Helsing - Delacroix II and Van Helsing have been working together to assist the surviving vampires from the aftermath of a horrible war. With plans to celebrate Christmas at Saint-Germain's with Lupin's crew, they head toward Wales to pay an unexpected visit to Cardia and Finis. It's a good thing they arrived early as Van Helsing was able to help Cardia make her thoughtful Christmas gifts for her friends. Of course, Van Helsing had to add his own tweaks that didn't go unnoticed. Once this story arc is completed an image revealing Van Helsing's buttocks is unlocked.
Arsène Lupin - Ever since Cardia left Saint Germain's mansion to live with her brother, Lupin can't stop thinking about her. It's so bad that it's impacting his heists and the loss of concentration nearly gets him nabbed by the royal guard. He needs to get his feelings sorted and get his act together if he still wants a future as a gentleman thief!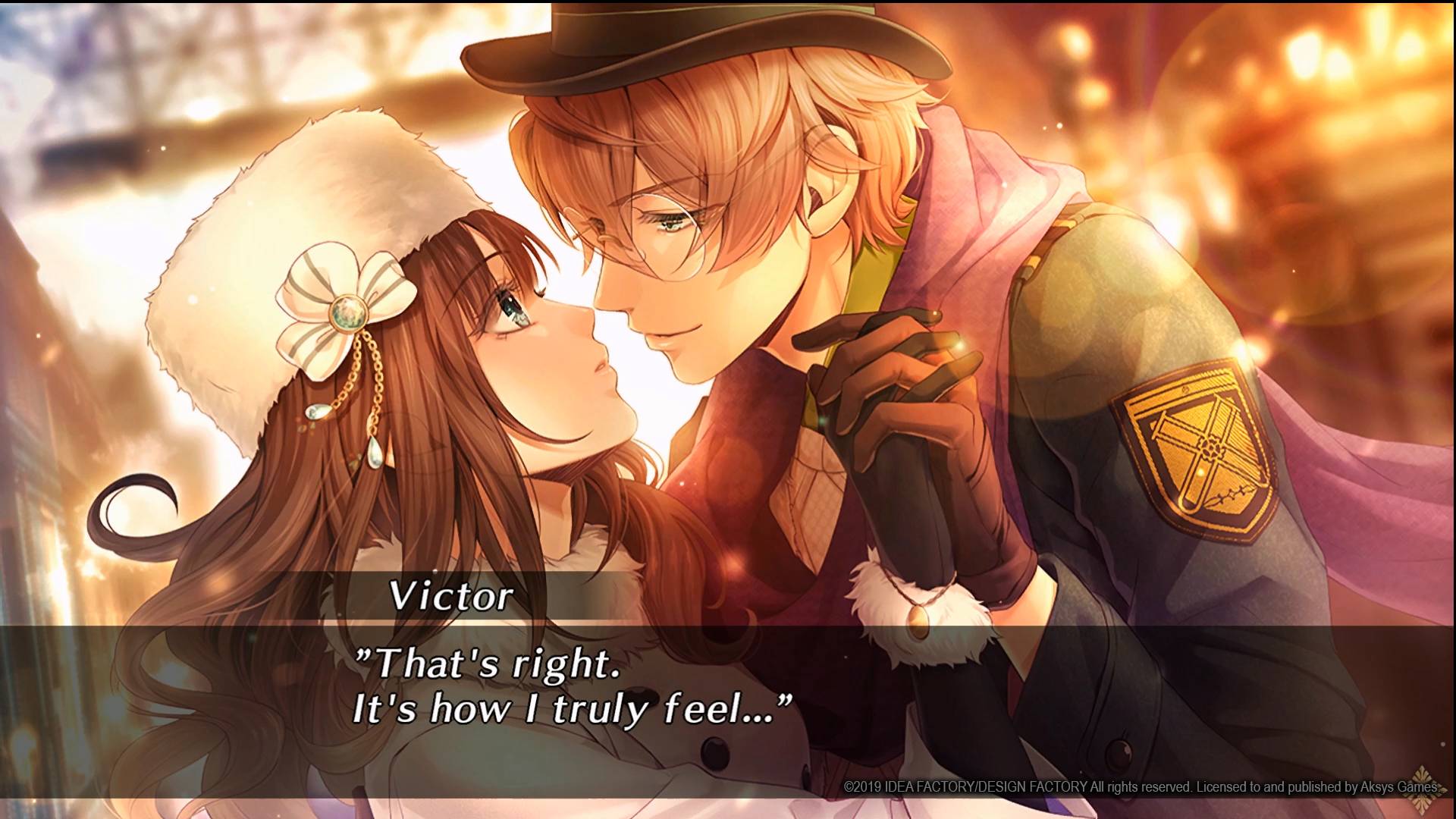 Score Breakdown:
Higher is better
(10/10 is perfect)
Game Score - 84%
Gameplay: 17/20
Graphics: 8/10
Sound: 8/10
Stability: 5/5
Controls/Interface: 4/5

Morality Score - 55%
Violence: 3.5/10
Language: 7/10
Sexual content: 2/10
Occult/Supernatural: 7/10
Cultural/Moral/Ethical: 8/10
There is also a side story about Cantarella who is an opera singer with a beautiful voice. People assume that she's rich and has everything, but Cantarella suffers from health issues and poverty. To make matters worse, there's a masked man wanting to kidnap her so she can do a solo performance in his castle. Thankfully, she meets Cardia and her friends.
Once all of the bachelor routes are completed, side stories for them become unlocked. They mostly revolve around Cardia's wedding preparations and ceremony with her various fiancé options. In the case of Victor Frankenstein who vowed to love her in front of a church, they decide to get married after living in a common-law relationship. Players are treated to Lupin's honeymoon and day-to-day life of Impey and Cardia since they were married in the previous game.
In case you haven't gotten enough rivalry between the bachelors, there's also a love triangle mode where you get to see a scenario play out between two gentlemen of your choosing. The story is the same if you switch the ordering of the bachelors. There are also unlockable story sequences with Delacroix II, Jimmy A. Aleister, Hansel, and Dr. Watson.
There's plenty to do in this title and you'll get your money's worth if you enjoy the previous entries. Like the others in this series, there are some moral issues worth noting. Foul language is often used and you'll see many instances of d*mn, and b*stard. There is some bloodshed and descriptive violence. Though Cardia dresses modestly, Van Helsing bares his bottom in an unlockable image. There is some suggestive dialogue and it's revealed in Frankenstein's story arc that he and Cardia are intimate before getting officially married.
If you don't mind the moral issues, the Code: Realize series is worth looking into. According to my Switch I've spent more than ten hours on this title. I've enjoyed the first three entries so far and look forward to the finale!