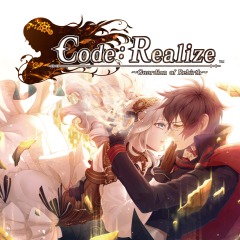 Game Info:
Code: Realize ~Guardian of Rebirth~
Developed by: Idea Factory
Published by: Aksys Games
Available on: Android, PS4, Switch, Vita
Release date: February 6, 2020
Genre: Visual Novel
Number of players: Single-player
ESRB Rating: Teen for blood, mild violence, mild language, suggestive themes
Price: $39.99
(Amazon Affiliate Link)
Thank you Aksys Games for sending us a review code!
Code: Realize ~Guardian of Rebirth~ is the first in series in a series of four games that was originally released in 2014. This is an otome visual novel meaning that it's a reverse harem with multiple eligible bachelors for the main character, Cardia, to pursue a relationship with. If you don't like the name Cardia, you can change it before starting your thirteen-chapter adventure.
The first eight chapters are pretty much the same throughout the different story arcs, but the last five are unique to each suitor. The story takes place in 19th century England with a Steam Punk setting.  The men you can date include many known historical and fictional characters. On my first playthrough without using a guide, I wound up dating Victor Frankenstein. Other notable characters include Abraham van Helsing, and though they're not romance options, Jack the Ripper and "Herlock Sholmes" make appearances in the story as well. In order to unlock the true ending with the gentlemen thief, Arsene Lupin, you must complete four story arcs with other suitors.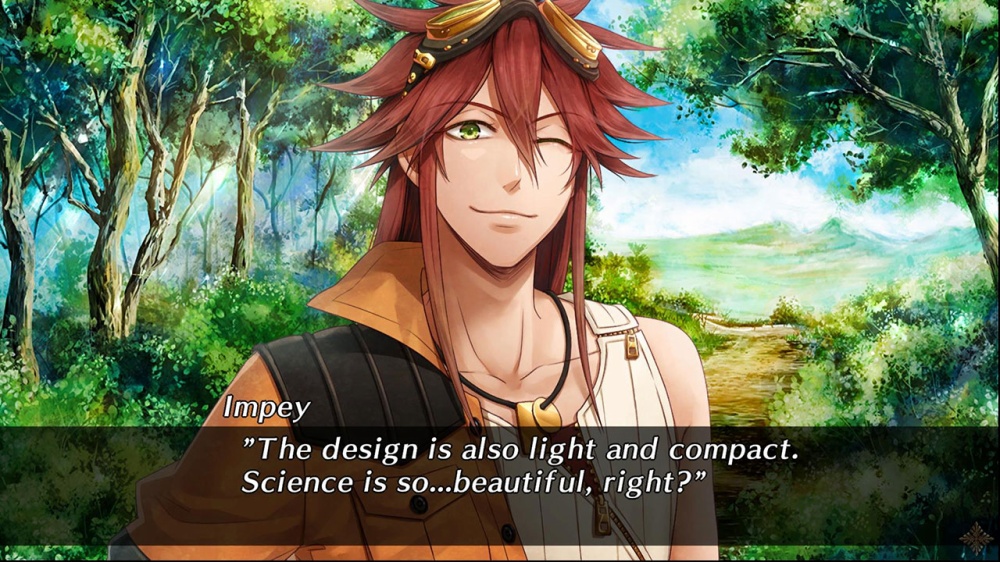 Highlights:
Strong Points: Interesting story with multiple arcs and endings; wonderful art; good voice acting though it's Japanese only
Weak Points: No option to skip to the next choice
Moral Warnings: Language (dumb*ss, b*stard, d*mn); descriptive violence and blood shown; sexual dialogue; some skin shown along with a male's rear end.

Carida is naive and doesn't have any memories before two years ago. She lives in an abandoned mansion awaiting her father's return. Her father, Isaac Bedford, is a renowned scientist who has catapulted Britain's technology by leaps and bounds beyond its rivals world-wide. Cardia loves her father despite being called a monster by him and being told that she cannot pursue love. She is quite unique with her body producing a poison that melts almost anything she touches. She has to wear special clothes that can withstand it and allow her to stay modest. Additionally, she has unique crystals embedded on her chest. Because of those and her lineage, she is the target of the British army, and the story begins with them invading her home.
Arsene Lupin rescues Cardia from the army and brings her to London to live in a mansion owned by Count Saint Germain (romance option). Impey Barbicane (romance option) also lives there and is an excellent engineer and cook. He's a bit talkative and has a lot of suggestive dialogue. Other characters like Victor Frankenstein and Van Helsing move in as well as the story progresses.
The story arc is determined by Cardia's choices, especially ones where she decides who she will train with. There are two training opportunities, but she will learn skills automatically from everyone no matter what choices you make. Though the story arcs were good, some of the bachelors and Cardia's reaction to them were a bit jarring at times. One of the suitors is abusive to the point of nearly breaking bones and another one kidnaps Cardia with the intent of killing her. That fact that she can forgive and forget their misbehavior is honestly quite odd.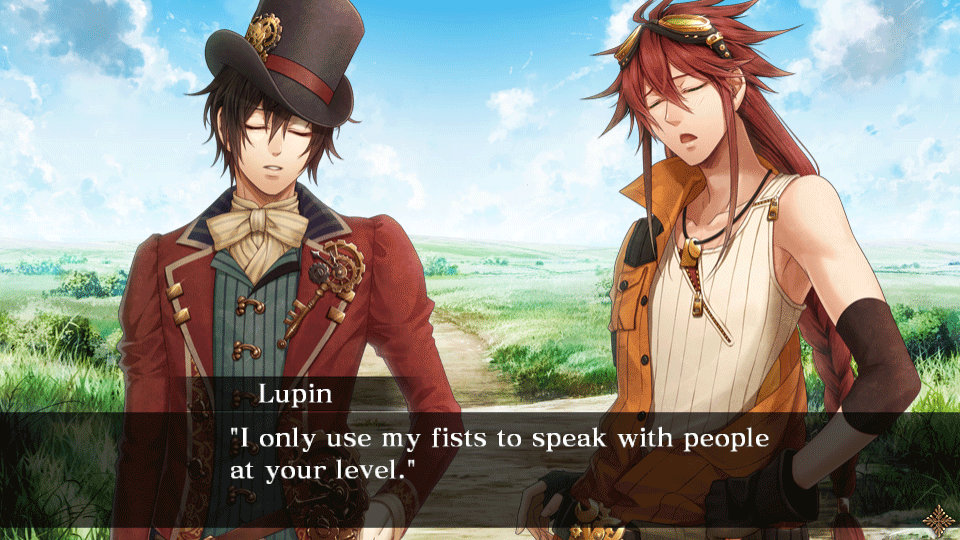 Score Breakdown:
Higher is better
(10/10 is perfect)
Game Score - 82%
Gameplay: 17/20
Graphics: 8/10
Sound: 8/10
Stability: 4/5
Controls/Interface: 4/10

Morality Score - 52%
Violence: 3.5/10
Language: 6/10
Sexual content: 1.5/10
Occult/Supernatural: 7/10
Cultural/Moral/Ethical: 8/10
Violence is prevalent throughout the story, but thankfully, it's not too bloody. With that said, the game is quite descriptive and pairing that with bone cracking sounds and the screen flashing red, it leaves quite the impression that someone is getting hurt badly. Language is worth noting as well with words like dumb*ss, b*stard, and d*mn in the dialogue. For what it's worth, Cardia doesn't say any of those words.
There are several references to God as Saint Germain prays before eating and before dangerous battles. Another character wishes to become a god and reform the world. There is some minor nudity where you see part of a male character's rear end. With Cardia's poison, there aren't too many kissing scenes or much beyond that. Her poison is removed in a couple of the arcs and one of them has Cardia living together with her partner without being married.
Visually, this game is stunning with detailed backdrops and character avatars. Their faces show many emotions and have some animation to them. Though the voice acting is Japanese, it's well done, and you can hear the emotion in the character's voices. I'm thankful for the sub-titles, and I only spotted one typo.
It took me roughly twenty-five hours to complete all of the story arcs. This title ran great on the Switch, and I love the ability to play on the go and during my lunch breaks at work. If you enjoy otome visual novels, Code Realize ~Guardian of Rebirth~ is worth checking out digitally or physically.