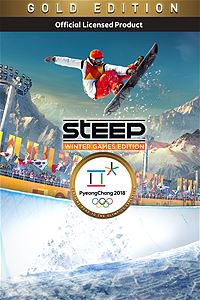 Game Info:
Steep: Winter Games Gold Edition
Developed by: Ubisoft Annecy
Published by: Ubisoft
Released: December 2, 2017 (PS4, Xbox One, and PC), 2018 sometime (Nintendo Switch)
Available on: PlayStation 4, Xbox One, Microsoft Windows, Nintendo Switch (2018)
Genre: Sports
ESRB: T for Teen, Comic Mischief, Language, Mild Violence
Number of players: 1-4
Price: $39.99
(Amazon Affiliate Link)
Thank you Ubisoft for sending us a review copy of the game.
Note: This review is based on the PS4 Pro version and might not look, sound, and perform the same on other consoles and PC.
The big games released today are usually sports games, first person shooters, and epic open world adventure games. Steep takes the snowboarding sports genre of video games and ramps it up to the ninth degree. It's been a while since a snowboarding game has offered passionate winter sports fans a true work of beauty. The last game to bring this much fun in my humble opinion was 1080 Avalanche on the Nintendo GameCube.
Steep: Winter Games Gold Edition has you start off from the beginning on a very snowedcapped mountain in the Alps (Europe) and then teaches some of the basics of the game. I was blown away by how beautiful the game looks. Sadly, I didn't take in all the graphical beauty since I was too busy learning the controls and trying different flips and other basic tricks. However, after I was done with the initial tutorial I had a chance to look around and see the beautiful scenery.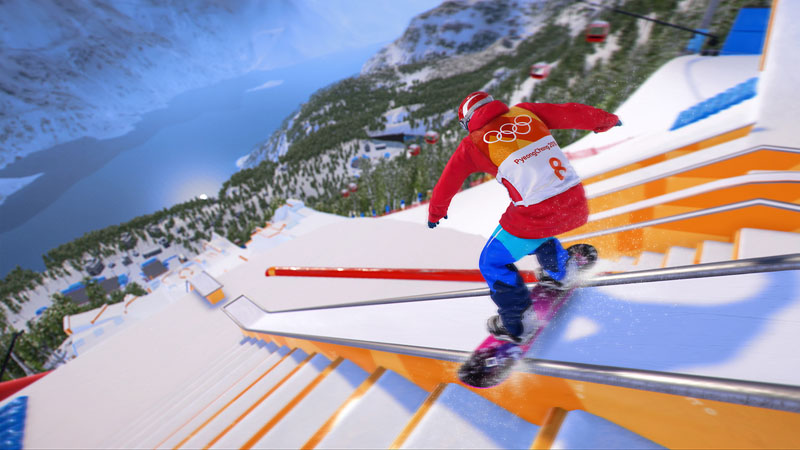 Highlights:
Strong Points: Beautiful graphics and sound. Many winter sports to enjoy. Massive mountains with tons of activities to keep you busy for many hours and days.
Weak Points: Lack of main menu which can be jarring. Micro transactions that ask for real world money and not just rely on in game currency. 
Moral Warnings: Violent crashes into buildings, trees, and more. Use of the word "sh*t" through out dialogue. Revealing outfits in purchased costumes.
After you go through different initial areas to get yourself familiar with the game and the variety of modes, you are free to really just explore and discover the vastness of the open world you have been given to either ski, snowboard, wing suit fly, or paraglide. You can open an overview of the entire mountain and choose different events to try to compete in. Each event will have a time limit that offers Gold, Silver, or Bronze awards. This Winter Games Edition gives you the option to travel to South Korea and Japan to compete for a spot in the Winter Olympics in PyeongChang, South Korea.
Steep Winter Games is an online-centric experience. You play solo but you can compete against friends and other competitors. I pretty much was too busy trying to get a better score in each event I competed in. The events in the game can be really addicting, and I enjoy the amount offered throughout the game. For parents I want you to know that your teenager can play solo an have tons of fun without the worry of other gamers harassing them on how well they played.
The game offers tons of customization of your character and equipment which allows the player many varieties in how they look and how their equipment looks. This could be an important feature for many gamers since they love to really make their character very special to them. Myself, I pretty much tinkered with how my snowboard and other equipment looked. I appreciate that developers in many games the last few years have given gamers real control over their character's appearance. There are tons of costumes and gear to purchase through the in game store with earned in game money and also real world money. I would recommend parents to beware of the micro transactions that are present in the game.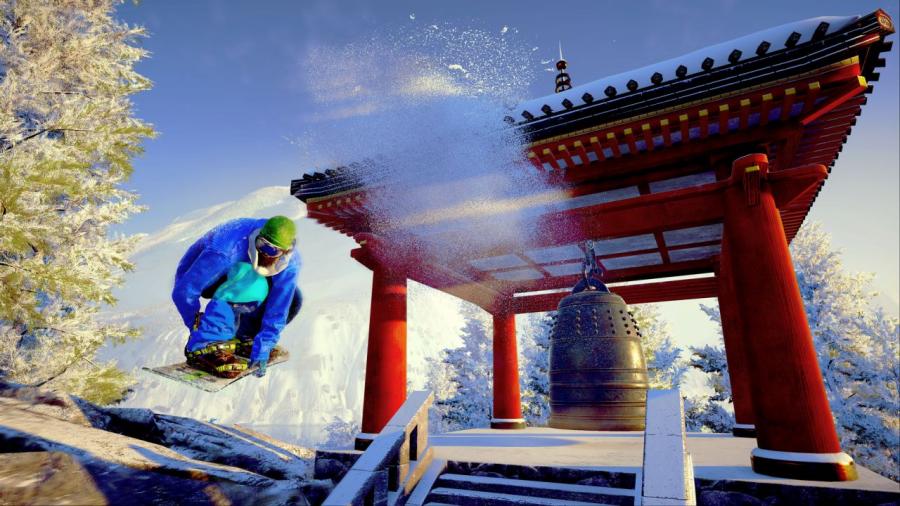 Score Breakdown:
Higher is better
(10/10 is perfect)
Game Score - 86%
Gameplay - 15/20
Graphics - 9/10
Sound - 9/10
Stability - 5/5
Controls - 5/5

Morality Score - 90%
Violence - 9/10
Language - 7.5/10
Sexual Content - 8.5/10
Occult/Supernatural - 10/10
Cultural/Moral/Ethical - 10/10
Graphics and sound are top notch in every way. I love how the snow sprays up and how majestic the areas that I competed in look. Everyone who plays will be astonished by how they can see for a very long ways away and gorgeousness of the environment. The sound quality is very well done and I very much enjoy the sound of my snowboard gliding across the snow and hearing the crispness of snow being crunched under my snowboard. In regards to stability and controls I had no issues. The game runs very well and the controls (once I got use to them) were very good.
My one major negative is what the game does as soon as you load it up, that it will thrust you immediately into the start of the game with you not even being sent to a "Main Menu" area. For many gamers this can be jarring and confusing. I would have preferred the developer allow me to go to a "Main Menu" area like pretty much every other game and allow me to adjust sound, controls, and perhaps allow me to create my own character before entering the game. Instead I was thrust into the game with a generic character that I had no control over how they look. I know later on you can customize the look of you character, but it would have been better if the developers had done what is standard in most games. This could cause confusion to many gamers and they might not like this new approach to gameplay.
In regards to how family friendly the game is, I would have to say good, except you will hear the word "sh*t" in the dialogue (the game would have been rated E for everyone or at least E 10+ if not for the use of this word). Also there is mild violence in that you will crash into buildings, trees, and other items on the various courses (try avoid them since they will affect your score). Lastly, some of the cosmetic items have your character in shorts and no shirt.
I would recommend this for older teenagers and adults who enjoy winter sports events. I very much enjoyed the snowboarding and wing suit flying the most. The graphics and sound are very well done and I appreciate the developer showing that they support this game well beyond the original games' release. The micro transactions are in the game, but they are cosmetic only so they won't affect gameplay.