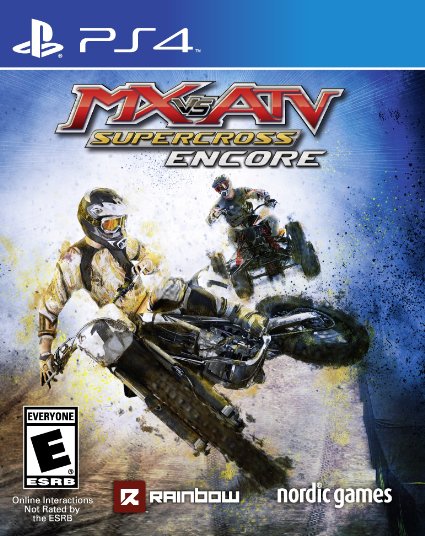 Game Info:
MX Vs. ATV Supercross Encore
Developed by: Rainbow Studios
Published by: Nordic GamesRelease Date: October 27, 2015
Available on: PC, PS4, Xbox One
Genre: Racing
Number of Players: Up to two locally and twelve online
ESRB Rating: Everyone
Price: $29.99
(Amazon Affiliate Link)
Thank you Nordic Games for sending us this game to review!
The fifth installment into the MX vs. ATV series, MX Vs. ATV Supercross, was released in October of 2014 for the Xbox 360, PS3, and PC.  This game was met with mediocre reviews due to its unoriginal content, dated visuals, and poor handling.  MX vs. ATV Supercross Encore was released a year later and boasted about HD rendered models, bikes, and tracks, improved physics and better controls, new game modes, online multiplayer, and re-mastered 3D positional sound.
Even though there are over thirty tracks in this title, many of them are taken from the previous MX vs. ATV Alive game.  Though they're still fun, they suffer from frame rate issues which is disappointing to say the least.  More tracks are available via the PSN store and they range from $5.99 individually to $19.99 for a bundle.  Vehicles and events can be purchased as well for $2.99 individually or $9.99 for a bundle.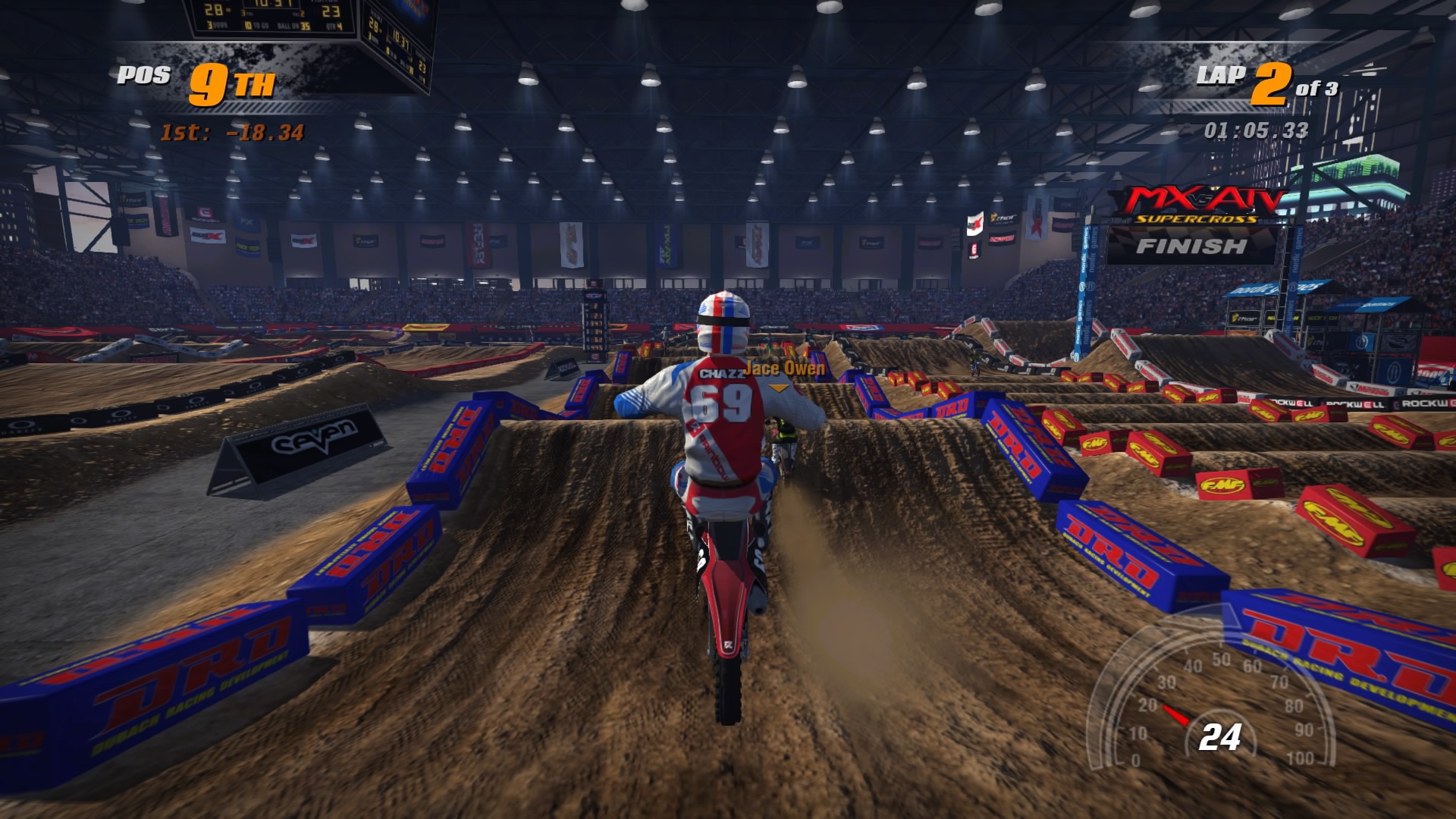 Highlights:
Strong Points: Over thirty tracks and a new rhythm racing mode
Weak Points: Lots of recycled maps and DLC available; touchy controls; low frame rates; nobody online to play against
Moral Warnings: Some language (hell) in the background music; flag/trophy girls wear skimpy outfits
MX vs. ATV Supercross Encore does offer a new game mode called Rhythm Racing where you have to find the optimal path along a very hilly track to make it to the finish line first.  Even against the easiest difficulty (Rookie), I had a hard time with this mode.  Online multiplayer is available for up to twelve people to race against each other.  However, I was unable to find enough people to play against.
Local multiplayer for up to two people works pretty well though.  My son and I enjoyed racing against and doing Free Ride events in split-screen format.  In the races you have to select the AI difficulty of the remaining ten racers.  I haven't bothered going up against Pro, or All Time, rated AI as the Rookie and Amateur ones gave me enough of a challenge.  Not that my name will ever be there any time soon, but there are online leaderboards. 
If you want to just do a quick race, the Single Player option will let you choose a race style without any strings attached.  If you do well enough, you will unlock more gear, and racers for next time.  There are indoor and outdoor racing events and my favorite mode is Waypoint.  In Waypoint you have to drive over ten or so waypoints in any path you choose as there are no tracks or restrictions.  Sadly, there are only a handful of tracks available for this underappreciated game mode.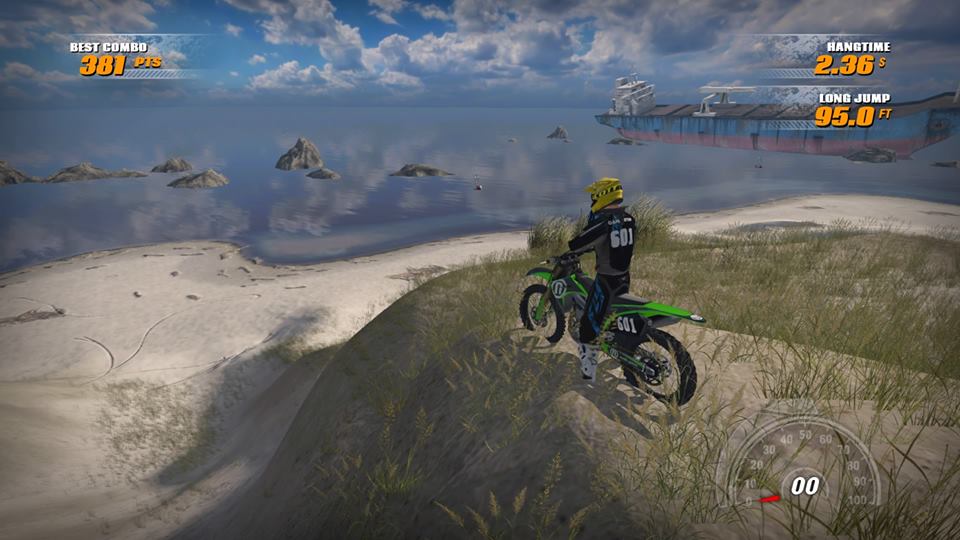 Score Breakdown:
Higher is better
(10/10 is perfect)
Game Score - 66%
Gameplay - 12/20
Graphics - 6/10
Sound - 7/10
Stability -5/5
Controls - 3/5

Morality Score - 89%
Violence - 8/10
Language - 8/10
Sexual Content - 8.5/10
Occult/Supernatural - 10/10
Cultural/Moral/Ethical - 10/10
The Career path will give you a taste of the various game modes and you have to finish well to advance to the next racing challenge.  This mode is the best way to unlock more tracks, gear, and vehicles in the game.  Completing the career mode will take about fifteen hours or so.
When it comes to the graphics, I wasn't really impressed.  The riders and vehicles looked good, but the environments were bland, and dated.  The flag/trophy girl wore outfits that showed off her cleavage.  
The dubstep style menu music was fitting and the racing background music was usually heavy rock.  I wish I could see what band was playing the current track, but I didn't see an option for that in the menu.  One of the songs used the word hell a lot, but I don't know which song it was or who sang it.
In the end, MX vs. ATV Supercross Encore isn't much better than the mediocre game it was attempting to improve.  It's still decent, but the lack of people to play against online, touchy controls, and unoriginal content give people little reason to move away from the previous MX vs. ATV games they adore.