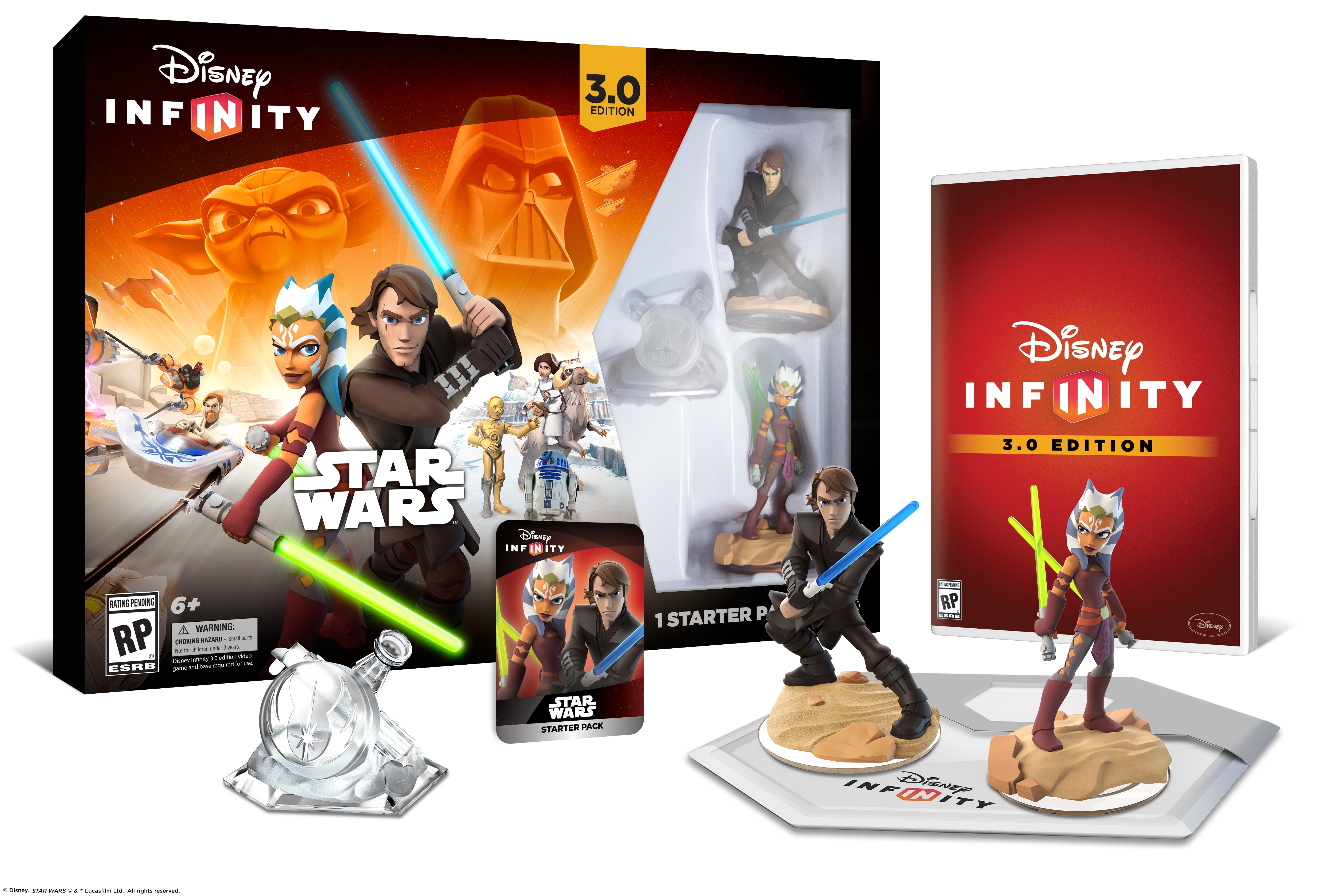 Game Info:
Disney Infinity 3.0
Developed by: Avalanche Software
Published by: Disney Interactive
Release Date: August 28, 2015
Available on: Android, iOS, PC, PS3, PS4, Wii U, Xbox 360, Xbox One
Genre: Action
Number of Players: Two local, up to four online
ESRB Rating: E 10+ for violence
Price: $59.00
(Amazon Affiliate Link)
Thank you Disney Interactive for sending us the base game to review!
The first Disney Infinity was a response to the successful Skylanders franchise and featured many loveable Disney characters to interact with including the bundled Sulley, Captain Jack Sparrow, and Mr. Incredible.  The bar was raised in Disney Infinity 2.0 when Marvel characters were added to the mix.  The packaged characters included the Black Widow, Thor, and Iron Man.  With Disney's latest acquisition of Lucasfilm, Star Wars characters are featured in Infinity 3.0.  While the starting characters Anakin Skywalker and Ahsoka Tano are decent, I went out and bought Darth Vader, Yoda, and Chewbacca to enhance my gaming experience.   
Besides the bundled in story mode, other playsets are available for purchase including the Toy Box Speedway for $20 that adds kart racing to the game.  While Mario Kart is still superior, the Toy Box Speedway is still decent and fun to play locally with two players or online with four.  The racing backdrops are colorful and feature graphics and background music from many popular movies including Big Hero 6, Aladdin, Wreck it Ralph, Frozen, Guardians of the Galaxy, Nightmare before Christmas and many more!  While the gameplay is good, the controls could be a little bit more intuitive as I struggled trying to acquire and use my boost abilities.  I still managed to beat my brother and kids every time so I can't complain too much there.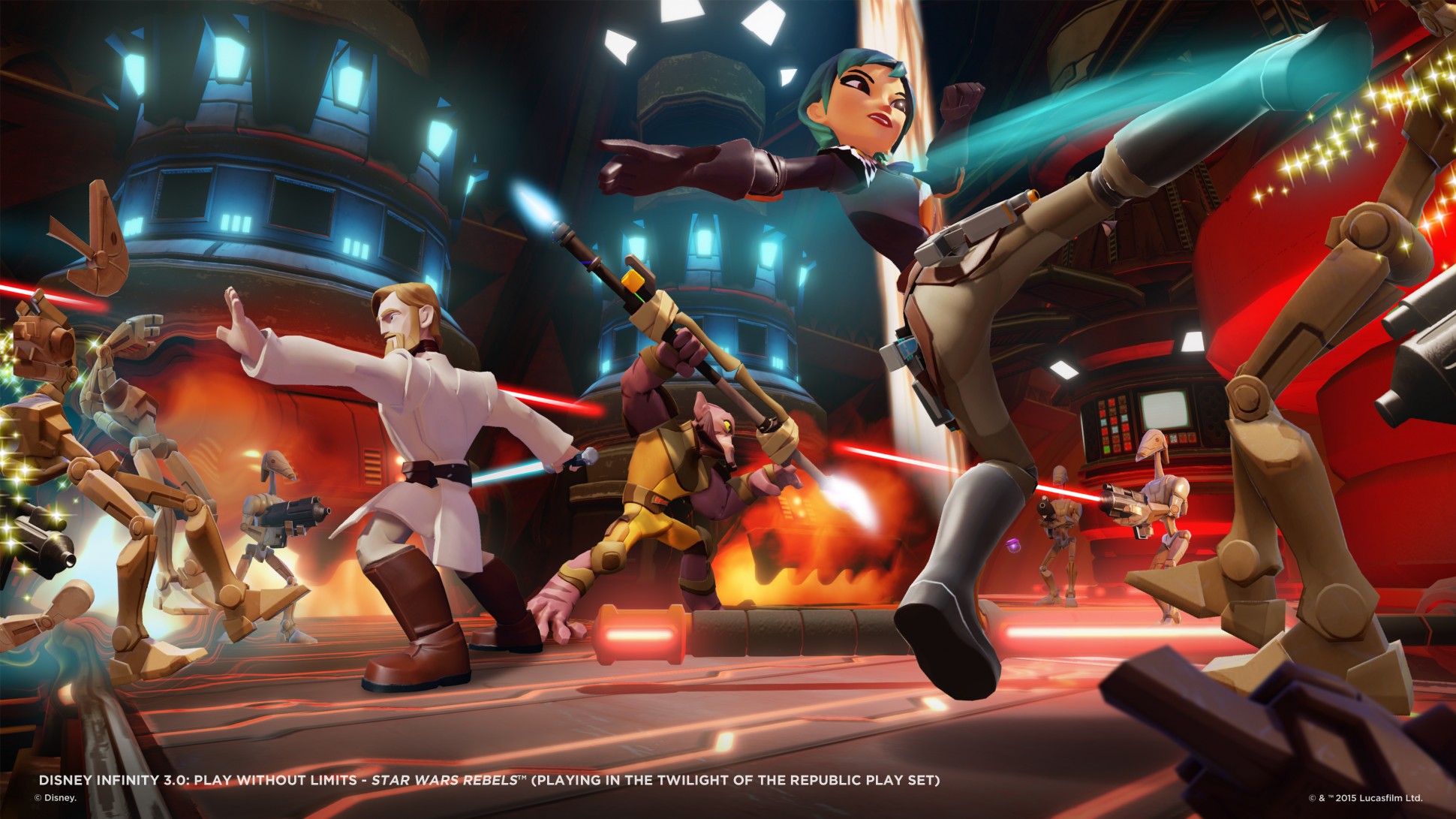 Highlights:
Strong Points: Ablility to pit battles between Star Wars, Marvel, and Disney characters.  Who wouldn't want to see princess Leia kick Elsa's butt? Chewbacca verses Sulley, Yoda versus Hulk, the list goes on!
Weak Points: Many Star Wars characters have to be unlocked before using them in the single-player story mode; game crashed once
Moral Warnings: Cartoon violence
If you like online play there's a built in arcade mode where you can play a Splatoon knockoff with up to four players online.  Again this is nowhere near as polished or as good as Splatoon, but it's still fun and included with the base game.  In this mode, the environment is all white and it's your job to spray as much of it as possible with your player's color.  When the timer runs out, the player with the most coverage wins.
The story mode, Twilight of the Republic is action packed with many lightsaber battles, spaceship dog fights and visiting the home planets of many beloved characters from the Star Wars movies.  It's worth noting that only the Infinity 3.0 Star Wars characters will work in this mode and many of them will NOT work right out of the box.  Throughout the planets and levels are character tokens that will unlock specific Star Wars characters for use in this playset.  Up to two players can work together in this playset to solve the mystery of who is building battle droids and why.  
While two players is fun to have, it's not required most of the time.  There are some mini-games that require two players to enjoy them.  When I played by myself I wasn't too challenged with the swarms of battle droids getting sliced and diced with Yoda's lightsaber.  The bosses on the other hand tended to kick my butt.  When Yoda went down for the count, I had to use Anakin and Ahsoka since Darth Vader and Chewbacca were not unlocked yet.  Grrr.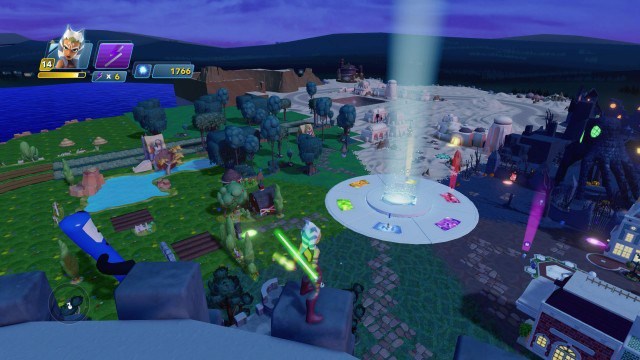 Score Breakdown:
Higher is better
(10/10 is perfect)
Game Score - 88%
Gameplay - 19/20
Graphics - 8/10
Sound - 9/10
Stability - 4/5
Controls - 4/5

Morality Score - 90%
Violence - 8/10
Language - 10/10
Sexual Content - 10/10
Occult/Supernatural - 7/10
Cultural/Moral/Ethical - 10/10
With the fall of each enemy the active character earns experience and collects orbs to restore health or in-game currency for unlocking items in the toy box mode. As a character levels up they will earn skill points which can be used to unlock more health or new offensive/defensive abilities.  There is a limited number of skill points so you'll have to allocate them wisely.  You can reset the points twice at level ten and at the final level, twenty
Out of all of the game modes, the toy box mode is my kid's favorite.  With the unlimited amount of creative potential, any Minecraft lover will enjoy piecing together various houses, castles, race tracks or anything their heart desires.  Sidekicks are available and any Disney Infinity character from 1.0-3.0 will work in this mode.   Any combination is possible as I enjoyed equipping Buzz Lightyear's jetpack on Yoda as he rode on a Tron Recognizer ship.
The epic battles that can commence in the toy box mode is something to behold.  My younger daughter who played as Violet from The Incredibles challenged my son who played as Anakin.  Watching her get drawn to him with his force pull technique and get slashed to pieces (literally) by his lightsaber while she was defenseless was hilarious to say the least.    She learned not to mess with him.  
I know a game is good when I don't get much of a chance to play it when my kids are home.   While we have owned the previous two entries, it's safe to say that this one has surpassed them all.  In fact, Disney Infinity 3.0 has dethroned Minecraft as my son's favorite game.  Disney 3.0 is a solid buy for any kid that enjoys Disney, Marvel, or Star Wars movies.