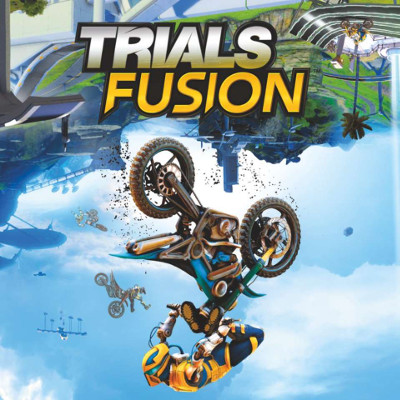 Game Info:
Trials Fusion
Developed by: RedLynx
Published by: Ubisoft
Release Date: April 16, 2014
Available on: PC, PS4 (reviewed), Xbox 360, Xbox One
Genre: Racing
Number of Players: Single-player, up to four players in local multiplayer mode
ESRB Rating:E10+
Price: $39.99
(Amazon affiliate link)
Thank you Ubisoft for sending us this game to review!
Trials Fusion is the follow up to the Xbox Live exclusive, Trials Evolution. In this game you complete trials to earn medals to unlock more levels and sections.  Each new area has a training course to teach you the essential techniques to complete the upcoming trials.  Depending on how you do you can earn a bronze, silver, or gold medal.  Time to complete the level is crucial, but faults are also taken into consideration.  Gold medals require perfect runs.  
The basic controls on the PS4 use the right trigger to accelerate, the left trigger to break, the left stick to lean and the right stick to do tricks. This game does work well with remote play, but restarting the level is harder to do on the Vita.  I like the PS4 controller's touch screen implementation. 
Highlights:
Strong Points: Fun and challenging trials; the physics make you laugh when you fail; level editor
Weak Points: Flaky Uplay integration
Moral Warnings: Non-realistic violence; Hell is part of some of the trick names
The controls are pretty simple so your success relies on your timing and execution.  Leaning is key for keeping your balance and aligning your bike to land properly.  If you don't land gracefully, the rag-doll physics are bound to amuse you instead of frustrate you.  My kids enjoyed watching me play in hopes that I would mess up.  Fortunately, there are plenty of check points to resume from with minimal time loss.
Besides Trial tracks, there are skill games where distance is measured rather than completion time.  There are also FMX tracks where you get to complete various tricks for points.  Points are only awarded if you land correctly.  The tricks are pretty crazy and doing them through burning hoops is a blast. Some of the tricks have Hell in their names.
The levels are fun to play and offer lots of variety.  Most of them are outdoors and take place in the mountains, in the air, dirt trails, or factories with plenty of explosions in the background.  One of my favorite tracks was inside of a factory that was assembling the track as I was riding it. Some of the levels take place at night with the motorcycle donning neon lights. 
Trials Fusion ran flawlessly on my PS4 with a solid 60 frames per second and 1080p support.  The only  thing that did not work right for me was the Uplay integration.  I have a working Uplay account on my PC, but was never able to connect to it in game.  Some of the game's outfits are only available via Uplay.  I really wanted the squirrel costume but was not able to access it via Uplay.  :(  The rest of the costumes are unlocked via in game cash or by gaining levels.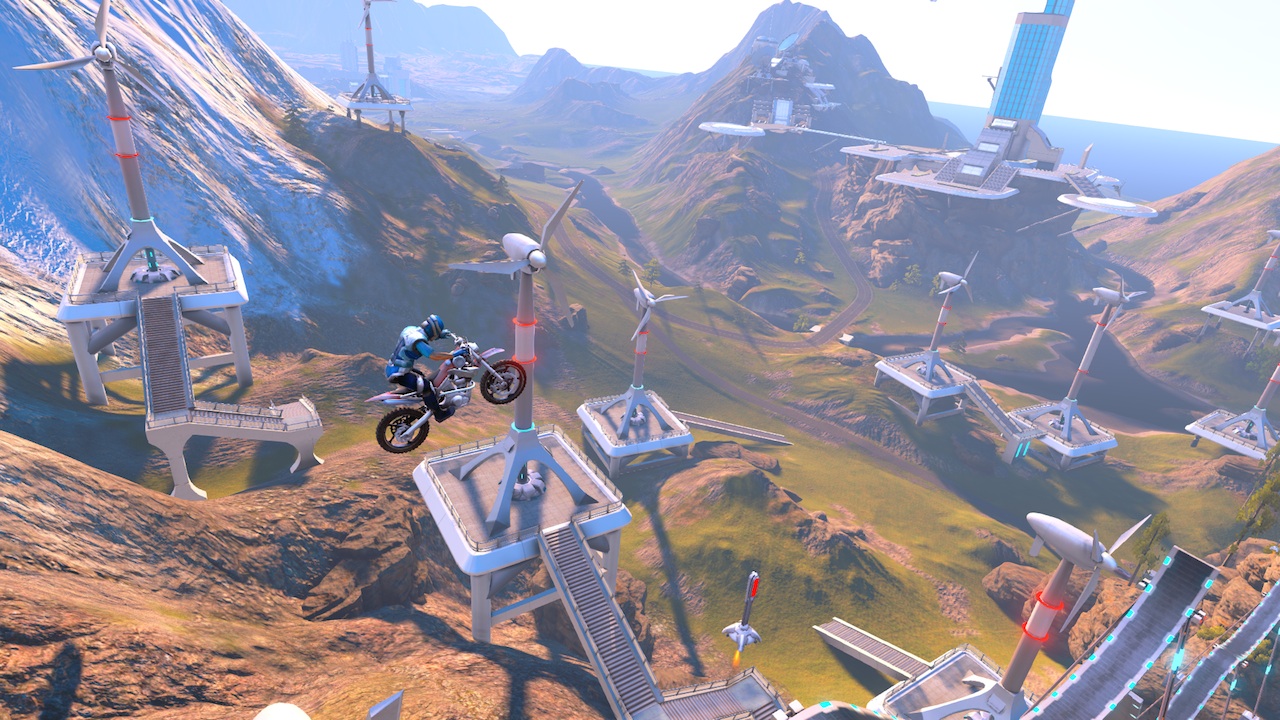 Score Breakdown:
Higher is better
(10/10 is perfect)
Game Score - 80%
Gameplay - 17/20
Graphics - 8/10
Sound - 9/10
Stability - 2/5
Controls - 4/5

Morality Score - 90%
Violence - 7.5/10
Language - 7.5/10
Sexual Content - 10/10
Occult/Supernatural - 10/10
Cultural/Moral/Ethical - 10/10
While you can change your character's appearance you cannot change their gender or voices.  I liked the biker's "Whoo hoo!" sounds when he was flying through the air and the grunts he made when crashing.  
Besides the career mode, you can create and share levels or play against four friends in the local muliplayer mode.  The track editor is easy to use with the drag and drop interface and there are thousands of tracks to play on and rate.  The medals earned on the created tracks do not count towards the single-player campaign.  There will be upcoming DLC and season pass holders will get them free of charge.
For $39.99 there is a lot to like and do in Trials Fusion.  Even with the broken Uplay integration, I still had fun beating my previous scores and then watching my husband annihilate them further with little effort.  Since I was never able to establish a connection with the Uplay servers, I didn't get to compare my score on the leader boards.  (Probably for the best...) There are plenty of single-player challenges and more on their way with player maps and upcoming DLC.   I highly recommend this game for PS4 owners.