Thank you Easy Roller Dice for sending us these dice to review!
Everyone has a favorite color and it shouldn't come as a surprise that mine is purple. My youngest daughter also likes purple and snatched up these dice the day they arrived.  Sadly, before I could get my review written she managed to lose one of the unique D10 dice. Why couldn't it have been one of the multiple D6s?
To complete the set and review, I have ordered an opaque purple set on Amazon.  Although the price on Amazon is $1 more than EasyRollerDice.com's website, the shipping is cheaper there (especially if you're a Prime member).  If you spend $50 on EasyRollerDice's website, the shipping is free in the USA.  They also have a 20% off coupon code (whoohoo) at the time of this review.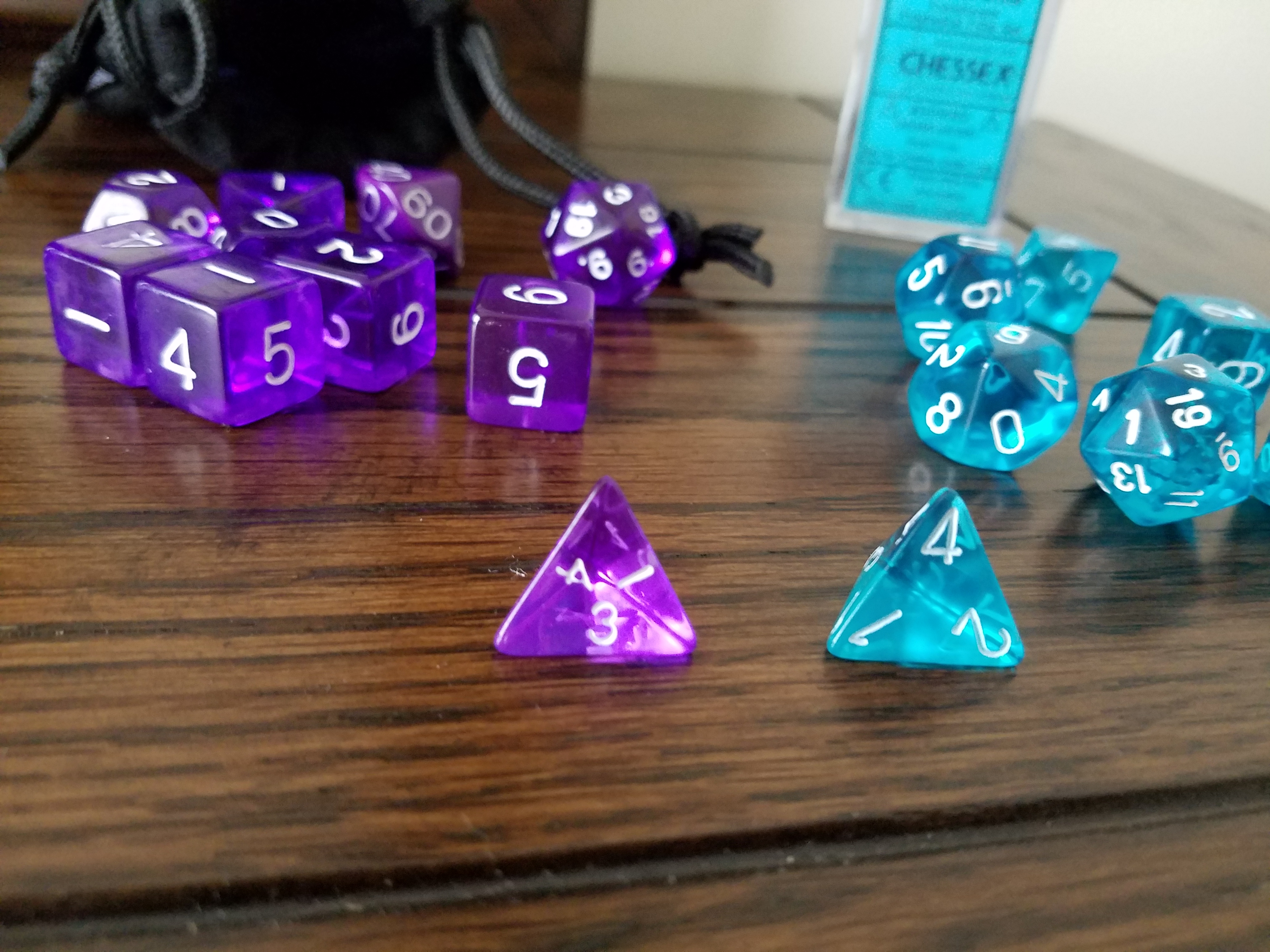 This review is based on the Purple Translucent 10 Piece Dice Set. This set includes a velvet carrying pouch ($5.95 value) that can hold up to twenty-one dice. This ten dice set includes:
1 D4
4 D6s
1 D8
2 D10s (One with single digits and one in 10s)
1 D12
1 D20
Along with this set of dice, we also received the seven-piece purple dawn dice set and the Wyvern reversible large dice bag. The large bag is high quality and made with microfiber and velvet. It can carry more than two-hundred dice, no matter what brand they are! Since I don't want to compare the Easy Roller Dice against each other, I'm going to use my son's seven-piece teal translucent Chessex dice set.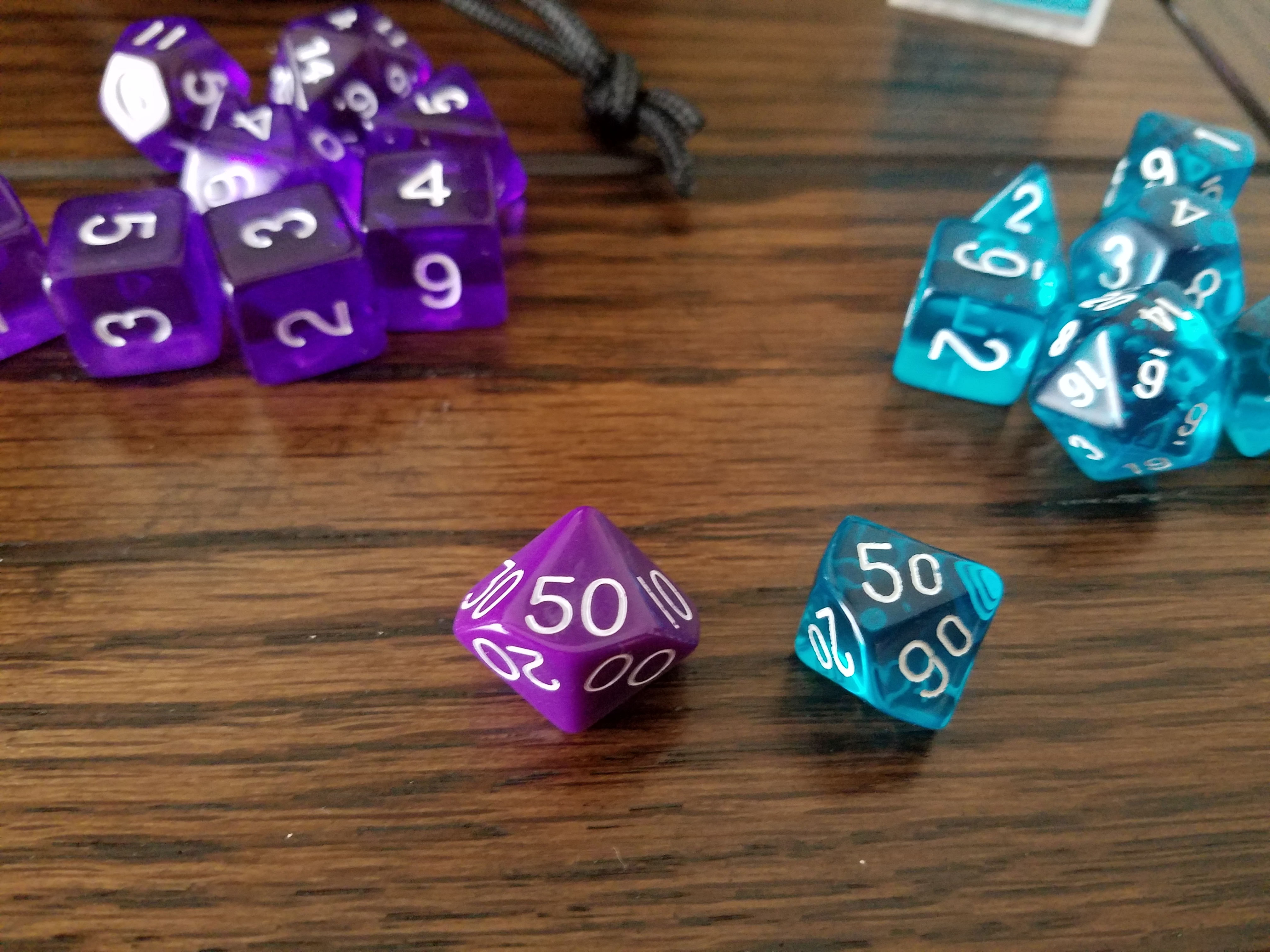 Chessex has been around longer than Easy Roller Dice and they have an impressive catalog of low-cost dice out there. Their dice are cheaper than Easy Roller's, but I like the carrying pouch over the plastic box.  Both sets use white paint which makes reading the numbers easy.  The paint jobs are about the same between the two and I saw some minor flaws in both sets.   The Easy Roller dice are slightly bigger in size (16mm to be exact) and felt heavier in my hands. Unfortunately, my food scale isn't sensitive enough to detect a weight difference between them. 
There are some differences between the two Easy Roller Dice sets we received.  The purple dawn set has the D4 score number on the top like the Chessex, but this translucent set (and my replacement opaque) have the score number on the bottom.  The Chessex D4 uses a bigger font and is easier to read overall.  The opposite is true on the double digit D10 where the Easy Roller Dice puts the numbers at a different angle and uses a bigger font.  It's a tie here since I prefer the Chessex style D4 and the Easy Roller's D10.  
The Chessex dice set comes in a plastic carrying case that arrived cracked on the top. The dice themselves have a couple of scratches out of the box as well. Easy Roller Dice hand inspects their products to make sure they are defect free. They stand behind their products with a thirty-day money back guarantee and will replace any damaged dice at no cost to the buyer. I doubt this includes bad rolls in tabletop games though.
In the end, I prefer the Easy Roller Dice over the Chessex Ones. They feel better, have given me some good rolls, and the carrying pouch is really nice. I'd rather have a velvet pouch in my pocket than a rectangular plastic carrying case. The price difference is only a couple of dollars and is well worth it in my opinion.

(Amazon Affiliate Link)