Thank you Easy Roller Dice for sending us this set of dice for review!
Easy Roller has also send us the Serpent's Blood set, which we reviewed here. The main details of these dice are the same, except the text is green rather than pink. I have not personally held the green ones, and I prefer green as a color, but it surprised me that these pink dice do not offend my masculine sensibilities at all. ;)  Despite being pink, they look great.  The color is a very nice high contrast with the dark gun metal gray.  They also feel great to hold.  Even if I don't have a pen and paper RPG session coming up in the near future, they are just so much fun to hold that I occasionally bust them out anyway.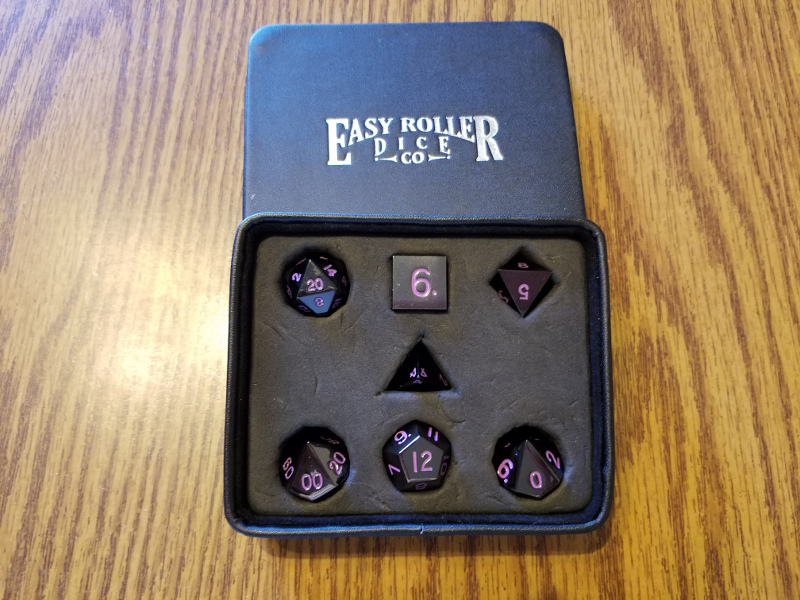 These gun metal dice are much heavier than normal plastic dice, and that is part of their appeal.  But they are also much harder than other dice – indeed, harder than many tables.  It is very easy to unknowingly make a bunch of many tiny dents into a typical wooden table (or office desk!) if you are not careful.  I would highly recommend a dice tray or something like a mousepad to roll on instead.  Thankfully, the lid of the fantastic leather-like container they come in can be used in a pinch.  Whatever you do, please be careful!
Dice like these are probably more for show than practical use, though they can be used if you take proper precautions.  I did notice a few imperfections, especially on the d4.  They look like line dents of some kind.  I also see a strange bump on the d6.  If I had paid the approximately $45 for these dice, I would have been a little disappointed.  Wear and tear is inevitable, so it's not the end of the world for me.  Despite that, I really enjoy the look and feel of these dice, and have every intention of using them the next time we get together for a role playing game with the old crew.