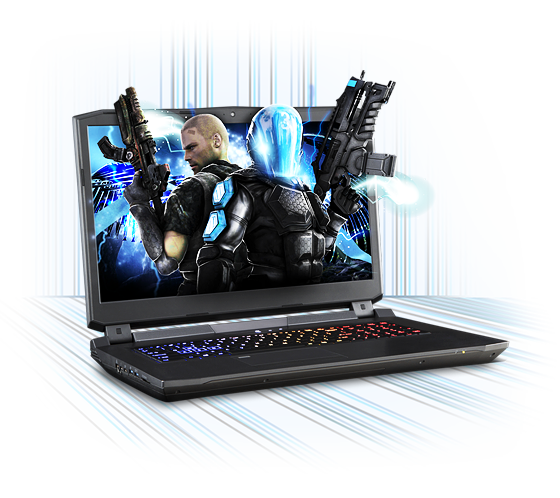 Buying a gaming desktop or laptop is a big commitment. However, if you get a machine powerful enough, it can provide years of entertainment. Desktops are cheaper and easier to upgrade so if you don't need portability, you can get more machine for your money that way. No matter which route you go, the advice in this article is applicable for both systems.
Generally speaking, with gaming laptops, you have the classic 'pick two' rule: Power/Specs, Size/build quality, Affordability - pick two. The slimmer and lighter something is, the less powerful - unless you are willing to pay more for it. There are relatively affordable gaming laptops that are significantly less expensive than the thin and powerful variety, but they are usually an inch thicker or more. It's only on the very high end where no matter how much you spend it won't be thin (like SLI video cards and such).
All system types discussed herein are assumed to be Windows computers. Macs can play some games, as can Linux, but they are sadly limited. And while Linux can actually use much of the same hardware as Windows, so most of this guide still applies (with the caveat that OS and hardware support is all on your own), you are still limited on game selection (though you may learn other useful technology skills!). On Mac, you are limited to the maximum of a midrange gaming GPU - for their top of the line Macbook Pro prices. Typically, I would say that people who purchase Mac computers do not or should not choose them with primarily gaming in mind. This is something that Apple Corp. has simply chosen to ignore; they do have the power to fix it if they so choose. Instead, Apple has pre-chosen size and build quality as their sole focus, which is dandy, but they do not make gaming capable laptops, and what they do offer is extremely expensive.
The first step in purchasing a gaming machine is to determine your budget. Faster machines are more expensive and there is no way around that. Most laptops come with Intel graphics but if you want to do some serious gaming, you'll have to pay a premium for AMD or Nvidia graphics. If you plan on doing VR with your system, you're going to want a GeForce GTX 1060 at least. Anything faster is, you guessed it, more money.
Another thing to consider is current year vs. previous models. Generally the rule I follow is that it's okay with CPUs, but tread carefully when comparing last generation GPUs. While in principle older models are okay and a decent compromise if the price is right, realize that each new GPU model year, especially when there is a new process node or architecture, dramatically decreases power usage while simultaneously increasing performance. For example, the NVIDIA GTX 1060 6GB is in most cases more powerful than the GTX 980M - and uses far less power doing it, at a much better price to boot. The GTX 1070+ naturally blows the doors off of anything available in the mobile space before.
The best resource available, when comparing notebook graphics chips, is this tool from notebookcheck.net:
https://www.notebookcheck.net/Mobile-Graphics-Cards-Benchmark-List.844.0.html
As you can see, at the time of this publication, NVIDIA owns the high end space, and it's been that way for several years.
When it comes to the CPU, newer models are still better, but not nearly as dramatic as it is when comparing GPUs. For example, the Intel i7 6700HQ is only about 200-300MHz difference between that and the newer i7 7700HQ. There is a difference, but it's not worth spending a lot more for, though at similar prices, obviously get the newer one.
When it comes to gaming, the priorities are GPU first, then CPU, then RAM and storage. You would want no less than 8GB of RAM (and 16GB is better). More is not necessary. I highly recommend a SSD drive for the OS, but that can sometimes come later as an add-on if you are technical enough to clone it there, though it should be standard on any laptop >$1000. There are other considerations, like whether you hope to hook up the computer to external monitor(s) or not, or whether built-in speaker sound quality is important to you or not.
For the record, almost all gaming laptops lack a touchscreen.
Generally, the price to performance brackets go somewhat like this:
<$800: There are significant compromises. Typically you only find integrated video for less than $800, or last year's models of dedicated GPUs. AMD has the brand new Ryzen Mobile CPUs, and they are quite competitive. They seem like a good compromise platform for lower priced systems, though laptops with NVIDIA GTX 1050 GPUs would be slightly faster, if you can find one in this price range, though they often only have 2GB of video ram, which impacts higher resolution gaming. Intel integrated GPUs work okay these days, but are generally to be avoided for a primary gaming PC. (As a companion to a gaming desktop, they can be quite decent, however.) If they have a GPU at all, they will likely come equipped with an i5 CPU, which is a very reasonable compromise to reach that price point, and if this is your budget, go for that.
As a general rule, games will run:
Intel Integrated: low settings only.
AMD Integrated: low to medium settings
NVIDIA GTX 1050 2GB GPU: medium settings
These recommendations generally assume a 1080p resolution (1920x1080), though honestly, integrated video (both Intel and AMD) will have a much better experience with less than a 1080p resolution, as even some games at the lowest settings aren't playable at 1080p, or simply will not work at all on any resolution if the computational requirements are too high, especially on Intel. This is why, generally speaking,
$800-$1000: This is probably where the best price to performance gaming laptops are. Almost all have i7 CPUs (with the occasional i5), and most have NVIDIA GTX 1050s, 1050TIs, or the occasional 1060 on a good sale. For the record, I would choose an i5 CPU with a 1060 over an i7 with a 1050 (either version) any day of the week. AMD GPUs in this price range do exist, but are pretty rare. Most of the laptops with 1050s are a bit thinner, but not thin and light. If you want something with these GPUs that are thin(ner) and light, add several hundred dollars.
NVIDIA GTX 1050 4GB version: medium to high settings
NVIDIA GTX 1050 Ti 4GB: mostly high settings
NVIDIA GTX 1060 3GB version: mostly high settings (there is a case to be made for 1050Ti over 1060 3GB... and vice versa too)
NVIDIA GTX 1060 6GB version: high to ultra settings; performs well in VR.
$1000-$1300: This is pretty much the exclusive range of the i7 with NVIDIA GTX 1050 Ti or 1060 6GB. These should perform comfortably in most games at 1080p. They often come with a bit more 'bling' at this price range, with things like G-Sync screens and extra DisplayPort outs, for multiple monitors. These are the big and heavy gaming laptops, not the thin and svelte ones. Automatically add several hundred dollars if you want thin.
Up until this point, I have assumed that we are talking about playing games on the integrated 1080p screen. None of the above GPUs will work well at 4k, and only the GTX 1060 6GB is acceptable for entry level Virtual Reality (VR). Generally speaking, VR compatible gaming laptops demand much more from the system itself, the thermals, and naturally, the GPU. You may find switchable graphics on the 1050 model laptops; once you enter the VR ready space, this disappears, as VR requires a direct connection to the GPU, which switchable graphics, which tend to optimize for battery life, cannot provide.
Three USB 3 ports and an HDMI 1.4 (or DisplayPort 1.2+) connection are required for VR. Thunderbolt 3 is nice to have since that allows you to connect an external GPU to your laptop at some time in the future if you choose. Not all gaming laptops have these, even if they have USB 3.1 ports. Read the specs carefully!
From here, you have the higher end. If you plan on driving a 1440p external monitor, you can probably get away with a GTX 1060 6GB, but a GTX 1070 is much better here. If you are not going to enjoy VR with your laptop, and you only stick with a standard 1080p screen, then a GTX 1070 is almost certainly overkill. If you are going to play extensive VR or move up to a 4k screen, then a GTX 1070 is practically a bare minimum. 4k gaming is very taxing on the GPU.
$1300-$2000: This is typically NVIDIA GTX 1060 or 1070 territory. One of the only stores to buy a laptop with a GTX 1070 at less than $1500 is at a Micro Center. They currently are selling on one sale for $1299; suffice it to say I count my blessings being able to drive to one. (At our house we have two laptops with GTX 1070s inside thanks to our local Micro Center.)
NVIDIA GTX 1070 8GB: Can play anything at ultra settings at 1080p and 1440p. Medium to high settings at 4k. Performs excellently in VR.
$2000+: This is the high end, and prices can get pretty crazy. There is everything from thin and light notebooks with 1070s to huge fat SLI desktop replacements. These are no holds barred, but I have a hard time justifying the price personally (as at that point you can get a desktop and a 1060 gaming laptop and come out ahead).
NVIDIA GTX 1080 8GB: Can play anything at ultra settings at 1080p and 1440p. Mostly high settings at 4k, but not ultra. Performs excellently in VR.
NVIDIA GTX 1070/1080 SLI: Yup, it's fast.
Optical drives are not standard issue in laptops anymore. Since many games and applications are digital these days, chances are you won't miss the DVD/Blu-ray drive that much. I do recommend picking up an external drive for the rare moments you'll need it.
Depending on the size of the laptop you'll be considering, there may be room for two hard drives. The ideal configuration is having an SSD for booting up your operating system and frequently used apps the fastest and a standard spinning drive for data storage. SSD drives are great but costly in comparison to mechanical ones. Thankfully, this is a pretty standard configuration for most gaming laptops over $1000. If you have set your mind on a serious gaming journey, then you should consider buying a proper SSD for your needs. Investing in these new generation powerful SSDs will take your gaming experience to the whole new level.
If you want to use your laptop as a desktop replacement or only computer, consider how many video out ports there are. HDMI supports only a single monitor, so if you want two or three, that option will not work. If you would like more, look for laptops with either several video ports on the side, or ones that support DisplayPort MST, which allows you to daisy chain multiple monitors off of one DisplayPort connector. This can also be in the form of a USB 3.1 port, as long as DisplayPort (or Thunderbolt 3) is wired internally. This is how I run two monitors off of my laptop with only one cable.
There are some ways to save money on laptops. If you time it right, you can buy the previous model as they are being phased out by the latest and greatest. Another option is to buy an open box. Before spending any money, check the return policy. As gorgeous as some screens are, many may have some dead pixels. Thoroughly check your laptop for any defects before the return period is up. If possible, open up and power on your laptop at the store to spot any noticeable dead pixels or defects.
Once your machine is purchased, keep an eye on the price for any changes. Some stores will refund the price difference in your favor if it changes within fourteen days of purchase.
I find that the best way to get a great deal on a gaming laptop is to check out a local Micro Center if you have one, and/or check out slickdeals.net. At the time of this writing, there are some killer gaming laptops on sale, being the beginning of Christmas shopping season. If you are lucky or keep an eye out, you can often find fantastic deals.