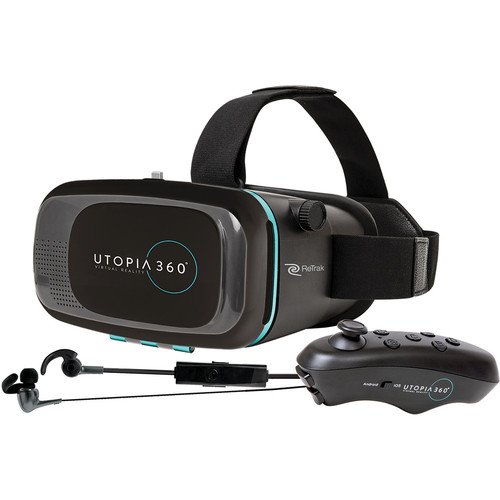 Image source: Amazon
Nowadays, VR has become a popular trend in the tech world. There are more and more advanced VR headsets on the market. However, it is hard to pick just one. Some of them come with amazing features and specs, while others have a very affordable price. Also, you need to take into consideration the requirements of every headset before you choose the right one for you.
In this article, we are going to present you the most important things you should know about this VR headset. However, if you need more information about Utopia 360 VR features, you can check out an in-depth review on Top Best VR. Now, let's see which are the main specs of this device.
Utopia 360 VR Specs and Features
As you probably know, there are different types of VR headsets. Some of them work with Xbox, PlayStation or a PC. However, there are also some VR headsets that work with smartphones, like Utopia 360 VR. This is a smartphone-based VR headset that is depended on the platform.
One of the best things about this device is that it comes with a 360-degree field of view. It has an Android platform so it doesn't work with iOS smartphones. Unfortunately, this is not a professional headset like Oculus Rift or PSVR. Despite this fact, it comes with great features and specs for its small price.
The best feature is that it supports AR apps, unlike most headsets in its class. On the other hand, it doesn't support a lot of new games and apps. Despite this fact, you can play a lot of VR games and AR apps on this device. Many users mentioned that it offers the real VR experience and it only comes with some minor inconveniences.
Utopia 360 VR Requirements and Design
Unfortunately, like any other device, this VR headset comes with some problems. The main issue is the resolution of this headset. It is not quite clear which smartphones fit in the front dock of the device. Also, the resolution is given by the resolution of the smartphone so you can't know for sure which is the resolution of this headset.
When it comes to its design, the VR headset comes with simple, basic design that makes it easier to use. If you tried another VR headset before, the Utopia 360 will seem easy to set up and use. However, there is a minor issue with its design. Some users complained the Samsung Galaxy Note 4 devices don't fit the first few times they tried it. However, after a few uses, the phones seem to fit just right. This could mean that this headset loosens up which is a design flaw.
Utopia 360 User Experience and Price
One of the best things about this device is that it is easy to use. The setup process is simple. You just need to select the game or app you want to use and put the device on the front dock of the VR headset. After that, you can enjoy the full VR experience. However, you need to select the app before putting the device in the dock because it is uncomfortable to preview games and apps while having the headset on.
Despite this, most users mentioned that this device works just as it advertised. This is great considering that most devices don't always work as they advertised. The main problem with this headset is the smartphone requirements. Due to the fact that the manufacturer is not quite clear about the size of the smartphone and the resolution, you might not be able to use the headset with your smartphone.
However, you need to take into consideration the great price of the device. Utopia 360 VR headset costs only $39.99. It is hard to come with more features and better specs and still manage to beat the price of this headset. This VR headset is best for those who want to experience the VR world without spending a lot of money. However, if money is not a problem and you want a device with better specs which can be used with your PC, you should opt for Oculus Rift. 
These are the most important things you should know about Utopia 360 VR headset. This device is a great one for beginners to the VR world because it is simple to use and it comes at an affordable price. The 360-degree field of view makes this headset stand out of the crowd.