Specifications:
Body size: 21"x13"x8"
Weight: 2.40 lbs
Fully padded 17.3" laptop compartment
Internal tablet pocket
Separate shoe compartment
Large size zippered pockets
Padded carry handles
Padded back and backpack straps
Strong Points: Unique, well thought out design; looks very nice; lots of pockets, with a very large main duffel area; laptop pouch is extra large, and well padded
Weak Points: Small number of larger pouches; no location for pens or notepads (pens do fit in pockets though); no shoulder strap reinforcements
Thank you Solo for sending us this backpack to review!
I have always cared deeply about what kind of backpack I have used. I went through several cheaper ones before I finally settled upon one that has lasted – a Swiss Gear. The build quality was a huge step above the several cheap ones I used before that; despite the ~+50% price increase, it has been worth every penny, because it has lasted well on the order of ten years. Sometimes it's worth it to pay more, because it may last more than twice as long. But despite this, my excellent Swiss Gear is finally starting to show its age – flaking ends, the logo was lost years ago, and more signs that it needs to be retired soon. So, when I had the chance to review a new backpack, I jumped on it.
Now, it needs to be said that I am nowhere near as rough on backpacks as I used to be. I no longer regularly take the train to work, nor am I a college student any longer (thankfully). So, a bag that looks good, meets my basic needs, and holds my stuff is more than enough.
Having only really owned a school or work oriented backpack, I was more than a little shocked when I saw not only a well padded laptop compartment, but a place to put my shoes! While probably not important for many students, I was surprised how useful this could be.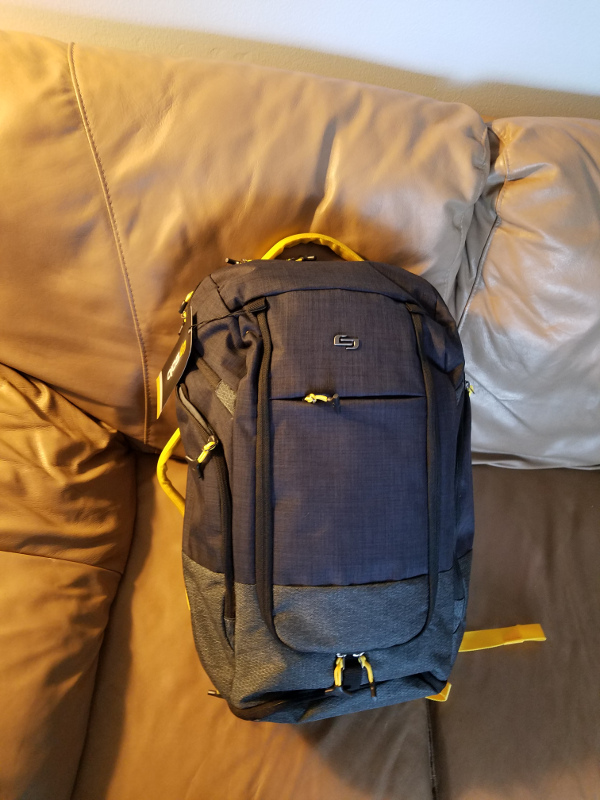 In order to really put this backpack through its paces, I decided to bring it to work as fully packed as I could. I just so happened to have a scheduled ping pong tournament game at work, so I had a good excuse to bring my gym shoes along; I then filled up the shoe compartment with my size 12 shoes. I packed both my massive gaming laptop, along with the requisite power brick (large enough to be confused with a masonry brick), and my work MacBook Pro and power supply. I also included my fancy headphones and amp, as well as filled up the pockets with an umbrella, Wi-Fi hotspot (perk for being an on-call IT person), and various cables and adapters like I usually do.
The total weight was 20.5 pounds. I have to carry my backpack through a parking garage, up the stairs, up an elevator to the ninth floor, and over to my desk. Thankfully, the backpack not only held up well, but was comfortable to carry. It looks sharp, and believe it or not, it got complimented, as a few coworkers noticed me no longer carrying the company issued laptop bag that I have been using the last few years. I have used it since, and I am pleased with the performance since then.
The main color is a dark grayish blue, with a gray bottom. There are also black zippers along with yellow handles and other accents. I like the look. The front seems oddly flat at first, but the front zipper actually pops open to a central access door, as well as access to all of the uniquely located pockets lined along the opening on each side. It's an unusual design, but it works well. You can hold fairly large things in that main pouch, even if you decide to pack shoes also. If I had an overnight trip away from home, this would be the perfect thing to bring – you could easily pack shoes, a change of clothes, toiletries, and of course a computer, and be ready to rock. It even has a water bottle or umbrella holder on each side, and they are large enough to actually hold said things (unlike some other backpacks I've used with token worthless pockets on the side).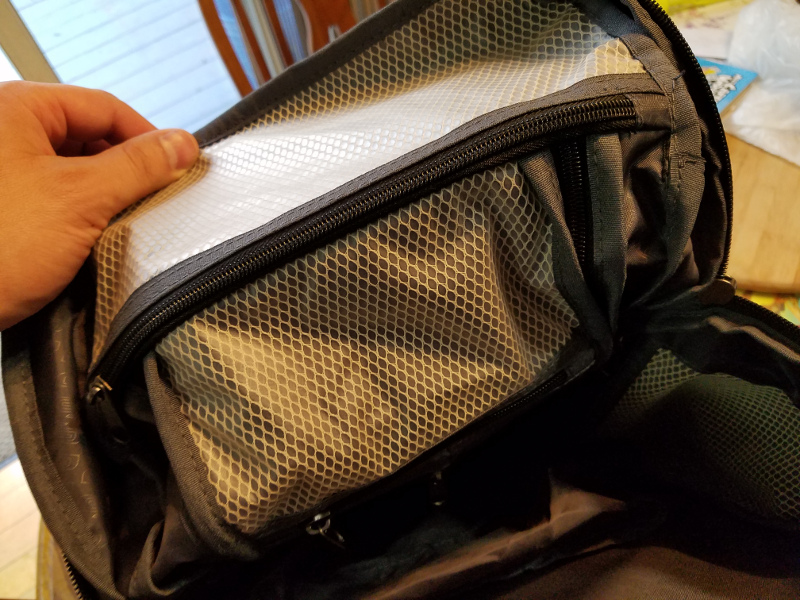 While there is indeed a lot to like about this backpack, and indeed I do like it, I have some nits to pick. First of all, there really isn't a good single larger pouch available for cables, adapters, or other miscellaneous things like most backpacks I have used. There isn't really a good place for a notepad either, as the laptop pouch doesn't have any dividers outside of the tablet pouch (which may be able to fit a notepad if you like). Thankfully, it's tall enough where I can sneak my power brick below the laptop without issue.
Without that large pouch, this one forces you to be organized, and take advantage of the many smaller pouches available. I have adjusted for the most part, but until I remember where everything is, it takes me a bit longer to find my things. Also, the tablet pouch is a bit thin, so if your case is a larger one with a keyboard, it may not be large enough for you. Finally, the shoulder straps are not reinforced like the toughest backpacks I have used. In cheaper packs, it's always the place where the shoulder strap joins with the body that breaks first. It's too early to tell if that will happen here, though they do seem firmly attached. The many handles on the top, sides, and even bottom are well made and very strong.
In the week or so that I have had this backpack, I have used it every day and really enjoy it so far. While I have had to adapt to its quirks, it can hold a lot, it's very comfortable, and it protects my things well. It looks nice, which is also important. If you are looking for a backpack that can double as a duffel bag, with a single, cavernous compartment, then I highly recommend checking out Solo's Everyday Max Backpack.