NIV Inspiring Words Holy Bible
Published by: Zondervan
Price: $24.99
Thank you Zondervan for sending us this Bible to color and review!
Kids and coloring books have gone hand in hand for as long as I can remember. Recently adult coloring books have taken off and not long ago we reviewed Inkspirations: Fruit of the Spirit which has thirty-two Bible verse themed pages to color. The NIV Inspiring Words Holy Bible is attractive to both adults and kids who like to color and provides fifty-two verses to color.
My daughter took an interest in this Bible right away and I promised it to her if she colored in one of the verses. She agreed to these terms and has been taking this Bible to church with her since. The coloring pages are noticeably thicker than the Bible pages and this is a good thing. The Bible pages are thin (like most Bibles) and prone to tearing if too much pressure is applied while coloring.
One of the first coloring pages has the verse Joshua 1:9 which says: "Be strong and courageous. Do not be afraid." That inspiring verse was the one that my daughter colored. The items to color really don't match the verses too well in my opinion. This one in particular has a sunrise/sunset and flowers all around. The coloring page for Luke 6:27's "Love your enemies" is filled with donuts and popsicles. I guess you can show love to your rivals by raising their cholesterol and weight. Despite the odd themes, these pages are pretty well detailed and bound to entertain artists for some time.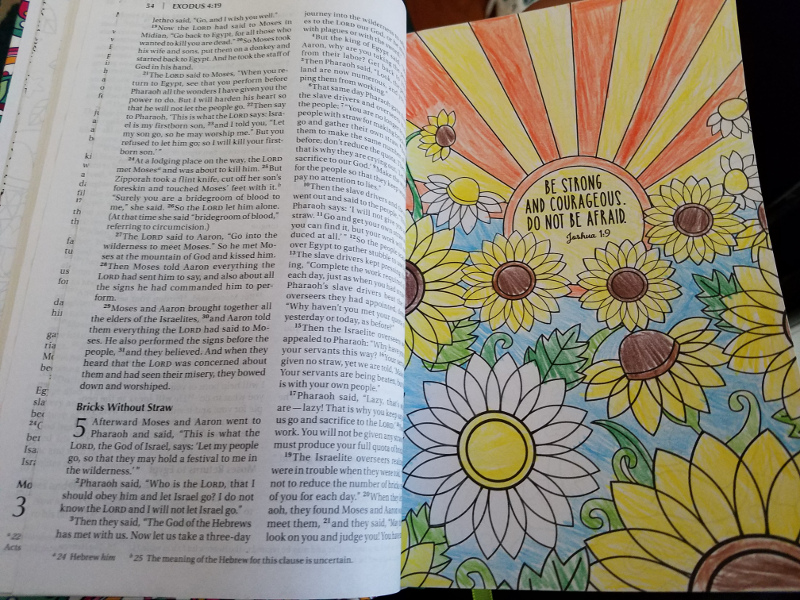 As a Bible, this one is easy to read and I like how the words that Jesus spoke are highlighted in red. Another cool feature is the table of weights and measures in the back that translates Biblical terms with modern day equivalents. For example, a cubit is equal to 18 inches.
There is a lot to like about this Bible. The only problem I have with it is the translation used. There has been some controversy regarding the 2011 NIV translation and this Bible does use the gender neutral verses. So if you look at the verse John 15:6 "If anyone does not remain in me, he is like a branch that is thrown away and withers..." The new NIV changes it to, "If you do not remain in me, you are like a branch that is thrown away and withers..." The classic Proverb 27:17 is changed from "As iron sharpens iron, so one man sharpens another" to "…so one person sharpens another" .
If you enjoy reading the NIV translation and like coloring, then you'll want to check out the NIV Inspiring Words Holy Bible. The hard cover sells for less than $25 on Amazon and that's a pretty reasonable price. If you're in need of coloring pencils, we have a review of those too!

(Amazon Affiliate Link)