2 minutes reading time
(312 words)
Iserlohn Non Stick Silicone Baking Mat Set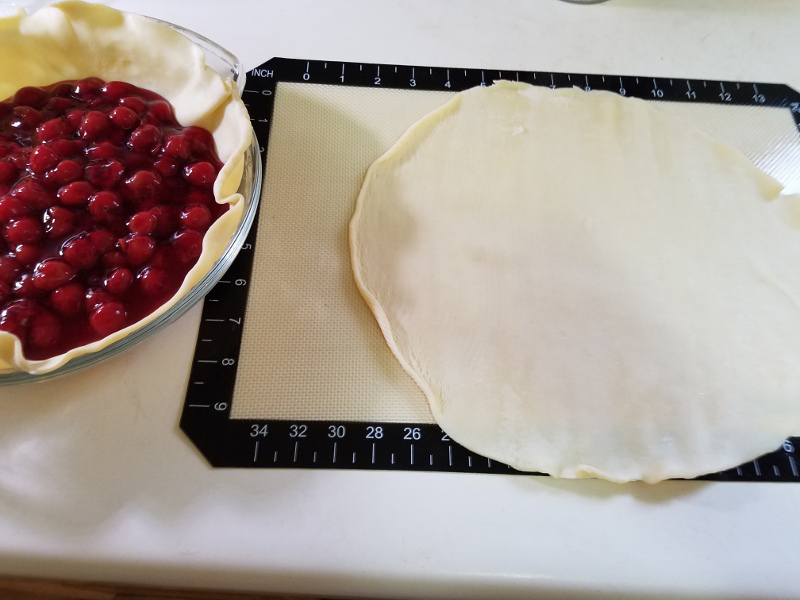 For the reasonable price of $12.99 you can get 2 FDA approved and BPA/BPP free mats that measure 16.5" long , 11.6" wide, and 0.03" thick. These are the perfect size for half-sheet baking pans. The corners are trimmed so they're easy to lift up as well. Because these mats can withstand temperatures up to 500 °F, you can use them instead of wax paper or aluminum foil to protect your baking pans. Alternatively, you can freeze them as long as your freezer doesn't go below -40 °F. The mats can be cleaned up with soapy water or ran through the dishwasher. They're pretty flexible (pun intended) when it comes to storage as well. You can store them flat, folded, or rolled up to save space.
The two mats have different designs and I used the one with the inches and centimeters on it for rolling out some pie dough. I'd much rather sprinkle flour on and roll on top of a baking mat than my kitchen counter top. Pizza dough will be another great use for these mats. Having both of them will come in handy for really big pizza crusts! Here's the recipe I use for making deep dish pizza.
With Mother's day around the corner this set would make a great gift for mothers out there that enjoy baking. As an added bonus, a bright red silicone spatula is included. I can never have enough spatulas and the red one will be much easier to find in my silverware drawer too. My family and I look forward to many more meals and desserts made with the help of these baking mats. They seem pretty durable and I'm sure we'll be enjoying them for many years to come. This set is priced lower than competing models and comes with a bonus spatula. How can you beat that?

(Amazon Affiliate Link)