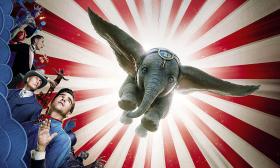 Thank you 4DX for sending our family tickets to see this film!
The animated classic, Dumbo, was originally released in 1941. At sixty-four minutes, it was one of Disney's shortest films. Tim Burton's live-action version is quite a bit longer at one hour and fifty-two minutes. There's more characters and backstory in this version.
The story still centers around a traveling circus, but this one is struggling financially and has sold all of their horses. They still have their elephants and one of them, Jumbo, is expecting. Unlike the animated version, the animals don't talk in this film. The story is mostly told through two young kids who lost their mother to influenza. Their father returns from the war missing an arm and is out of touch with his kids and is struggling with relating to them. The boy, Joe, wants to continue the family tradition of working in the circus, but his sister, Milly, wants to pursue a career in science.
In both movies, the baby is initially named Jumbo Jr. but is dubbed Dumbo as people make fun of his enormous ears. The defensive mother does not take kindly to her son being ridiculed and gets locked away as she is considered dangerous. Needless to say, the animated version is a little more lighthearted in this regard. Other than death, the live-action movie has some minor language (hell). Surprisingly, both films have alcohol and drunkenness.
As charming as the animated version is, the 4DX effects in the live action film are quite astounding. This was my first 4DX experience and I was taken aback by the seat rumbling as the firecrackers exploded during the opening Disney logo. I then got to experience the seats moving up and down frequently during the train sequences. There were quite a few of them as the circus was on the move quite often. My husband wanted to hold my hand but it was a bit uncomfortable with the theater seats going up and down repeatedly.
The gusts of wind blowing through the theater added to the immersion as well. The breeze was strong enough to flip the pages on the notepad I was using to take notes! Water misted from the seat in front of me which happened at key moments in the film too. I'm told that some 4DX films have scents and I'm glad that this one didn't with the elephant poop humor.
Overall I must say that I'm still partial to the original movie. However, the 4DX effects made the live action film one to remember! I'm blessed to live close to a 4DX theater and I highly recommend experiencing a 4DX film if you're able to do so. Just don't expect to be able to hold hands with a loved one while doing so!

(Amazon Affiliate Link)