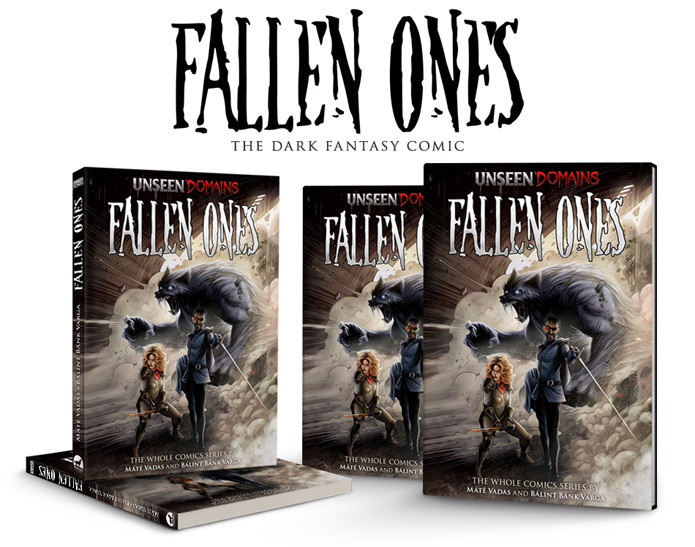 Fallen Ones is a Hungarian (with English versions available) web comic series made by Lycanthrope Studios. At the time of this review there is a successful Indiegogo Campaign that is seeking funds to produce a physical 90-page edition that combines the current five issues available. The hard copy version is available for $25 while the digital only edition is $5. There are various other bundles that involve posters, autographs, digital wallpapers and more.
Fallen Ones takes place in the Unseen Domains universe in the 17th century. Magic has awakened along with the undead and plagues that have obliterated and scattered the human race. Along with zombies, there are werewolves and witches disguising themselves as humans. Needless to say, once their true form is discovered they are quickly cast out or killed.
The three main characters are Brom, an outcast werewolf, Clemence, an assassin, and Tobias a lonely inventor. Though they all have different backgrounds, they share a common enemy; a demonic dark sect that must be stopped in order to save the remainder of humanity.
Like many comics, violence is a given and there is no shortage of bloodshed in this comic book series. Almost every issue has nudity as well and female breasts, male genitalia, and rear ends from both sexes are shown. Sexual encounters are present and leave little to the imagination. Cussing and blaspheming is also prevalent in this series as well.
After the creators reached out to me for coverage, I clicked on the freely available web comics on my lunch break at work. I was shocked by the nudity and content. There should be a NSFW warning for this series. These comics are gritty, smutty, and don't portray Christianity in a positive light. I recommend steering clear of them if you have struggles with pornography. This series certainly goes against Philippians 4:8 and I recommend any Christian considering supporting this series read that verse before doing so.