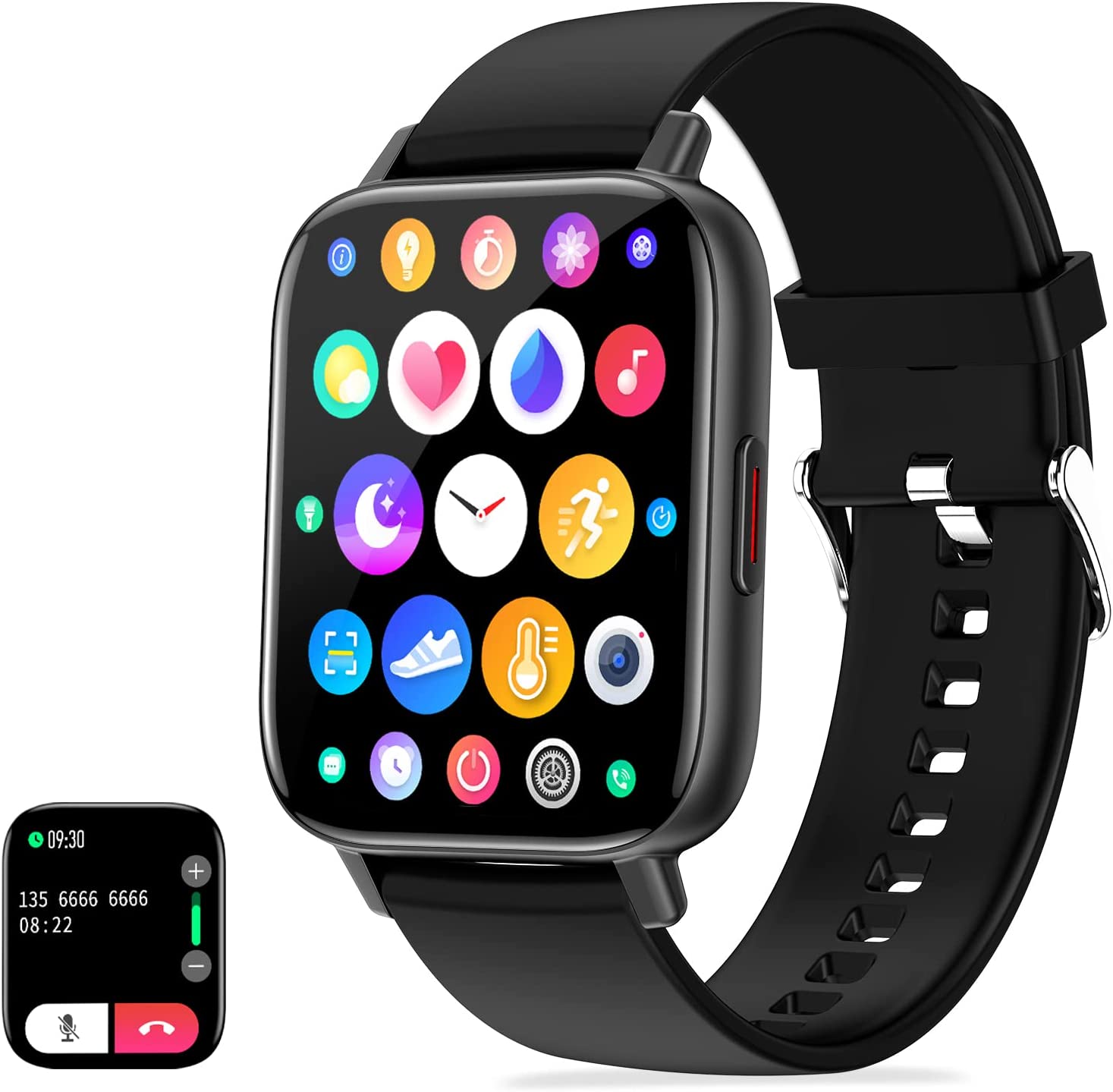 Thank you Amazon Vine for sending us this product to review!
I have spent almost one month with the Colesma Smart Watch, and I'm elated to share my thoughts and observations. For a little over a year and a half, I used the Garmin Vivosmart 4. It was very useful and reliable until the battery began to expand and I had to stop using it, but even so, I will be making some comparisons here and there. For instance, that was a popular brand product, and now – though a few years old – sells for around $100-120 online from various sources, while the Colesma Smart Watch appears to be an imitation of the Apple watch. I have only managed to find it on Amazon, and it's listed currently for $46.99 along with a 10% off coupon (woo-hoo!). Although there are hundreds of similar products of this nature, I will be exploring Colesma's adaptation and the lovely features it provides the user.
As the page advertises, this is a fitness tracker intended to help the user live a more active lifestyle. But like any watch or piece of technology, upon receiving it it is ideal to fully charge before using. The package includes the watch face itself, two different wrist bands (one rubbery-plastic band, the other flexible stainless steel), a small instruction booklet written in a variety of languages, a shortened version on a piece of card stalk for those of a simple mindset like myself, and the unique magnetic charging cable. In order to utilize many of the watch's functions, the user must download the Da Fit app and pair it to his or her phone through Bluetooth. I learned that it also had to be paired within the app as well.
The app allows lots of customizations. To start, I – though it took several tries – changed my watch face to a funny picture of my boyfriend. Colesma's flexibility in personalization impressed me, as there are likely hundreds of different custom watch faces available within the app. If the user chooses to implement one, it downloads to the watch, and I recently discovered that I can change my watch background from the device itself by holding my finger on the home screen, which I thought was neat.
On the side of the device resides a small black button with a red circle (not sure why the red is there). Pressing this button wakes it up. Swiping up allows me to see any notifications from my phone that I allowed my watch to read. At the bottom is a "Clear All" button, removing them all off my screen. For some reason, notifications on my watch don't clear on their own even if I viewed them already on my phone. Unlike my Vivosmart 4, I am unable to respond to text messages or anything of that nature, nor can I clear individual notifications. If there is nothing for me to see, it will say "No notice."
Swiping to the right will lead to a scrolling menu of shortcuts to the daily data that can also be accessed individually by swiping to the left of the home screen until the user reaches the slide they want to view. These features allow the user to quickly view their step count, amount of sleep the previous night, heart rate (measured upon request), training sessions (timed workouts), phone features (make/accept calls), blood pressure (measured upon request), SPO2 (measured upon request), weather forecast, notifications, shutter (opens the camera app on the user's phone), music controls (can pause or skip songs), breathing agent (stress relieving activity), and set a stopwatch, alarm, or countdown. Several of those mentioned, when accessing their dedicated page by scrolling down, record the daily averages in a graph that displays the weekly data for that particular widget. With the features that measure on command, the graph documents the seven different readings in order for comparison.
I have found the device's fitness features to be rather accurate and reliable. Personally, I believe it has the potential to inspire the user to adopt a healthier lifestyle; I have come to appreciate its reminders to drink water every few hours and get up if I'm in one place for too long. However, it has its own flaws that I can't wait to bring to light. First, I'd like to complain about the fact that 6 out of 10 times I open my watch to check the weather, I find that it won't show it to me because "watch is not paired" while I can still give and receive phone calls (it is clearly connected). To fix this, I've discovered it is necessary to open the Da Fit app and reconnect the device through it. It is rather vexatious, and I had to repeat the process in order to get the watch to display the correct time after the daylight savings time setback. It seems to me that every time I charge it (needs to be every 2-3 days), it "disconnects" again.
Other than that, my pet peeves are rather trivial: when I rotate my wrist towards me, it turns on, but unlike my previous watch, it doesn't turn off when I twist it away; it just stays on for another few seconds. Another thing – although I find it more amusing than bothersome – is the various evidence that this product was not designed in an English-speaking country. Again, it is humorous to me more than anything, as any native English speaker can understand what they were trying to say, but it is still rather unusual for bad use of the language to be found anywhere outside the instructions manual.
Overall I would say Colesma's adaptation of the Apple Watch is fairly practical. While it isn't perfect, I do like all the many features it offers and I find it quite convenient during everyday life when it does decide to cooperate. I can't say how well it compares to the main brand products that it's imitating, but I can safely recommend it as a budget alternative. Thanks again to Amazon Vine for this product; I would be delighted to receive more products similar and different!

(Amazon Affiliate Link)