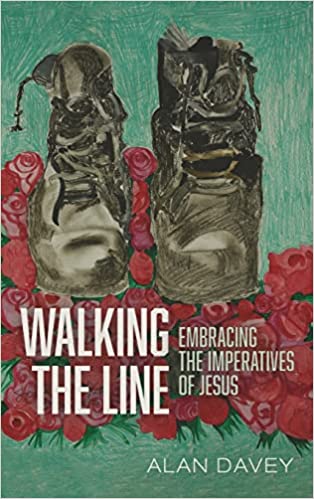 I would like to thank Ascot Media for a copy of this book for review.
Of all things Christians should know, it's that the very name means to be "Christ-like". Pastor Alan Davey, while figuring that was obvious, decided it was a good idea to explore that concept and elucidate on its history and meaning as it regards to modern-day Christian practice. With that in mind, "Walking the Line: Embracing the Imperatives of Jesus" was written, and I found it to be an engaging text.
"Walking the Line" is a summation of the general theme, which is to walk the same line as the path of Christ. To that end, this book is split into three parts with several chapters each. It's meant to be read linearly, as it covers the life and ministry of Jesus. At the same time, it also has a linear progression because the individual chapters build on the overarching theme, which makes this a book easy to read, put down, and resume later for those who want to savor the message in portions.
Another interesting this I found remarkable is the author's decision to blend various historical facts and contemporary real-world situations into the text to both draw parallels to the time of Jesus, and to also emphasize how it can be applied in the reader's own life. It's clear the author is very literate, and they even weave in a lot of historical trivia to both entertain and inform.
The prose is somewhat learned yet straightforward. While the author is fond of lots of historical trivia, it is all patiently explained and written in a manner anyone who is English literate would understand. Given the text also doubles as a study guide of sorts, each chapter ends with several questions to ponder based on the preceding text, so this book can be used as study material both alone and as a group.
Theologically, there is nothing wrong with the text. It follows a careful reading of the Gospel of Matthew in line with standard Christian doctrine, with a heavy emphasis on the life and actions of Jesus, and the focus is about how we should strive to emulate the life of Jesus and how to apply that to the modern day. The text is fairly Christian denomination agnostic, and I would recommend it to anyone who is part of any faith that falls under that umbrella.
For a book written by a Christian pastor, I was expecting a somewhat dry, scholarly read, but instead was pleasantly surprised that Alan Davey wrote a devotional text that has a lot of personal touches and he conveys his interest in the betterment of the life of the reader in his prose. His theme is that walking the line of Jesus is a path we should all aspire to, and frankly, I couldn't agree more that it is a Christian's ultimate imperative.
The text is pricey, but for its length and message, if you want a seriously thought-provoking text that makes the reader reflect on the duty of those that walk the path of Christ, then I highly recommend it. It can be bought in hardcover and softcover on Amazon:
{source}<iframe style="width:120px;height:240px;" marginwidth="0" marginheight="0" scrolling="no" frameborder="0" src="//ws-na.amazon-adsystem.com/widgets/q?ServiceVersion=20070822&OneJS=1&Operation=GetAdHtml&MarketPlace=US&source=ss&ref=as_ss_li_til&ad_type=product_link&tracking_id=chricentgame-20&language=en_US&marketplace=amazon&region=US&placement=1725290359&asins=1725290359&linkId=74fff0b5cae5ddcee36169b9c80212c1&show_border=true&link_opens_in_new_window=true"></iframe>{/source}
(Amazon Affiliate Link)