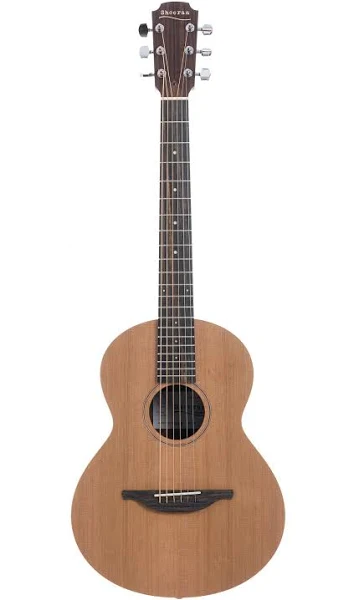 When we hear the word Lowden guitars, we immediately think of Ed Sheeran, Eric Clapton and Richard Thompson but did you know? These guitars are a result of integrating four essential things:
unique design

workmanship

assembly techniques

choice of wood
To appreciate the history and beauty of Lowden guitars, let's take a deep dive into their beginnings and how they evolved throughout the years. 
The Beginning
Lowden Guitars got its name from its maker George Lowden. His fascination for guitars started in 1961 when he and his friend made two guitars using a square soundbox, fishing lines for strings and bent over nails for frets. 
After eight years, George continued learning the art of guitar building. His dream was becoming Ireland's answer to Eric Clapton and Jimi Hendrix, and in 1974, he finally decided to make guitars professionally. 
He initially started with a booklet by an English luthier named John Bailley and some woodworking tools. Everything started as trial and error, but he learned guitar making the hard way because of it. 
With his determination and creativity, he often thought out of the box. He also considered the following by figuring out how these will affect the overall sound produced by the guitars:
In 1976, he became more knowledgeable with the physics involved in the sound production of an acoustic guitar. This knowledge led to him creating an innovative soundboard bracing design. At the same time, it included his discovery of the following:
the "Dolphin" strut profiles

bridge design

finish inside the soundbox

methods of assembly

the blending of different woods
Afterwards, he began experimenting with the structural stability and design of guitars. Finally, he was able to create the A-frame bracing. In 1976, he made the first guitars with the "Dolphin" strut profiles and A-frame bracing. 
In 1980, there was so much demand for his guitars that they had to source a small and expert company to help them out. S.Yairi workshop near Nagoya, they chose Japan to make the guitars under license. 
There was a massive shift in 1985 because more people were now interested in electronic music; thus, the sales for acoustic instruments dramatically declined. 
In the 1990s, George trained his eldest son in making classical guitars, and he was able to design new guitars for the Lowden range. As a result, he created the Small Body, the Jazz and the Premier Range, now known as the 35 Series. 
From the 2000s onwards, more collaborations and opportunities opened up for Geroge Lowden and his guitars. As more people knew about the quality of the guitars he made, his products eventually had a cult following of their own. 
Today, George Lowden is still making guitars, and he is currently based in Downpatrick, County Down, Northern Ireland.
The Guitars
The Lowden Range features a distinct tone, playability and aesthetic beauty. Let's check each one out below!
The Original Series
This series is the very first Lowden range and was first produced in 1976.
The 35 Series
This series is for those who can appreciate the subtle tone colours and dynamic range of acoustic guitars.
The 50 Series
This series can be described as the Lowden Custom Shop because you can choose any wood and body size combination. 
The GL-10
They first introduced this electric guitar line in 2018, and it embodies the classic Lowden character. 
The Jazz Collection
This series is designed to be very comfortable for both classical and steel-string players. These guitars are fitted with a board pickup as a standard. Furthermore, the soundbox is voiced for a tremendous acoustic response.
The Specialty Collection
This series is designed to be played on stage. Therefore guitars under this line are primarily used as amplified guitars rather than traditional acoustic instruments. 
The Signature Collection
This series is made to honour guitar players who have consistently used Lowden guitars for many years. The people who influenced these guitars are Richard Thompson, Alex De Grassi, Pierre Bensusan, Thomas Leeb and Paul Brady.
The 12 Fret
This series is based on S size body guitars. The scale length is 630mm, which is the same as the regular 14 fret S model. However, the bridge for this guitar has been relocated, and the soundbox is uniquely voiced. This is done to create a guitar that offers something unique compared to the other guitars in the Lowden range.
Special Models
These series are mainly limited edition guitars made to celebrate milestones such as birthdays, anniversaries and a specific number of sales. 
Conclusion
Lowden guitars are the pinnacle of acoustic guitar manufacturing. Each guitar is handmade and carefully crafted. So if you are a professional player and you want exquisite tone and superb quality, a Lowden guitar may be the best fit for you.