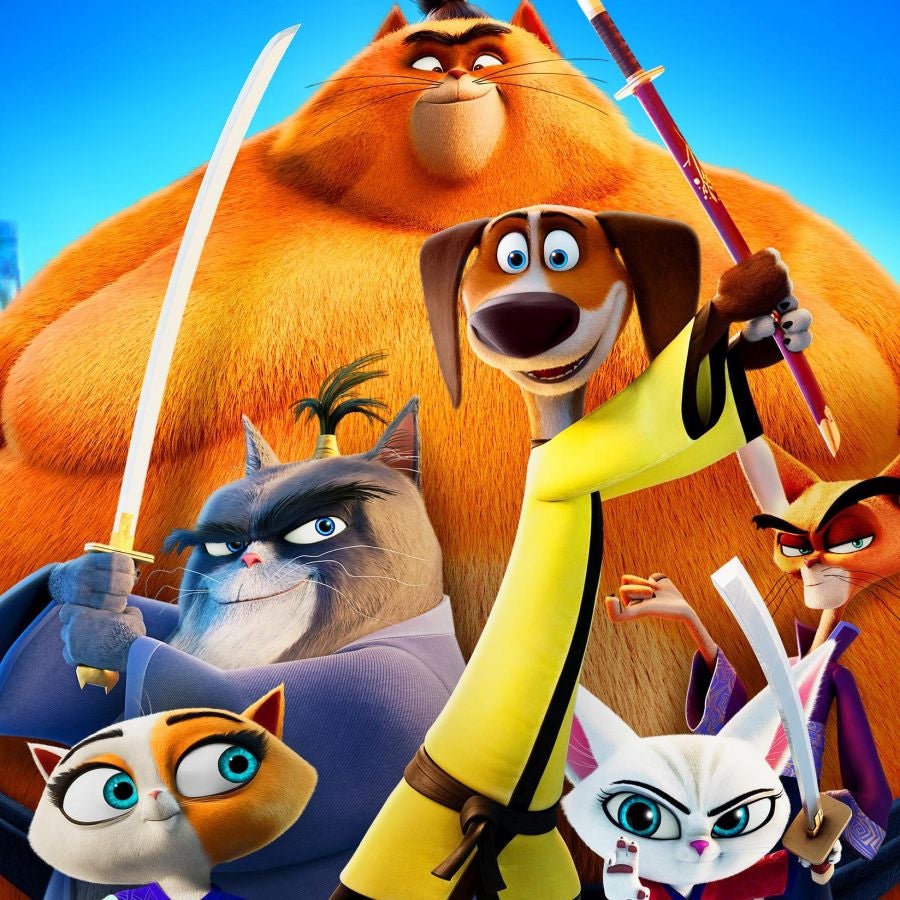 Thank you Paramount for sending us a digital copy of this move to review!

I'm a long time fan of Mel Brooks and I haven't seen his name in recent movies until Paws of Fury: The Legend of Hank. Not only does Mel Brooks lend his voice to The Shogun, but he contributed to the screenplay. There are some similarities between this computer-animated film and his classic: Blazing Saddles. And yes, there's a hilarious bean and fire scene in Paws of Fury: The Legend of Hank.

The film begins with a high-ranking official, Ika Chu (voiced by Ricky Gervais), anticipating a visit from The Shogun. In order to impress The Shogun, he wants his palace to be immaculate and doesn't like the "eye sore" village of Kakamucho ruining the view of the landscape. Wiping this village off of the map isn't easy and this town is known for being under the protection of a powerful samurai.

Kakamucho's samurai eventually turns tail and leaves the town to be raided by Ika Chu's thugs. The town reaches out to The Shogun to send a replacement and he tasks Iku Chu to supply a replacement. Ika Chu has to obey the order despite not wanting to aid the town. To fulfil the order and cripple the town, Ika Chu has the brilliant idea of sending a canine prisoner, Hank (voiced by Michael Cera), who is about to be executed to the all feline town of Kakamucho as their Samurai.

Hank wants to be a samurai, but lacks the training. Fortunately, there's a retired Samurai, Jimbo (voiced by Samuel L. Jackson), in Kakamucho who begrudgingly begins training him. Throughout the training, you'll see some humor and multiple instances of breaking the fourth wall. While Hank is training, Iku Chu is planning more attacks on the town before The Shogun arrives. Iku Chu's personal guard, Ohga, is voice by George Takei and you'll hear his signature phrase 'Oh my!" used multiple times in this film. While there is no swearing, Samuel L. Jackson's character utters the phrase "what the mother-father cocker spaniel is going on here?" Violence is a given and there are many cartoon-like battles throughout the film. Even though you'll see an arrow going through a character's hand, no blood is shown.

My family enjoyed watching Paws of Fury: The Legend of Hank together, though we're not in a rush to watch it again. We had some laughs, but it's not anywhere near the caliber of Blazing Saddles.
{source}<iframe sandbox="allow-popups allow-scripts allow-modals allow-forms allow-same-origin" style="width:120px;height:240px;" marginwidth="0" marginheight="0" scrolling="no" frameborder="0" src="//ws-na.amazon-adsystem.com/widgets/q?ServiceVersion=20070822&OneJS=1&Operation=GetAdHtml&MarketPlace=US&source=ss&ref=as_ss_li_til&ad_type=product_link&tracking_id=chricentgame-20&language=en_US&marketplace=amazon®ion=US&placement=B0B4KGTV33&asins=B0B4KGTV33&linkId=56818066cd034fa780aa9cb949eb56da&show_border=true&link_opens_in_new_window=true"></iframe>{/source}
(Amazon Affiliate Link)