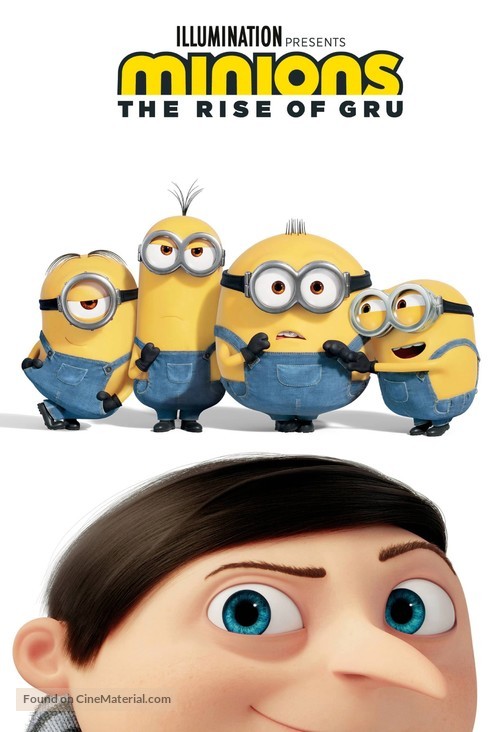 Thank you Universal Studios for sending us this Blu-ray to review!

Minions: The Rise of Gru is a prequel that gives you a little bit of insight into Gru's childhood in the 70s. At the tender age of eleven and three quarters, his role models were a group of villains called the Vicious 6. After betraying their leader, Wild Knuckles, they had an open position. Gru (voiced by Steve Carell) applied for it and earned an opportunity to interview with them. At this point in time, Gru lives with his mother who sells Tupperware on the side. The minions are living in the basement of the house working on Gru's evil lair.

The minions are supportive of Gru's interview with his heroes until they realize that they're not invited to go with him on it. That doesn't stop a few of them from tailing him on the way there. The Vicious 6's headquarters is at a record store that's run by a tinkerer (voiced by Russell Brand) who gives Gru his first gadget.

The Vicious 6 didn't expect Gru to be a child and dismissed him right away. They told him to come back when he impressed them. Taking that as a challenge, Gru manages to steal their prized zodiac medallion with the help of the new gadget and the minions. The Vicious 6 gives chase and on the way back to Gru's lair, the medallion is traded for a pet rock.

The rest of the movie revolves around Gru, the Vicious 6, and Wild Knuckles all seeking the misplaced zodiac medallion. Along the way, Gru makes a new friend and some of the minions learn Kung Fu. Like the previous minion movies, there's a lot of slapstick humor that's bound to make you chuckle. I also enjoyed the two short films on the Blu-ray. My favorite of the two was the Dungeons and Dragons based one called Minions and Monsters.

For the most part, this film is family-friendly. You will be exposed to seeing some minion rear ends and plenty of cartoon violence. The voice acting is superb (I love the Minion gibberish) and I liked how the crustacean-themed villain Jean-Clawed, is voiced by Jean-Claude Van Damme. The nun villain, Nun-Chuck cracked me up as you don't expect to see nuns as the "bad guys".

If you enjoyed the previous Minion movies, this one is definitely worth checking out. The Blu-ray sells for less than $25 on Amazon and it supports Dolby Atmos audio.


{source}<iframe sandbox="allow-popups allow-scripts allow-modals allow-forms allow-same-origin" style="width:120px;height:240px;" marginwidth="0" marginheight="0" scrolling="no" frameborder="0" src="//ws-na.amazon-adsystem.com/widgets/q?ServiceVersion=20070822&OneJS=1&Operation=GetAdHtml&MarketPlace=US&source=ss&ref=as_ss_li_til&ad_type=product_link&tracking_id=chricentgame-20&language=en_US&marketplace=amazon&region=US&placement=B0B57M4S13&asins=B0B57M4S13&linkId=76ed96c59067d5ba296814b0784d36c8&show_border=true&link_opens_in_new_window=true"></iframe>{/source}
(Amazon Affiliate Link)