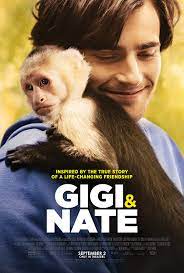 Thank you Roadside Attractions for sending us a screener of this film to review!
Gigi & Nate is based off of the true story of Ned Sullivan and his capuchin monkey service animal. The film begins with Gigi the capuchin monkey being rescued from a poorly maintained petting zoo that looks like a run-down travelling circus. The group that rescues Gigi trains her to be a service animal.

Meanwhile, Nate is living it up as a teenager in North Carolina and he completes a dare to dive from a high waterfall ledge. Little does he know that this dive will give him meningitis, which only has a 20% survival rate. Thankfully, Nate survives but is wheelchair bound and in pain. His parents have to sell the North Carolina property and move to Tennessee to build him wheelchair accessible accommodations and hire a caregiver and a physical therapist.

Nate is very depressed and is not making much progress with his physical therapy. His mom looks into service animals and introduces the family to Gigi. Not everyone is onboard with the idea of having a monkey in the house. (Especially their dog!)

It takes Gigi a while to be comfortable enough with Nate to help him with his therapy. The family almost returned her! When Gigi starts helping Nate, she really makes a difference with his mental health and physical dexterity. She helps Nate with reading books by turning the pages for him and Gigi also helps him with grocery shopping. That's when Gigi gets the attention of an animal rights activist who pushes for banning capuchin monkeys as service animals. The family and town will have to fight to keep Nate and Gigi together.

I'll leave the rest of the details as a surprise since I don't want to spoil this heartwarming film. There are some appropriateness issues worth noting before showing this film to younger kids. Some mild language (hell and sh*t) is present. Nate and Gigi attend a college party which starts trending on social media as both of them consume alcohol there.

If you're looking for a comedy film, Gigi & Nate isn't it. However, it is a touching story that shows that it's not always humans rescuing animals, but it's sometimes the other way around. The actors do a great job and the picture quality is great. I highly recommend this film if you don't mind the language and alcohol usage.