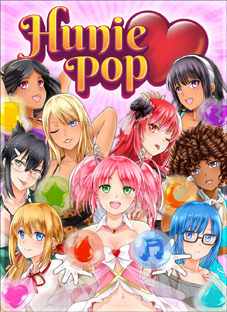 Game Info:
HuniePop
Developed by: HuniePot
Published by: HuniePot
Release Date: January 19, 2015
Available on: PC, Mac, Linux
Genre: Puzzle, Dating Simulation
Number of Players: Single-Player
ESRB Rating: Not rated but VERY mature
Price: $9.99
Thank you HuniePot for sending us a copy of this game to review!
HuniePop was successfully kickstarted in 2013 by raising more than double their $20,000 goal. It's a dating simulator with both puzzle and RPG gameplay.  While this game is not rated by the ESRB, it is very mature and is available in an uncensored and a censored version.  (We reviewed the latter.)  Even though the Steam version is censored, it still shows breasts with nipples and females touching themselves.  As you get to know the girls, they will send you more and more revealing (anime style) photos of themselves.     
You get to meet and ask the girls questions about themselves like their education level,  height, last name, birthday, hobbies and places to hang out.  Be sure to jot down their responses as they will quiz you about their stats to see if you really care about them.  As you talk to the girls their food meter goes down a couple of bars per question.  As long as they have food (or alcohol!) in their system, they are willing to answer any question you throw at them including their weight and cup size.   Food or no food, I would slap a guy if he asked my cup size.  You can also play this game as a female and the game will change the character's orientations accordingly.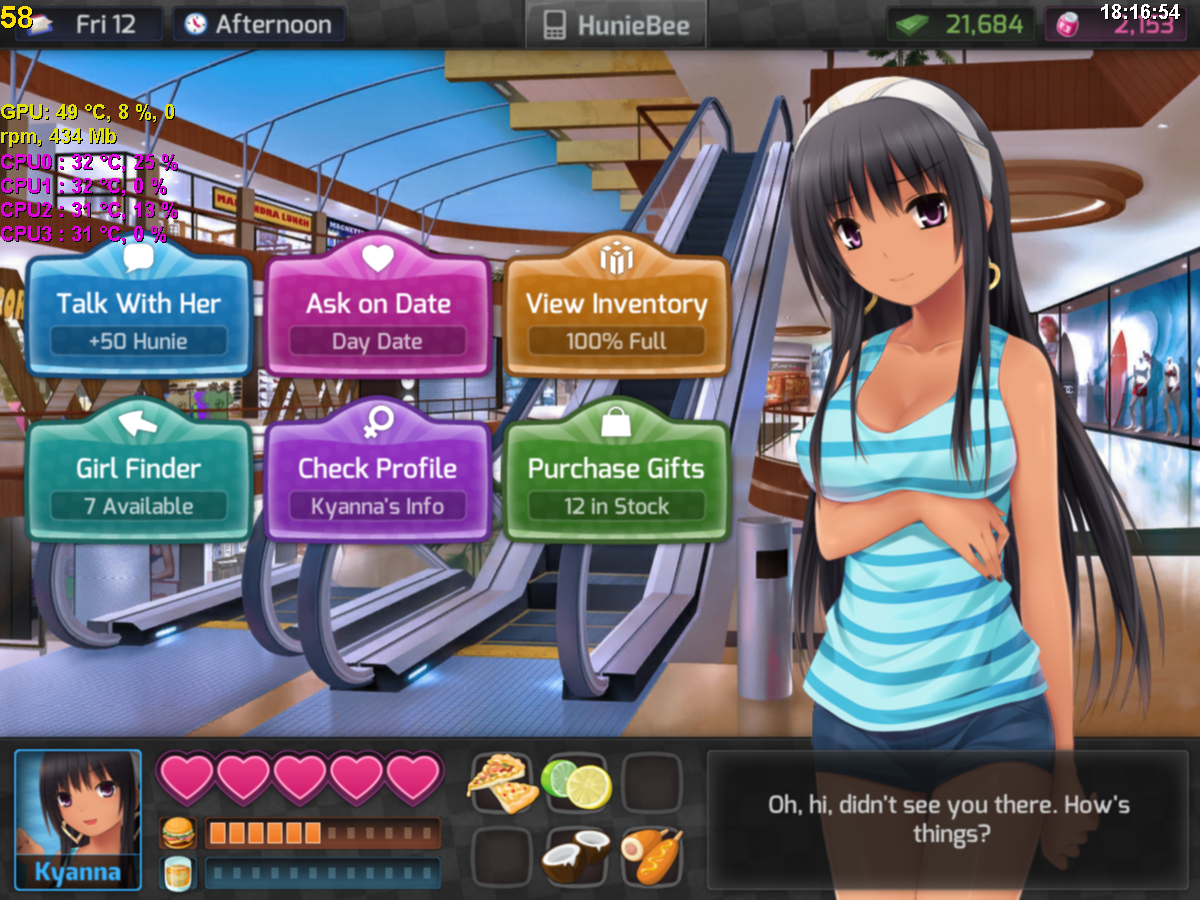 Highlights:
Strong Points: Fun match 3 puzzle game with unique characters and funny (yet salty) dialogue
Weak Points: Can't play this game anywhere near kids or perhaps anyone?
Moral Warnings: Unlockable alien and goddesses; even though we played the censored version there are pictures of exposed breasts and girls touching themselves; crude language; can play as a female seeking female relationships
When you talk to the girls or give them gifts, you earn hunie points which can be used to upgrade your stats.  The stat boosts will help with the dating/love making puzzle portion of the game.  The puzzle aspect of this game is interesting as each girl has a trait/color preference that will earn you higher points if you match three or more colors.  Matching traits can be done by dragging icons in the same row or column together.   As you go on dates you'll acquire re-usable gifts that can be given to convert the negative broken heart traits to joy traits to earn you more moves.  If you run out of moves you'll strike out on the date.  If your date is successful and you do have your way with a girl, a new puzzle mode is introduced where there is no move limit, but you must make matches fast enough to fill her satisfaction meter completely (with lots of moans in the process).
Dating is kind of backwards in this game since you earn munie from them instead of the typical process of spending it.  Even if you bomb the date/puzzle, you will still earn munie from it.   With the munie you can buy food, drinks, and gifts for your potential love interests.
Getting to know the girls and their quirks is fun and I'll admit that I enjoyed that aspect of the game along with the puzzles.  The difficulty ramps up and the amount of points needed to complete the puzzle increases with each successful completion no matter which date number you are on.   There are three difficulty levels so you can adjust it to make it easier or more challenging.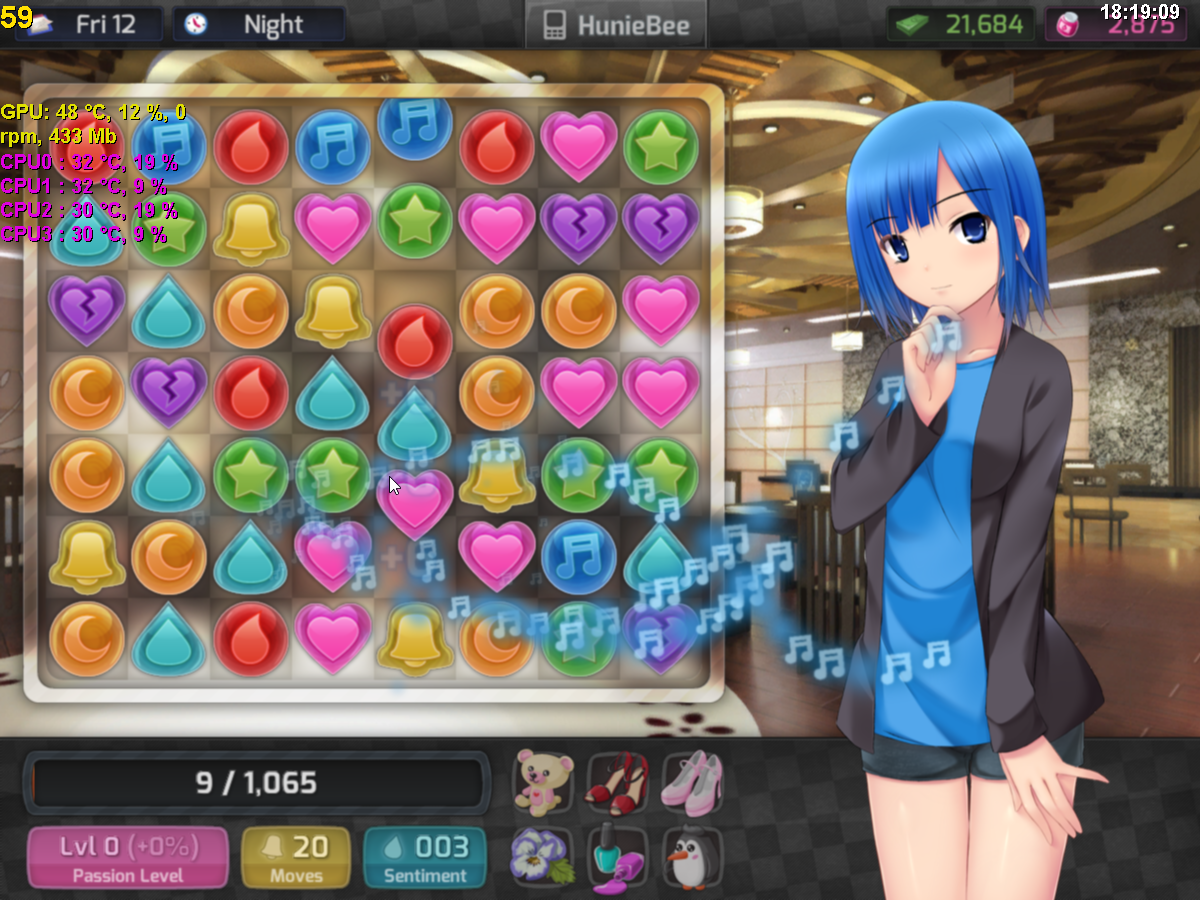 Score Breakdown:
Higher is better
(10/10 is perfect)
Game Score - 86%
Gameplay - 17/20
Graphics - 8/10
Sound - 8/10
Stability - 5/5
Controls - 5/5

Morality Score - 52%
Violence - 10/10
Language - 0/10
Sexual Content - 0/10
Occult/Supernatural - 10/10
Cultural/Moral/Ethical - 6/10
The dialogue between the girls is fun to read, but it is often laced with all sorts of profanity and blaspheming.  The voice acting is great and gives even more personality to the young women you're pursuing.  The background music is pleasant and adds to the mood accordingly.
The visuals are well done and a bit too detailed for my tastes in certain areas.  While I'm a fan of anime, I don't watch "those" kind.  There are many places to visit in town and on your dates and there are many water themed locales with girls in skimpy bikinis.  Some of their outfits will show nipples and some pictures show their breasts in their entirety.  One of the sext messages I received showed a girl touching herself.  I would imagine that the uncensored version would be sans underwear.
It should go without saying that this game is geared for a mature audience and I'm honestly surprised that it's available on Steam.  It's not rated by the ESRB and if it were, it would most like get an Adult Only rating.  (Even with the censored version!) Anyone struggling with pornography should avoid this game entirely.  HuniePop pretty much goes against Matthew 5:28 and promotes lusting after (and using) women.   As a Christian, I cannot recommend this game to fellow believers.  While the puzzles and characters are fun to figure out, there are many more appropriate match three games out there.