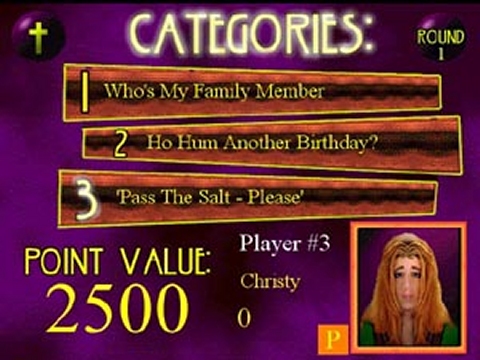 System Requirements
OS: Windows CPU: 486 or better RAM: 32MB VIDEO: No 3D acceleration needed SOUND: 16 bit Age: Everyone
Think you know your bible? You know it enough to consider yourself a genius? Test your knowledge with this game! There are 300 questions to help you become a bible whiz. Try it, it\'s fun for all ages.
How do I play the game?
When you start the game you first choose how many players there will be. You can have up to three players, each getting their own buzzer key. After that, you get to choose how many questions/rounds you want to play. You can play a 7, 14, or a 21 question game. There are 12 avatars you can choose to represent yourself. If you don\'t like the people ones you can play as a dog or a cat. There are mystery faces too if you choose to remain anonymous.
How do I score points?
At the beginning of each round there are three catagories to choose from. The dollar amount changes constantly so try to grab a high value one if you can. Be careful though, even though you may win a lot, if you answer incorrectly, you will lose the same amount. When you miss a question you will be boo\'d or laughed at. The sound effects are cute. If you are the only player you will win no matter how low your score is.
Appropriate?
From a Christian perspective this is a biblical game and I see nothing wrong with it. It can be a great learning tool for learning about biblical stories and characters. When you miss a question it does not show you the correct answer, so you\'ll have to keep guessing until you get it right. (Or look it up on your own) This game can be fun for the whole family or church group.
Overall experienceEase of use
The game was fun and easy to play. The multiplayer aspect is great. There are only 300 questions so you will see repeats. However, There is a quiz editor so you can add or delete questions. The graphics are simple but they work. There\'s no need for fancy video cards or 3D rendering to run this game. The background MIDI music was nice but a repetative. I love the sound effects for when you get a question right or wrong. The controls are easy, you just need a mouse and keyboard to play. This game is real cute and can be enjoyed by anyone. I highly recommend it.
Final Ratings
Graphics C+ Game play B Sound B- Interface A Stability A Offensive Content A+
Overall 84% B