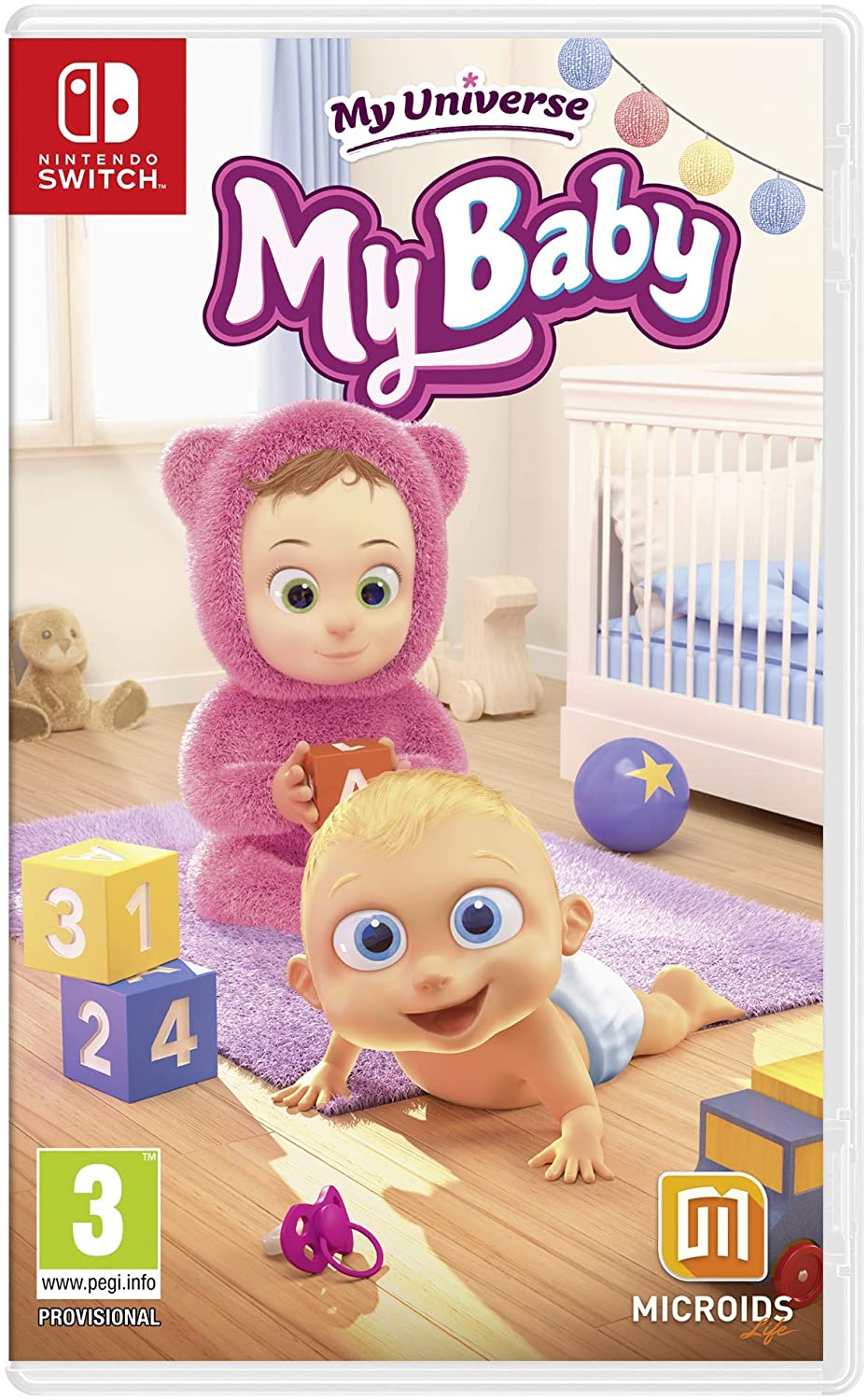 Game Info:
My Universe: My Baby
Developed by: Smart Tale
Published by: Microids
Released: August 18, 2020
Available on: Nintendo Switch
Genre: Simulation
ESRB Rating: Rated E for Everone
Number of Players: Single player
Price: $29.99
Thank you Smart Tale for sending us this game to review!
My Universe: My Baby is an interesting lifestyle simulator that puts the player in the shoes of a new mother or father. The player can choose whether they want to play the role as the Mommy or the Daddy of your child, and this will remain true throughout your save slot, of which there are three.
After choosing which parent the player chooses to be, they will decide whether they want a boy or a girl child. There is also a surprise option, which chooses a random combination of features the baby can have. I chose this option rather than being torn by the choice between a male and a female child. My result was a darker-skinned boy with wispy pink hair and eyebrows.
Of course, not long after the baby is introduced to the player, he or she are prompted to name him or her. I named my child Matthew, and I noticed that throughout the whole two years that I raised my child, his name was not mentioned even once by the voice actors (which makes sense, of course) or by the text that appeared on the screen when the pediatrician, Lisa, was speaking over the phone.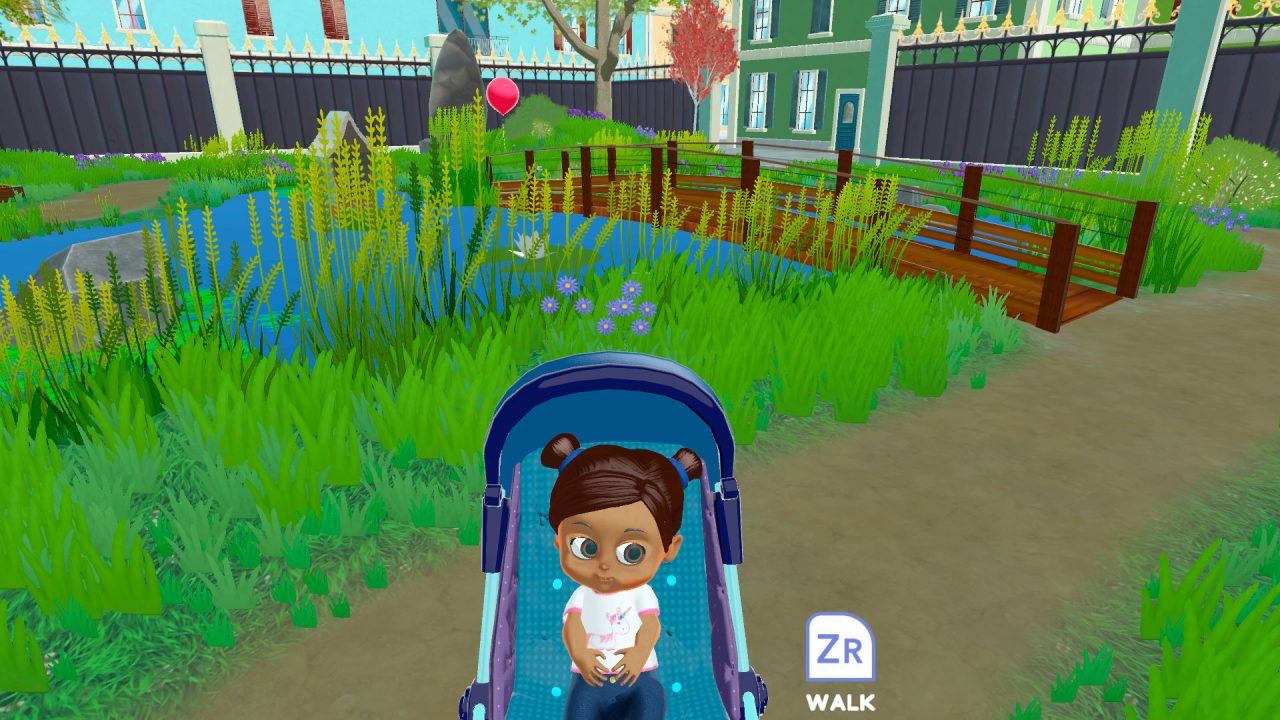 Highlights:
Strong Points: Decent voice acting, well done graphics
Weak Points: Sound effects and music can get repetitive and annoying at times, froze at one point
Moral Warnings: None
This pediatrician has full voice acting, and she talks to the player quite often. In fact, to make sure the child is healthy, she will frequently have you perform exercises with your baby to help him or her develop correctly. For example, the pediatrician told me to help my child stand at one point, and my job was to hold his hands while pulling him up onto his feet and shaking the rattle above him, encouraging him to try to stand on his legs. This was to make sure he had strong legs, according to Lisa. To pass each exercise and move on to the next, the player must achieve three stars with that particular skill. The first star is earned by one successful attempt, and the last two are achieved through a number of successful attempts, depending on what the exercise is.
The pediatrician prompts the player to do all sorts of things with their child, including nap time (waiting for the child to close their eyes before turning off the mobile), diaper changing (removing of the diaper, cleaning the area with soap [the area has no detail; no genitalia] and put on a new one), feeding (bottle feeding for the first year; blended food for the second year), bath time, (scrubbing the child clean and putting on a new diaper), taking them for walks (putting him or her in the stroller and walking them around town while pointing out birds and butterflies to entertain them and being sure to avoid dangerous conditions), and buying them new clothing (walking them to the store in a stroller to pick out new outfits for them to wear).
Speaking of the clothing, there are a few things I should mention. First and foremost, the player can dress their child in any attire they want. I noticed that I could buy for my male child dresses, skirts, jewelry, and more. This might be convenient to those who wish to "change" their child's gender, as there is no option to do so once they have picked it originally (which would make sense, of course).
Unsurprisingly, the player has the option to do something similar with the child's haircut. Nothing stops the player from giving their baby boy pigtails or their baby girl a bowl cut. This may bother those who prefer to abide by the original gender stereotypes established long ago.
Throughout the course of the game, the player will receive letters from the baby's grandparents, who will supply money and sometimes clothing as well for his or her child. In my opinion, the player is given too much money, as they only need to use it to buy clothing a few times throughout the whole game, which is rather inexpensive. Not to mention the fact that the player also receives money when they walk their child.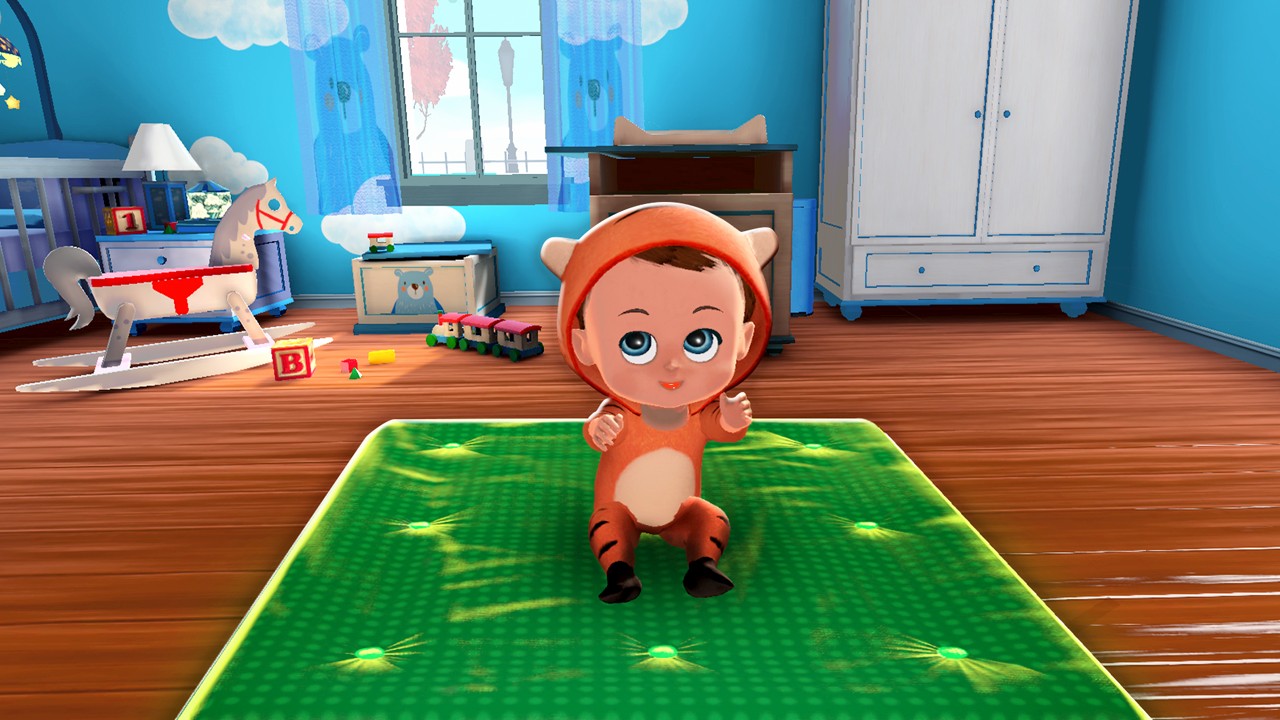 Score Breakdown:
Higher is better
(10/10 is perfect)
Game Score - 79%
Gameplay - 15/20
Graphics - 8/10
Sound - 7/10
Stability - 4.5/5
Controls - 5/5

Morality Score - 100%
Violence - 10/10
Language - 10/10
Sexual Content - 10/10
Occult/Supernatural - 10/10
Cultural/Moral/Ethical - 10/10
The graphics in this game are not bad at all, I thought, and I noticed that the 3D-modeling done here was very detailed and all around very impressive. While the quality dipped a bit when it came to the stroller walks, I still found that the effort put into this game was quite remarkable, even though it wasn't perfect.
The music was rather calming and peaceful, which is to be expected, of course. I particularly liked the walking music, as I found it very peaceful and nice. The rest of the music in the game got a bit repetitive and sometimes even annoying, which brings me to the baby's sound effects.
The baby's sound effects are played constantly throughout the entire span (excluding nap time, of course) of which they are young enough to make such noises. They are semi-realistic, but some of them became annoying at times, like the crying sounds that reminded me too well of how it is when a real human baby cries.
Once the player achieves three stars on an exercise, their baby's age has one month added to it, and he or she raises the baby until they are 24 months old, or two years. When the player reaches this milestone, the pediatrician wishes a quick farewell, saying how nice it was meeting him or her and a formal goodbye. The credits are displayed shortly afterwards.
All in all, this game was a bit less cringe-worthy than I thought it would be, and I actually kind of liked it. At times it became boring and I wouldn't necessarily consider it fun, but I still enjoyed raising my child to an extent. To people who wish to be placed in the shoes of a new parent (for whatever reason) I would recommend this game. While I haven't any experience in this area, I'd like to say My Universe: My Baby presented an accurate depiction of parenting a newborn baby, whether it is worth twenty dollars or not. Other than that, if you're looking for an interesting parenting simulator, check out My Universe: My Baby.