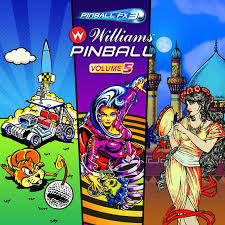 Game Info:
Pinball FX3 - Williams™ Pinball: Volume 5
Developed by: Zen Studios
Published by: Zen Studios
Available on: macOS, PS4, Switch, Windows, Xbox One
Release date: December 10, 2019
Genre: Pinball
Number of players: Single-player, local multiplayer
ESRB Rating: E 10+ for fantasy violence
Price: $9.99
(Amazon Affiliate Link)
Thank you Zen Studios for sending us this game to review!
I have been playing and reviewing Zen Studio's recreation of classic Williams pinball tables since volume one. Many gamers consider this volume to be the best one to date and I can definitely see why they say that. This volume includes three tables for $9.99. Here's a breakdown of each table:
Tales of Arabian Knights was manufactured in 1996 and sold 3,128 units. This Arabian-themed pinball table is based on the stories from One Thousand and One Nights. There's a genie and a lamp that you can interact with. You may get to choose between wishes to be granted and boost your score in the process. Along with a 4-ball multi-ball mode, the genie may change your pinball to a fireball at times. A magic carpet is also featured and can be interacted with. There are some references to harems and you'll hear ladies giggling in the background occasionally.
No Good Gofers was made in 1997 and had 2,711 tables produced. Your objective in this bale is to get as many holes in golf as possible while thwarting the opposition from Buzz and Bud the gofers. There are three flippers and a multi-ball can give you five balls on the table. This is one of the more challenging tables for me and the multi-ball mode didn't last me too long. There are references to comic mischief, but this set of DLC as a whole is pretty family-friendly.
Highlights:
Strong Points: Good collection of classic Williams tables
Weak Points: Some Steam reviews mention audio issues
Moral Warnings: References to harems; cartoon mischief

My favorite table in this collection is Cirqus Voltaire which was produced in 1997 and sold 2,704 units. As you can guess from the title, it's circus themed. The ringmaster is green and you can score a lot of points by smacking his big head with the pinball while his head is visible on the table. The juggler will collect and lock away balls for the four-ball multi-ball mode. There's a popcorn mode that allows everything your ball interacts with to be 30,000 or more points each. It's pretty easy to get a high score on this table.
Just like the other Pinball FX3 tables, this DLC supports table upgrades, hot seat multiplayer, and challenge modes. The three challenge modes are 1 ball, 5 minutes, and survival mode. The goal in the one-ball challenge is to get the highest score possible with only one ball. If you lose the ball while the ball save light is illuminated, the ball is still saved, but if it's off, you're done for. After the ball is lost for good, your score is added to the global leaderboards and stars are earned depending upon how good of a score you received. The 5-minute challenge gives you an unlimited number of balls so you have plenty of opportunities to get a high score within the time limit. The survival mode gives you unlimited balls as well; however, if you don't meet the score requirement in the time limit, your game will end.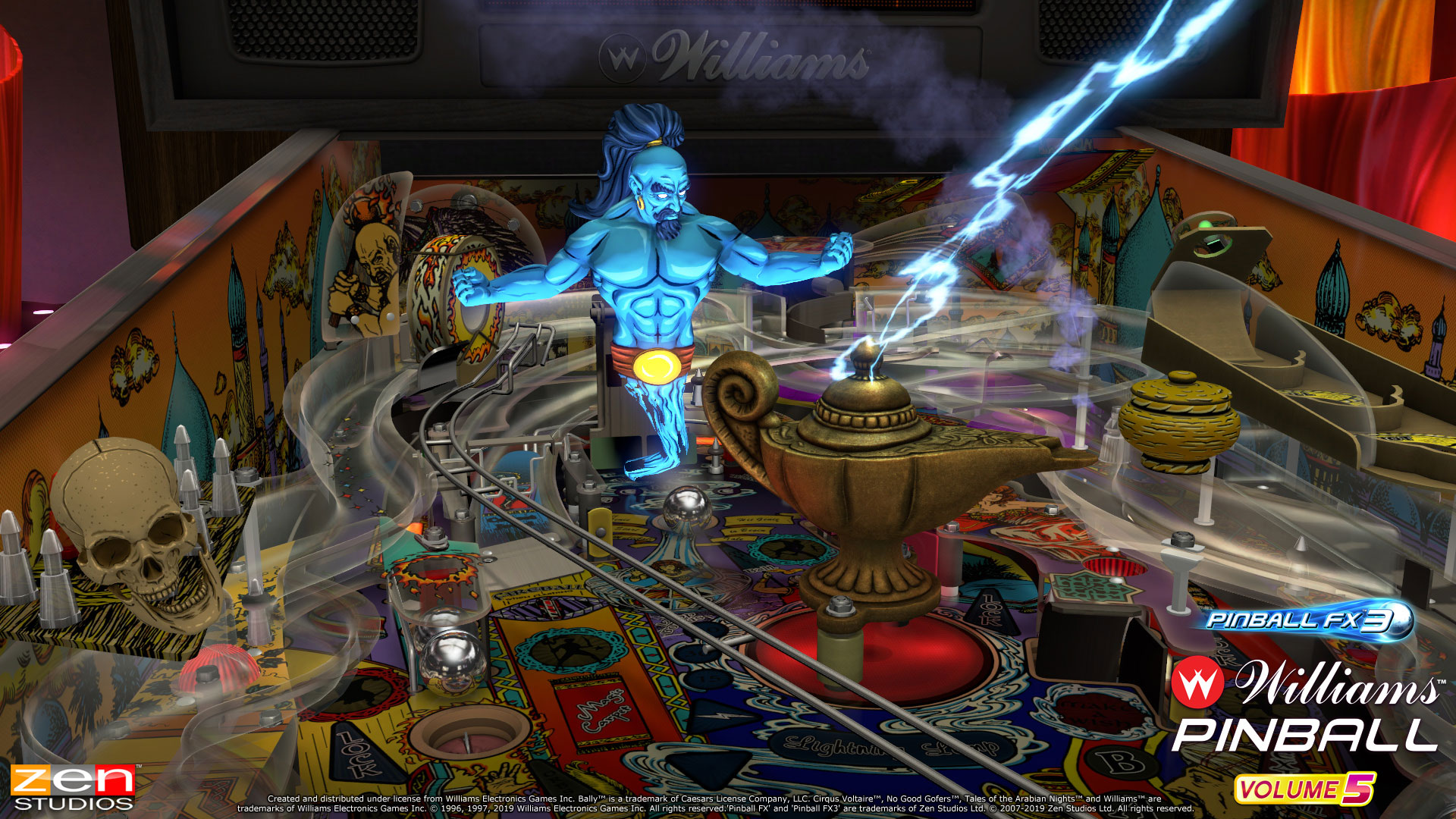 Score Breakdown:
Higher is better
(10/10 is perfect)
Game Score - 88%
Gameplay - 18/20
Graphics - 8/10
Sound - 8/10
Stability - 5/5
Controls - 5/5

Morality Score - 90%
Violence: 8/10
Language: 10/10
Sexual Content:7/10
Occult/Supernatural: 10/10
Cultural/Moral/Ethical: 10/10
Visually, these tables look amazing and some of them have more eye candy than others. I enjoyed watching the moving sparks for when the genie grants wishes on Tales of Arabian Knights. The ability to disable the enhancements and play the classic tables is nice as well.
Some Steam reviews mention audio issues, but I haven't had any problems. Everything sounded great and I was able to hear all of the background noises and voices just fine. Since I'm not familiar with the original tables I can't vouch for how accurate these digital recreations are.
Overall, this is a solid collection of Williams tables. Despite having bad luck with No Good Gofers, I still had fun playing it. I do enjoy the other tables more though. If you enjoyed the previous Williams collections, you'll definitely want to add this one to your library. You won't be disappointed, it's pretty family-friendly too!