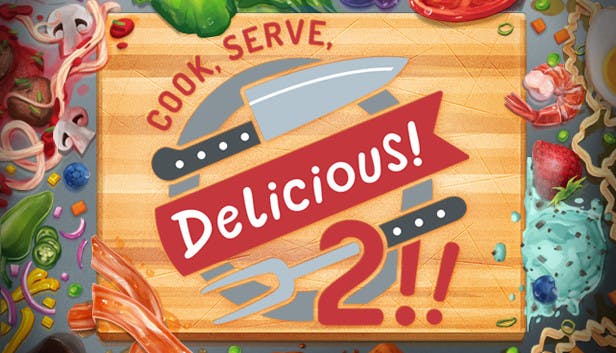 Game Info:
Cook, Serve, Delicious! 2!!
Developed by: Vertigo Gaming Inc.
Published by: Vertigo Gaming Inc.
Release date: September 13, 2017
Available on: macOS, Linux, PS4, Switch, Windows, Xbox One
Genre: Simulation
Number of players: Up to two locally
ESRB Rating: E10+ for mild language, violence, and alcohol use
Price: $12.99
(Humble Store Link)
Thank you Vertigo Gaming Inc. for sending us this game to review!
In 2013 I reviewed the original Cook, Serve, Delicious on my Android tablet and enjoyed that title quite a bit. The sequel takes place shortly after the first game with the skyscraper housing your original restaurant being seized by the government and closed down. With a little seed money, you must start-up a new diner and slowly take it from zero to five stars.
With no reputation and a handful of recipes you won't get many customers to begin with and the ones that arrive will be wearing some grungy clothes. Depending on the accuracy of your orders you'll generate positive or negative restaurant buzz. Your menu offerings will also determine how excited customers will be to eat at your establishment.
Some menu items like eggs and spaghetti are considered staples and can be on your menu indefinitely without having a negative effect. Most recipes have what's called "menu rot" and can only be offered for a day or two before having a negative impact on your restaurant's buzz. If the buzz is over 100%, prepare to have a busy day with lots of impatient customers. For days with lots of buzz you'll want to provide meals that are quick and easy to prepare, and in a holding station if possible.
Highlights:
Strong Points: Frantic and fun gameplay that expands upon the first title; cloud saves
Weak Points: Occasionally a level may set you up for failure if your buzz is too high to handle the impatient customers
Moral Warnings: Some mild language (crap, jerk), and blasphemy (OMG); violence is described in e-mails; can serve alcohol at some restaurants; female patrons may wear some outfits that reveal skin and/or cleavage
Holding stations are the greatest addition to Cook, Serve, Delicious! 2!!. They can prepare various recipes and have them ready to go when customers arrive. Some meals last longer than others so be sure to keep an eye on their freshness meters as rush hour draws near. Preparation stations are where you hand make or fry menu items on demand. Some recipes require holding stations so make sure that you have enough to accommodate your entire menu selection. Customers tend to order random menu items regardless of the time of day.
The number of prep and holding stations can be configured in the menu. As your chef gains levels and increases the star rating of their restaurant, more stations will become available. The unlocked stations will not be added to your restaurant automatically. If you're looking for a challenge you can max them both out. There are also several difficulties including Classic, Stress, and Zen mode. Steam achievements are available for completing a day in the Zen and Stress modes.
Along with managing your own restaurant, you can become a hired chef at various eateries in the same skyscraper building! This is a great way to learn how to prepare various dishes and to see if you want to offer them at your establishment. Depending on how many orders are botched up, you can earn a gold, silver, or bronze rating for your performance. If you're not happy with your medal, you can retry the level again.
No matter where you're cooking, your chef will earn experience which will transfer over. As your chef levels up they will unlock new menu items, more levels to play at other restaurants, and decoration items for their own eatery. In total, there are four hundred levels to play and over twelve hundred items to unlock. There's plenty of replay value here.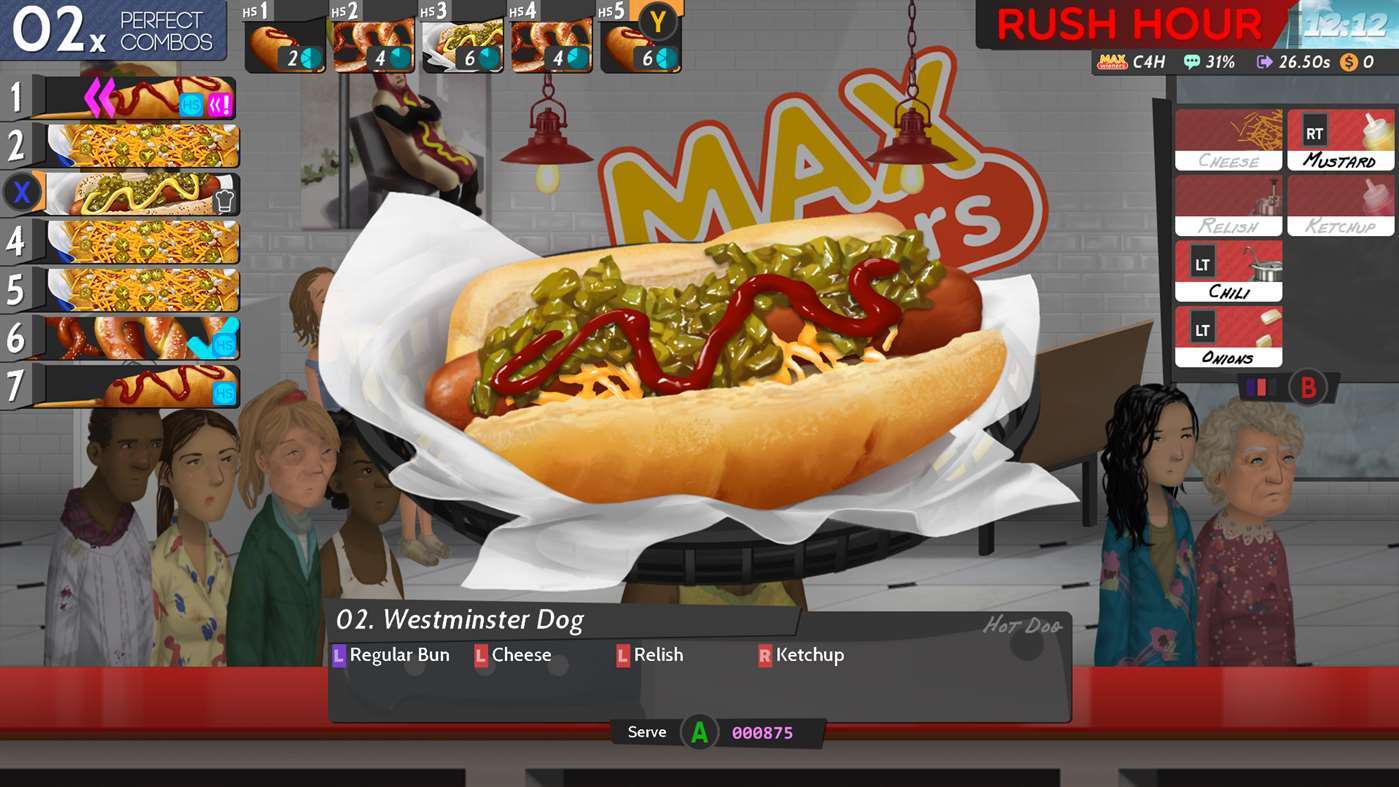 Score Breakdown:
Higher is better
(10/10 is perfect)
Game Score - 84%
Gameplay - 16/20
Graphics - 8/10
Sound - 8/10
Stability - 5/5
Controls - 5/5

Morality Score - 73%
Violence - 5/10
Language - 3/10
Sexual Content - 8.5/10
Occult/Supernatural - 10/10
Cultural/Moral/Ethical - 10/10
Another great addition is local co-op play. With split-screen support you can coordinate various cooking and cleaning chores with your fellow chef. On top of preparing meals, you still have to do the dishes, flush toilets, refill the soda dispenser, set/clean traps for rodents/insects, and take out/stomp on the garbage in the dumpster outside.
Both gamepad and keyboard controls are available. I like how you can use keyboard shortcuts for many of the tasks. I did find that using a gaming mouse is mandatory as you need to have quick reflexes and reactions to handle the various tasks.
Cook, Serve, Delicious! 2!! is a pretty clean title though there are some things worth noting. Some of the customers reveal some skin and cleavage with their outfits. There is also an e-mail system with lots of random e-mails ranging from haiku to complaints about employees in the building. If you read through the e-mails you'll find references to indecent photos and some violent acts like draining the brake fluid from someone's car because they were annoying. There is also some minor language like jerk, crap, and blaspheming (OMG).
If you enjoyed the first entry, Cook, Serve, Delicious! 2!! brings a lot to the table with its many campaign levels to master. The decorating is fun too. If you think you have what it takes to quickly prepare meals during rush hour, you'll have a blast.