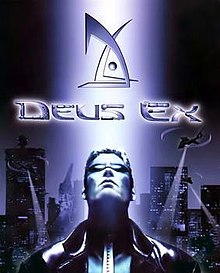 Game Info:
Deux Ex: Game of The Year Edition
Developed By: Ion Storm
Published By: Square Enix
Released: June 22, 2000
Available On: Steam (Microsoft Windows and Linux via the Proton middleware for Steam)
Genre: First-person Action-Adventure
ESRB Rating: Mature (Animated Blood, Animated Violence)
Number of Players: Singleplayer (optional Multiplayer mode)
Price: $6.99
Thinking outside the box is a common suggestion given many people, and in some videogames, entire genres have been built around nonlinear gameplay choices. One of the defining games of this genre is Deus Ex, which even today has people reinstalling it to see how many different ways you can play it.
Deus Ex (from the Latin phrase "Deux ex Machina" or "god in the machine") is a game that is both a successor to the System Shock games (which were also nonlinear and featured futuristic themes); and a game that carves out it's own niche by fusing nonlinear gameplay with a storyline that would be cliche ordinarily but dares to make a new twist on the conventions it uses anyway.
Deus Ex is set in 2052, where terrorism has become such an issue the United Nations has formed a counter-terror outfit called UNACTO to deal with things, and you play as Agent J.C. Denton, a rookie who soon discovers a massive conspiracy to bring the world to its knees under the auspices of a megalomaniac who intends to make the series title quite literal. The story is a mix of every conspiracy trope ever (though the manner in which they are actually true is played with), a dystopic look at a world where human augmentation is common yet humanity is backsliding as opposed to advancing, and soulless megacorporations and corrupt governments are bringing humanity closer and closer to the edge of the abyss.
The gameplay is a blend of first-person shooter, adventure game, some visual novel elements, and aspects of puzzle games. Combat is similar to the Unreal games, albeit rendered much more realistically, with weapon skills that must be trained for you to be effective with them and damage from weapons easily fatal if they hit critical organs. A heavy emphasis is put on exploring environments and discovering multiple means of achieving objectives, then choosing the best one based on your inventory and playstyle. Many branching storyline paths determine how the story unfolds based on your actions and dialogue choices. Finally, there are many puzzles based on overcoming obstacles like electronic tripwires, keypads, and even classic jumping puzzles to span gaps over pitfalls.
Another key feature of gameplay is that how ruthless or merciful you are is entirely up to you. It is entirely possible to play Deus Ex as a stealth game, shedding not a drop of blood, even avoiding the deaths of certain plot characters who you ordinarily are forced to fight, though some require some game glitches be abused to achieve this. Conversely, you can leave the game world covered in dead bodies if you choose to be ruthless. Both are viable, and both will change how you are regarded by certain characters.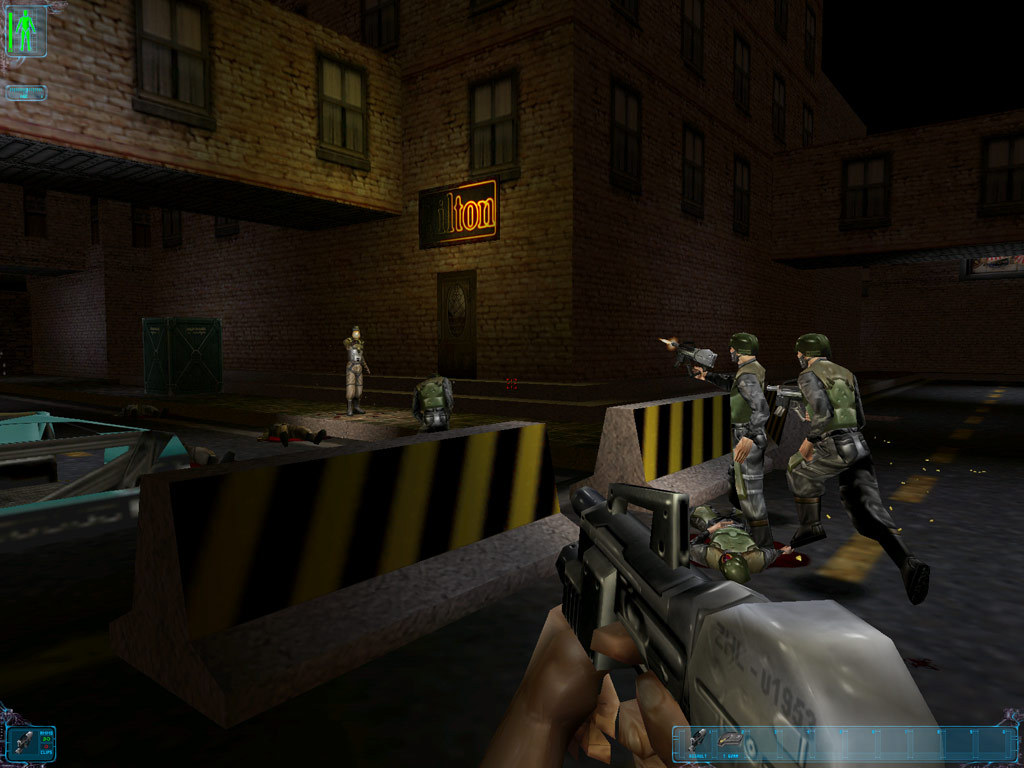 Highlights:
Strong Points: Extremely nonlinear gameplay that allows any type of playstyle; excellent music
Weak Points: Some flat voice acting
Moral Warnings: Extreme violence with blood and gore (though the blood and gore can be disabled); Drug use and ability to sell drugs to others; Frequent PG-13 level swearing; Some references to Greek mythology and Christianity, the latter in occasional blasphemous ways by the villains; Option to kill in cold blood almost anyone in the game, including children; Implied prostitution; Thievery can be actively engaged in by the player
Graphics tend towards a dark, gritty style, with many real-world areas retaining a cyberpunk aesthetic mixed with a film noir style heavy on oppressive darkness (with nigh all levels taking place at night). By early 2000 standards the graphics are quite good and while somewhat dated by modern standards, still hold up in maintaining the atmosphere. The excessive darkness is also a gameplay element, allowing for both stealth and an impediment, as you must light up many areas to see where to go next.
Sound is an eclectic mix of techno, jazz, and electric guitar riffs to give the aural impression of a cyberpunk world. Sound effects complement the music nicely in further setting the mood. The voice acting is generally good if a bit lacking in inflection in places, though some of the more cheesy or even flat acting is something of a charm point, many of the more famous lines having become internet memes, like "A BOMB" or "What a shame".
Controls are keyboard and mouse-driven, and while it takes a bit of practice for new players to get used to, it is quite intuitive, and the keys can be rebound for player preference. The game physics engine is a tad floaty, and this makes jumps and dealing with gravity a bit hard to manage, but with some adjustment, the average player can learn to deal with this, and some of the odd physics can even be glitched to the advantage of the player.
Stability is generally excellent despite the age of the game. It will run fine on Windows, and even Linux under Steam's Proton service with little to no issues, though some fan patches for improving the graphics rendering and fixing some annoying if generally minor bugs would be recommended. The engine is fairly moddable, and mods can be added with little to no stability issues for the most part either.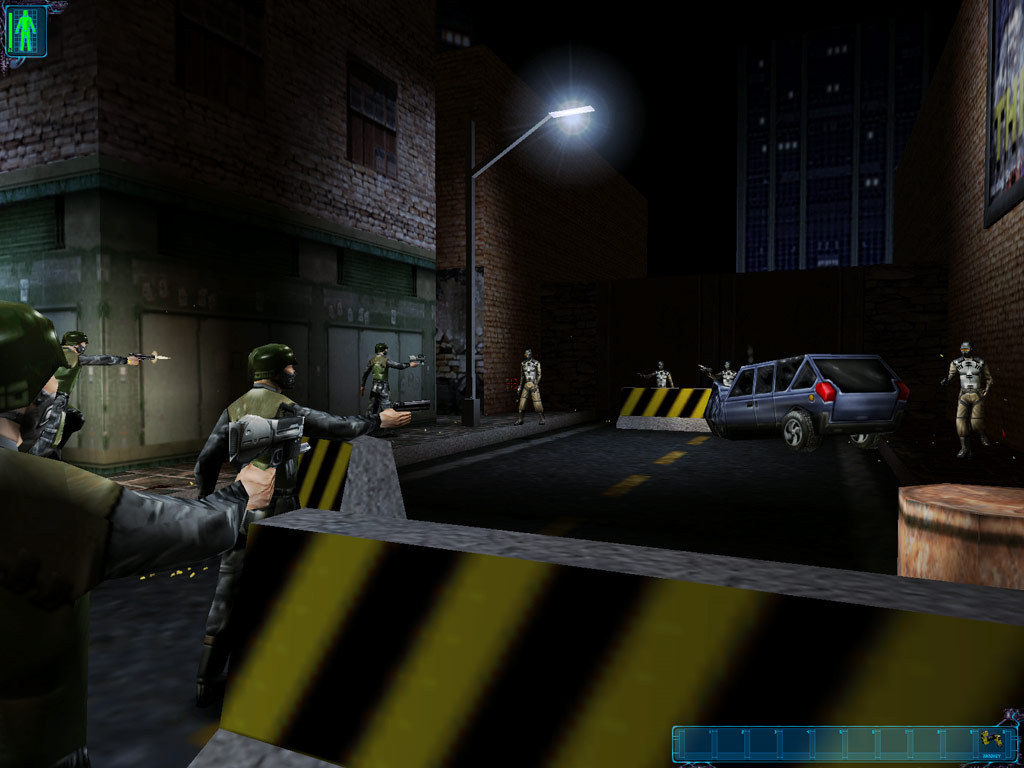 Score Breakdown:
Higher is better
(10/10 is perfect)
Game Score - 92%
Gameplay - 20/20
Graphics - 9/10
Sound - 8/10
Stability - 5/5
Controls - 4/5

Morality Score - 46%
Violence - 2.5/10 (+1 if blood/gore disabled)
Language - 3/10
Sexual Content - 6/10
Occult/Supernatural - 8/10
Cultural/Moral/Ethical - 3.5/10
Morally, this game is pretty checkered at best.
Violence can, if you so choose to be violent, get pretty gruesome, with blood and gore everywhere, though you can disable most blood and gore in the game options. However, nonlethal players will find they can keep this to a minimum for the most part, and how violent the game gets is largely dependent on your playstyle, with several nonlethal game options available to you to incapacitate as opposed to killing enemies. Even machines can be disabled instead of destroyed in nigh all circumstances.
Language can get pretty crude, with a lot of vile slurs and expletives, generally from the more criminal and generally disreputable characters (with words like d*mn, h*ll, and b***h), and some allusions to sexual acts are made (including some implied sex happening behind a closed door at one point you can overhear). Sexual content is largely limited to some rather skimpy female outfits and some implications of prostitution, though the latter is not portrayed positively, with a few sidequests related to saving women from this profession.
This is a sci-fi game, and while there are a few minor one-off references to demons (like the Underworld Bar's logo), this game stays pretty far out of the occult and supernatural. There are Greek mythology references, specifically to the characters of Daedalus and Icarus, generally used as shorthand for the potential and pitfalls of technology. There are also some Christianity references, which crop up quite frequently. The villains do make some blasphemous references to Christianity, but this is not portrayed positively.
For example, your main character is JC (Jesus Christ) Denton, which the game will even allude to in a comment at one point, though in-game, JC is considered a code name. However, like the real Jesus, JC has a generally moral outlook, believing in justice, fairness, and free will that is tempered by a firm moral code. If you play in a nonviolent, diplomatic style, JC's actions are quite messianic, with JC often ending fights without bloodshed or even violence, showing charity to the downtrodden, and generally acting much as Jesus would. Conversely, you can play in a sociopathic style and completely invert this.
Several other Bible references abound, with your main character's brother named Paul (after the bIblical one), and while these are generally allusions to the Bible, some of the references can give vital plot detail clues as well.
On the cultural and ethical side of things, the ability to play as you deem fit means JC can do a lot of vile things if you like. You can hurt or even kill anyone, including children. Alcohol is a healing item (with some drawbacks though). Due to plot reasons, the in-game drug Zyme can not lead to addiction for the player, but you can take it and even sell it to other characters who are NOT immune to addiction. There is also the ability to be a rampant kleptomaniac, and while a lot of this takes place in the sense of taking enemy supplies to further your mission, you can also steal from innocent people and even mug them by knocking them out and taking the contents of their pockets. You can refrain from doing this though, how much of a thief you are is entirely dependent on your choices.
Finally, while the player starts as a sworn law enforcement officer, they defect from their organization when they discover it is riddled with corruption and is forced to ally with many shady characters, including some criminal organizations. This is only because those supposed to be in authority are proven to be compromised at best and utterly corrupt at worst. The ultimate goal in the end is to break their hold on the world at large. Regardless, there is a villainous ending choice that changes nothing you can opt for if you choose.
As a game, Deus Ex is an unparalleled example of how to make a game where any playstyle is viable. It's worth playing for anyone no matter how violent or peaceful you may be, especially if you enjoy a really good story that manages to make the tinfoil hat conspiracy crowd not look insane while still being excellently written. Morally, while this takes place in a seedy world falling apart at the seams with a lot of dark elements (including lots of death, mentions of suicide, and general misery), the player can choose to either bring some light to the world or make it even worse depending on how they decide to play.
No matter what, Warren Spector made a classic that will forever stand the test of time, and Deus Ex is a definite must-play for any adult who wants to play any way they like and still be able to beat this timeless if darkly themed masterpiece.